15 Ways on How to Stop Finding Fault in Relationship
One of the factors that destroy a beautiful relationship is fault finding. Both partners can love each other, but when regular fault finding is introduced, it can destroy every beautiful thing they have created in the relationship.
The root problem is, many people don't know how to pass comments constructively and lovingly. Also, when their partners make some mistakes, they don't separate these errors from their partners. This article teaches how to stop finding fault in relationship to prevent the union from failing.
How fault-finding affects a romantic relationship
When fault finding becomes too much in a romantic relationship, it makes the union boring. The partner who supposedly commits those mistakes would not be free to be themselves.
They would be too conscious about their actions and behaviors, which will make them more prone to repeating some of these mistakes. Also, excessive fault-finding makes the relationship toxic and unbearable for both parties, making them go their separate ways.
How to stop fault-finding in relationships
Not everyone in relationships is perfect. When we make mistakes, we need our partners to correct us in a non-offensive way. However, some spouses have made it a habit to complain consistently without cutting their partners some slack.
If you feel you are in this category, here's how to overcome fault-finding:
1. Check what you are thinking
Your thoughts fuel your feelings and mannerisms, and it sometimes makes you find faults unnecessarily in your partner. Always keep an open mind when your partner makes a mistake, and don't be quick to find faults in everything they do.
2. Select your words
Sometimes, your intentions might be pure, but your words might not convey it the right way. Before you say anything, vet the words you want to use to ensure it doesn't hurt your partner. Similarly, put yourself in their shoes to see how you would feel if such words were used on you.
Related Readings: 

How To Forgive Your Partner Who Has Hurt You
3. Consider if it is worth it
Another way to stop finding fault in a relationship is to check if your complaints are worth it. If your partner did something wrong, investigate if it was entirely their fault or not. Also, remember that some faults are trivial, and they should go unnoticed to keep the relationship going smoothly.
Minh Levins' book titled: Gratitude and Appreciation for your partner, helps people commend their partners more instead of complaining about their habits and attitudes.
15 essential ways to handle chronic fault-finders
Do you have a partner who complains at the slightest issue? It might be difficult managing such partners because they spot a fault in almost everything you do. Here are 15 ways to help you deal with chronic fault-finders:
1. Find out the root issue
Sometimes, it might look like your partner complains every time, but there might be something you failed to address. You need to find out the real reason why your partner complains and find a solution.
Even if they are finding a fault in something trivial, you should address their concerns to ensure they don't complain anymore.
2. Don't take it to heart
When your partner finds fault regularly, it might be difficult trying not to take it personally. Since they are your romantic partner, you need to be careful how you handle their criticisms, especially if it happens regularly.
You have to remember that your partner is complaining about something they are thinking of regarding you and not what you have necessarily done.
Related Readings:

 10 Ways On How To Deal With Criticism In A Relationship
3. Don't argue with them
When dealing with someone who has a fault-finding personality, you should avoid arguing with them. You might want to get defensive when they pick up a fault, but it is essential to remain mute.
It would be hard to communicate smoothly with them when you argue, and the problem won't be solved.
4. Listen actively
For your partner to learn how to stop finding fault in relationship, you need to learn how to listen. Don't dismiss their comments anytime they complain.
Even though it doesn't look like they are complaining about anything worthwhile, try to listen and understand why they are picking faults. Listening actively to your partner shows that you care about their concerns, and it is one step forward in helping them stop complaining.
Related Reading:

 4 Tips To Be A Better Listener In A Relationship- Why It Matters
5. Look for a solution
If you want your spouse to know how to stop finding fault in relationship, be inclined to provide solutions. For instance, if they complain about something specific, look for a solution so they won't find fault again.
If you don't solve their complaints, they will keep finding faults until they are solved, creating bigger conflicts in the home.
Related Readings: 

25 Relationship Issues And How To Solve Them
6. Try to change the subject
Sometimes, the solution to help your partner from complaining too much is to change the subject. You need to be smart and cautious, so they won't suspect that you are trying to shut them up.
Also, you can bring up discussions that will make them excited and change their mood from what they were finding fault about.
7. Remind them of the prospective positives
One way to help someone stop finding fault in a relationship is to make them focus on the positive side. For instance, if they find fault in something you have not been doing, remind them that you are working on it, and soon they will be impressed.
8. Create boundaries
If you feel that your partner finds fault in everything and begins to affect your mental health, it is essential to set boundaries while finding a solution.
Once you notice that it is becoming a pattern, try to create a different routine that will prevent you from being host to their constant fault-finding. You can bring up a conversation with them about the problem when you feel better to talk.
To know how to set boundaries, check out Laurie Bryan's book titled: How to set healthy boundaries in relationships. The book contains actionable steps to help partners create healthy boundaries in their union.
9. Try to remember the point where it started
There has to be a point where your partner begins to find fault in almost everything, and this would help your partner know how to stop finding fault in relationship.
Even though each event looks unrelated, something significant might have happened in the past that made your partner that way. Similarly, it might have been an insignificant action on your part that got them pissed.
10. Express yourself
When you cannot handle it anymore, it is time to express yourself to your partner. They need to know how you feel and how their several complaints have severely affected you.
This might help them rethink and work on how to stop finding fault in a relationship if they see that you are getting tired of their complaints.
11. Don't let their mood affect your daily experience
It is important to prevent your partner's regular complaints from affecting your mood for the day.
Sometimes, it is fine to allow your partner to do what they want while making yourself happy. To help your partner know how to stop finding fault in relationship, let them know that your happiness and peace of mind are also your priority.
Related Reading: 

How To Deal With Someone Who Blames You For Everything
12. Don't accept the blame for their mood
When fault finding happens in relationships, the person who blames the other usually has a bad mood. You need to distance yourself from being the cause of their change in the mood while you find a solution to the problem.
A relationship where one partner regularly blames their partner's mood can make things toxic between them.
13. Avoid giving a payback
If your partner sees that you try to retaliate when they complain too much, they won't know how to stop finding fault in relationship. Even if you feel like paying them in their coin, it is best to avoid retaliating because it would complicate the situation.
Related Relationship: 15 Reasons Why Relationships Are Complicated
14. Understand what is going on in their private life
If your partner is going through a tough time, it can affect their mood and make them find fault regularly in your relationship. It's advisable to find out what is going on with them and see how you can help.
Your partner might not know that they are complaining excessively until you make them see it.
15. Plan a surprise for your partner
When finding fault in relationships occurs regularly, it could mean that your partner's love tank is low. This implies that your relationship lacks some romantic activity that is making them complain more.
You can salvage the situation by planning something unexpected for them. Integrating romance, surprises, and the likes into your relationship reminds your partner that you still love them irrespective of the conflict rocking the relationship.
Related Relationship: 10 Ways To Thrill And Surprise Your Special Someone
Will Bowen's book titled Complaint Free Relationships presents an alternative to fault finding, which helps people transform their love life. The book contains revolutionary tips to improve relationships.
To know why you keep focusing on your partner's fault, check out this video:

Conclusion
For your union to retain the original spice when you started with your partner, both parties must learn to stop finding fault in the relationship. If you have a partner that complains frequently, you can apply some of the tips mentioned in this piece to help them and save your relationship.
Share this article on
Want to have a happier, healthier marriage?
If you feel disconnected or frustrated about the state of your marriage but want to avoid separation and/or divorce, the marriage.com course meant for married couples is an excellent resource to help you overcome the most challenging aspects of being married.
More On This Topic
You May Also Like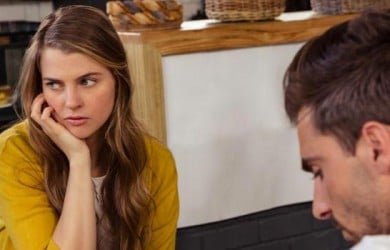 Popular Topics On Married Life