15 Bad Habits in a Relationship That Can Ruin Your Partnership
We are who we are, and we cannot change that. While it is okay to want to be loved for who you are, even with all your imperfections, certain habits can be detrimental to your relationship. Our habits structure us, define us, define our friend's circle, and define how we were raised.
Bad habits in a relationship are set in stone by the time we are old enough to get into stable relationships, and it is practically impossible to change them.
That may be the case, but we should also keep our loved ones in our minds. They are part of our life, a significant part, and we must provide a happy and healthy environment. We mostly neglect or do not think about how our bad habits affect them.
How tired are they getting from our tantrums or just life habits that are not acceptable?
And because they love us, they try not to mention them daily or at the time at all. Which, again, is not healthy. It results in couples holding their frustrations to the point when it all bursts out like lava, and there is no going back.
Wondering how to form good habits in general? Check out this research. Do you wish to change your bad habits? This research highlights how you can do the same.
What are some bad habits in a relationship?
Bad habits in a relationship may not be very different from general bad habits, but they become things that ruin a relationship. While it is okay for certain things to be a part of your personality, bad habits can be off-putting for everyone, not just your partner.
Having your own little quirks is alright, but habits that cause problems to your partner or other people can be termed bad habits in a relationship. Doing inconsiderate things, causing trouble to your partner or other people, being thoughtless, not listening, not wanting to change, and not respecting your partner or other people can be some of the bad habits that harm your relationship.
What are some healthy habits in a relationship? Watch this video to know more.
15 bad habits that can cause relationship troubles
Here is a list of fifteen bad habits in a relationship that can cause damage to your partnership.
1. Not listening
This is a no-brainer. You have to be attentive. Sometimes, when you have had a hard day at work and get to your home, you want nothing else than to vent. At that moment, you are not looking for advice or people telling you their personal experiences.
You just want an ear to listen to and a shoulder to put your head on after the venting is all said and done.
If you find your partner inattentive or if they put you aside for some other 'important' work, how would you feel?
We, as humans, have an innate need to be valued and loved, and desired. If any of those needs are not fulfilled, we lash out.
Related Reading: 

4 Tips to Be a Better Listener in a Relationship- Why It Matters
2. Always prioritizing your work
Though it is true to some extent, we all need jobs to pay the bills and keep that electricity afloat, don't we? As romance does tend to fizzle out when there isn't any electricity. Do you get my drift?
However, all work and no play make Jack a dull boy.
Career is important but schedule some quality time together. Do something fun and unique. Be there for each other and create memories. As mentioned above, no matter how career-oriented the couple is, the innate desire to be loved is still there.
3. Denial and deflect
Couples worldwide go through ups and downs.
We have dry patches and some rough ones. But, if they are the one and the relationship is important to us, we make it work.
However, there are times when we start to sense that perhaps the route our relationship has taken is not a good one, and the time has come to bow out.
But, perhaps the time of the year is not correct. Maybe the holidays are near, or valentine's day, or someone's birthday. Whatever the reason may be. And you, instead of talking it all out, start to deflect. You immerse yourself in work and use it as an excuse to avoid talking about anything of importance, your relationship, for instance.
This may prolong your committed status for a bit longer but is not a healthy one. It is like a band-aid, just rip it out and have an honest and open conversation. You owe your partner that at least.
4. Financial secrets
You are partners. You share a home, family, accessories, and life but are hesitant to share money? That is not a good sign. It can raise many well-placed red flags in your partner's mind.
If you are not willing to share the financial side of your life with someone who can one day potentially be the parent of your child, then it is high time to change that habit, or maybe you are not in the right relationship.
Related Reading: 

How to Communicate and Work on Your Financial Matters Together
5. You do not have their back
Last but not at all the least. This one is significant. The word partner means someone who is our equal. It is a relationship of giving and taking – whatever our partners need. We must fulfill those needs. Be it support, assistance, love, comfort, fight, anger.
If you are reluctant or not empathetic to your supposed loved one in their time of need, you need to have a hard look at yourself in the mirror. They are our better halves. Halves that make us a complete whole. They are our support and would do the same for us.
Work on yourself. It will be a slow process, but it will be worth it.
Related Reading: 

20 Steps to Becoming a Supportive Partner
6. No appreciation
Did your partner make dinner for you when you had a long day at work? Did they fold the laundry while you took care of the dishes? While we notice all these little things they do for us from their heart, we rarely mention it.
In relationships, it is essential to let your partner know that you see what they are doing for you and appreciate every bit of it. Not appreciating them for their efforts can make them feel unvalued and cause trouble in your relationship.
Related Reading: 

Why You Should Harness the Power of Appreciation in Relationships
7. Not setting boundaries
A lot of people do not believe in boundaries when it comes to relationships and marriages, and that is probably where the trouble begins. Even as someone is the most vital part of your life, there should be some distinction between different areas of your life.
Everyone likes a little space, even when they are in a relationship. Losing your individuality in a relationship or marriage and expecting the same from your partner can be a horrible habit that harms your partnership. This is one of the unhealthy relationship habits.
Related Reading: 

Setting Healthy Boundaries in a Relationship
8. Not fighting fair
Fights between couples are inevitable. However, if you do not fight fair, do not let your partner explain themselves or tell you their point of view, but rather walk out of conversations; it is a bad habit in a relationship.
Your partner will soon stop feeling heard and unable to keep up with the relationship troubles.
9. Unrealistic expectations
Do you expect your partner to take care of everything around the household while juggling between work and kids? Do you expect them to not be tired at the end of the day and spend some good quality time with you?
Such expectations are unrealistic and toxic for your partner. The habit of having unrealistic expectations can severely harm your relationship.
10. Nagging
What ruins relationships? Little bad habits like these.
Nagging is a habit some people just have or something they pick up while growing up. However, nagging in a relationship can be very irritating to your partner.
11. Saying negative things about friends and family
You may not like a few people in your partner's family or friend circle. There are chances some of them do not like you either. However, constantly expressing your dislike towards them, saying bad or negative things about them all the time is definitely not a good habit in a relationship.
12. Trying to change them
While someone's bad habits are something you would want your partner to work on, and it is always a good thing to change for the better, wanting your partner to change into what you think is the perfect or ideal partner is not a fair ask.
Related Reading: 

Here's Why You Shouldn't Try to Change Your Partner
13. Comparisons
"Do you know her husband takes her on vacation every three months?" "Do you know his wife makes so much money in a year?"
Saying things like this and comparing your partner, your relationship, or your marriage with other people can be a bad habit in a relationship. It makes people feel inadequate.
Related Reading: 

10 Reasons You Should Never Compare Relationships or Your Partner
14. Too much screen time
Do you work on your laptop and phone, only to switch on the TV when your work hours are over? The habit of being on your gadgets can be detrimental to your relationship.
15. Bringing up the past
Maybe you and your partner hit a rough patch in your relationship, where one of you made a mistake. Bringing it up every time you have a fight or are talking about something else can be a bad habit for your relationship. Though it shows that you are not over the mistake yet, it is better to talk about it healthily than to bring it up out of context.
Related Reading: 

How to Let Go of the Past: 15 Simple Steps
How do bad habits affect your relationship?
Have you ever thought how bad relationship habits affect your relationship?
Bad habits in a relationship can do more harm than you can even think of. It can lead to the two of you parting ways eventually, or the love in the relationship fading away due to these little habits.
1. Resentment
One of the ways bad habits can affect your relationship is that it can fill your partner with resentment towards you. The may still love you and be with you, but they will not be happy in the relationship.
2. Break-up
If the bad habits pile up too much, and your partner sees that you have no intention of fixing your behavior, it could lead to a break-up.
How to deal with bad habits in a relationship?
Do you identify that your partner has a few bad habits in the relationship? How to deal with bad relationship habits? Here are some tips.
1. Do not ignore them
If you see that your partner has some bad habits causing trouble in the relationship, do not ignore them. You may want to ignore them and let them go, but eventually, they will bug you so much that you will bottle it up and project it unhealthily.
2. Communicate
It is essential to let your partner know that their behavior or bad habits are causing trouble for you and also harming your relationship. Just communicating with your partner may help you eliminate the problem.
Conclusion
Bad habits in a relationship are not behavior patterns that cannot be changed. You can, and should strive to be better as a person and as a partner to ensure happiness for you and your partner. Paying close attention to the problems can help you nip them in the bud and avoid relationship troubles.
However, if you struggle with a bad habit such as an addiction, it is best to seek professional help.
Share this article on
Want to have a happier, healthier marriage?
If you feel disconnected or frustrated about the state of your marriage but want to avoid separation and/or divorce, the marriage.com course meant for married couples is an excellent resource to help you overcome the most challenging aspects of being married.
Learn More On This Topic
You May Also Like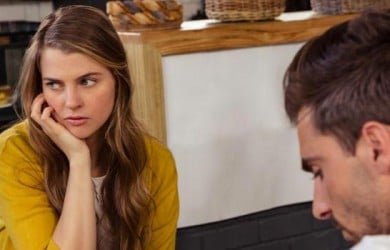 Popular Topics On Married Life