15 Ways of Nurturing Relationships
A relationship needs a solid foundation to thrive. If both parties are not intentional about their relationship, it cannot stand the test of time. Nurturing relationships is a profound way to build structures in your relationship that you can rely on when there are troubled waters.
The beauty of nurturing a relationship is you can keep building and improve for as long as possible, and the rewards are usually immense. For people who ask- what does nurturing mean, this article explains its meaning in-depth and how to go about it.
What does nurturing a relationship mean?
Relationships can be challenging, and sometimes, you feel like quitting and remaining all by yourself.
These days, some people are afraid of being in a committed relationship because the cases of divorce and break-ups are on the increase. Many people believe that a good relationship will end, so they see no essence in making it solid.
However, nurturing relationships is for the brave-hearted. These people know that there is a chance of a break-up, but they don't let it define their disposition towards the relationship. Hence, they take conscious steps to make their relationship beautiful.
When there are relationship issues, both parties do not allow the relationship to split, but they forgive each other whilst resolving the issues.
Why is it important to nurture a relationship?
Not everyone understands what nurturing love means, and this is why they are less committed in their relationships. According to research, a well-nurtured romantic relationship has been discovered to improve the well-being of both partners.
Here are some points that help you understand why you should nurture and give more in a relationship:
One of the benefits of a well-nurtured relationship is reduced blood pressure. Positive and nurturing relationships help reduce anxiety which is one of the major determinants of high blood pressure. Partners in love feel more relaxed, and they engage more in beneficial and healthy activities.
A committed and nurturing relationship reduces the production of the stress hormone cortisol. The reason is you have a partner that provides you with social and emotional support. They show you care in a relationship, and this is what most people crave.
A better sense of purpose
When you love and nurture what you share with your partner, it gives a better sense of purpose.
If you have plans for your future, it becomes easy to achieve them because you are in a meaningful relationship with someone who wants the best for you.
What can you do to nurture your relationship- 15 ways
A healthy relationship is the result of a well-nurtured one, and it is hard for it to crash. If you don't know how to nurture a relationship, these 15 ways to nurture your relationship will help you.
1. Communicate effectively
To nurture relationships successfully, communication is essential.
When you practice having honest discussions with your partner, your relationship becomes better and properly nurtured. In his book "Making Love Last: How to Sustain Intimacy and Nurture Genuine Connection," Therapist David Richo stresses the importance of communication, including mindfulness, to foster better intimacy between couples.
If you don't communicate effectively with your partner, it would be hard to know what they feel and think. If there are misgivings or problems in the nurturing relationship, it is important to resolve them instead of letting them slide.
Related Reading: 

Effective Communication Skills in Relationships
2. Be intentional with your spouse
One of the primary examples of nurturing behavior in a relationship is intentionality. You need to create time to spend with your partner.
You can start by organizing dates, going to the cinema, going on a vacation, etc. These activities help to nurture your relationship and build intimacy. Also, it's a great way of showing your partner that the relationship is a top priority.
Related Reading: 

Areas of Loving Your Partner Intentionally
3. Be appreciative of your partner's effort
Do not make the mistake of underappreciating what your partner does, even if it is small. It is crucial to note that the small gestures matter because they reflect the true state of your partner's intent.
If they had more, they would do more for you. To show appreciation, you can volunteer to do the cooking and chores for the whole day. Also, you can buy flowers, write romantic letters, etc.
Related Reading: 

Ways To Show Appreciation To The Love Of Your Life
4. Do acts of service
Many people appreciate acts of service irrespective of how voluminous it is. Before you do this, you have to know what your partner hates doing.
Hence, you can leverage this knowledge to do those tasks for them to show how well they are valued. Acts of service are one of the best ways to nurture someone because it makes them happy.
Related Reading: 

How to Use Acts of Service in Your Relationship
5. Take responsibility
If an issue occurs in the nurturing relationship, don't be quick to heap the entire blame on your partner. You have to figure out where you erred and take responsibility for it.
Do not play the blame game or give excuses because you won't be nurturing the relationship that way.
Related Reading: 

Why Is Accepting Responsibilities in a Relationship Important?
6. Provide your partner with emotional support
When nurturing people and relationships, one of the needed attributes is emotional support. You have to show your partner that you care and you will always be there for them.
To display emotional support, offer them compliments, listen attentively to their struggles, and ask how they are faring. Ensure your partner does not feel alone in the relationship.
Related Reading: 

Ways to Improve Emotional Support in Your Relationship
7. Forgive your partner
If you want to successfully nurture your relationship, learn to forgive. Holding on to grudges regularly affects your relationship in the long run.
One of the reasons why couples or partners bring up past issues when they have a present issue is because they have not forgiven each other for past conflicts. You can try something like a guided forgiveness meditation session for the same.
Related Reading: 

How to Practice Forgiveness in Relationship
Also Watch:

8. Share your goals with your partner
Even though we have our personal lives and aspirations, it is important to carry our partners along.
Sharing is a good form of intimacy that has several benefits. If there is one person you should feel vulnerable with while sharing your goals, it is your partner.
Also Try: 

How Good Are You and Your Partner at Setting Shared Goals Quiz
9. Perseverance
Relationships need hard work to remain intact. And even though you are super-close with your partner, hard work is needed to keep its integrity. In addition, when things are tough, you need to figure out how to keep going with your partner instead of leaving the relationship.
To make a relationship nurtured and rock-solid, you need to persevere in challenging times.
10. Create core values for your relationship
It is important for each nurturing relationship to have core values they run with. When setting core values, you don't have to emulate anyone because anything you opt for has to be tailored to your relationship.
These core values bring you back to the drawing board when there are challenges in the relationship.
Related Reading: 

Core Relationship Values Every Couple Must Have
11. Set goals for the relationship
Whatever the type of your relationship, there is a vital need to nurture, and you can fix this by setting goals for the relationship.
Ensure these goals are productive so that you can work towards them with your partner.
Related Reading: 

Relationship Goals for Couples & Tips to Achieve Them
12. Celebrate special occasions
If you want to nurture your relationship and strengthen your bond, do not let special occasions slide without celebrating them. Always celebrate each other's birthdays, your anniversary, career anniversary, etc. for nurturing relationships.
13. Go on a vacation every year
In a relationship, going on a vacation should be an event you look forward to.
Traveling on vacation helps the two of you create memories you will cherish, and it keeps your relationship solid. A vacation is an ideal time to unwind and assess the nurturing relationship.
Related Reading: 

Reasons Why Couples Should Travel Together
14. Separation should not be the solution to any issue
Some people have the wrong idea of separating from each other when there is conflict in the relationship. When you separate, it is an indirect way of suggesting conflict or break-up.
Always make the decision to work out every problem, no matter how challenging it is.
15. Go for marriage counseling
For a healthy relationship, you need to explore marriage counseling. There are many benefits of attending marriage counseling, including learning how to communicate, developing positive habits, solving quarrels and disagreements, etc.
Even if you feel your relationship is strong, marriage counseling helps to keep you in check.
Conclusion
When it comes to nurturing relationships, it is not child's play, neither is it a day's job.
In a relationship, both parties must be committed to ensuring the relationship plays out well. In case of nurturing relationships, it is hard for it to fail.
Share this article on
Want to have a happier, healthier marriage?
If you feel disconnected or frustrated about the state of your marriage but want to avoid separation and/or divorce, the marriage.com course meant for married couples is an excellent resource to help you overcome the most challenging aspects of being married.
More On This Topic
You May Also Like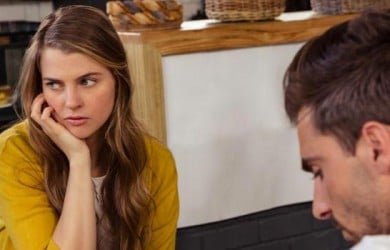 Popular Topics On Married Life