15 Signs of a Rebound Relationship
Contrary to popular expectations that we usually have at the beginning of every romantic relationship, there comes a time when things get thick, and the only reasonable thing to do is terminate the relationship.
These experiences often leave us with feelings of grief, rejection, or loss.
In an attempt to cope, one might be tempted to jump into another intimate relationship. Such relationships are commonly known as rebound relationships. Do you think your current relationship is a rebound relationship? Here is what you need to know about the signs of a rebound relationship.
What is a rebound relationship?
A rebound relationship is where one jumps straight into another romantic relationship shortly after a breakup and without taking enough time to heal from such breakups emotionally.
That's what a rebound relationship is, and there is a lot of baggage from the previous relationship. The person on the rebound lacks the emotional stability required to build a thriving relationship and uses the person they are with as a distraction.
Rebound relationship experiences are full of pain, regret, and a lot of emotional turbulence.
Related Reading: 

6 Rebound Relationship Stages to Be Aware of
Why do rebound relationships happen?
When you have been in a relationship for a long time, you get used to having someone around and sharing your life with. Breaking up after a long-term relationship can make you feel lonely and drive you into a rebound relationship. Some people also enter another relationship right after a breakup to help them forget the previous relationship.
People may also enter a new relationship right after one ends when they are too dependent on their partner for various reasons. Financial and emotional dependence is the most common reason that people enter rebound relationships.
Related Reading: 

Can a Rebound Relationship Work? What Are the Odds

?
How rebound relationships usually unravel
Although a few of these relationships end up being successful, most of the rebound relationships are always harmful and detrimental to the rebounding partner and the unsuspecting new partner.
Rebound relationships can be defined as joining up based on weakness rather than strength. One negative consequence of rebound relationships is that one or both partners join up based on weakness rather than strength.
As one of the key rebound relationship signs, the weakness comes from the inability to build up patience and a fierce spirit to deal with the feelings associated with breakups.
Related Reading: 

What If Rebound Relationships Are the Real Deal

?
15 signs of a rebound relationship
Do you think you are stuck in a rebound relationship? Are you looking for signs of a rebound relationship to confirm your doubts? Below are 15 telltale signs to watch out for should you feel that you may be trapped in rebound relationships.
1. Getting involved without an emotional connection
This is typically the case with those who get caught up in a relationship arising from a one-night stand kind of experience or a hookup that lacks the emotional connection.
Suppose you ever find yourself dating someone new and still in doubt about their long-term viability for a lasting relationship despite some recent positive experiences you've had. In that case, it is one of the early signs of a rebound relationship.
In most cases, the new partner is probably good for the moment but not the right person for you in the long run.
Jumping into a new relationship shortly after a breakup is a perfect recipe for emotional and physical vulnerability, common in rebound relationships.
2. Your phone has become a toxic tool
If you ever notice that you still entertain certain things on your phone from your past relationship yet you've joined a new one; you are in the red zone. Clinging onto the past tenaciously is one of the signs of a rebound relationship.
Phone numbers, wallpapers, and ringtones from previous relationships are pointers that one is still holding on and not ready to join a new union.
Although it's somehow normal for these to be retained for a short time, holding onto them for too long into the new relationship could mean that there are certain things that you've not worked out for you to genuinely and rightly connect with a new partner.
3. You feel rushed
One common thing with rebounders is that they fall very hard and fast for someone new.
Be very wary of such. Although it's fascinating to have someone to love, need, and want you so much, it has to be based on honesty for it to last.
Real love takes time to mature.
It's unlikely that one week into the new relationship and your rebounder has unexplainably fallen in love with you. It's most likely not real and needs to be scrutinized.
You will realize that you don't tackle serious issues in the relationship and instead wash them away with the "I'll make it work" excuse.
This magical thinking in rebound relationships is blindfolding. If you feel rushed, stop and explore why your partner is in such a rush to do things.
You may realize that this is one of the signs of a rebound relationship or a rebound marriage where pain or thoughts of revenge fuel it.
4. You are in a relationship for the attention
At times, a rebounding person may deliberately seek a new partner who is likely to put more effort into courtship.
Such people will shower the rebounding person with affection and interest. This could be one of the signs you're a rebound partner.
And because such people often need such treatments coming out of a recent breakup, it's logical to consider whether that's all that is in it for you or you are after building a new, healthy relationship with your new partner.
In an actual sense, it's supposed to be all about positive-self awareness and not a discussion of what's right and wrong.
Related Reading: 

What Happens When There Is Lack of Attention in Relationship

?
5. You reach out when sad and take off when happy
If there's any clear indication of a rebounding relationship, then it has to be this one.
Suppose you notice you call your new partner more frequently when you feel lonely, sad, or empty and tend to forget about them when you are happy. In that case, you are definitely in one of the rebound relationships just for the sake of emotional convenience.
You are likely in it because of need and not want. And you are the rebounding person in the relationship.
6. You think about your ex
If you still find yourself thinking about your ex, even while you are in a new relationship with someone else, it is one of the signs of a rebound relationship.
It simply means that you are not over the relationship or the person you were in love with. The chances are that you still love them and are only trying to fill the void with the new relationship.
Related Reading: 

What to Do When You Miss Your Ex
7. You are too guarded
The person you are in a relationship with should be the closest to you, emotionally and physically. If you feel like you cannot open up to them and are too guarded to let your vulnerabilities show, it could be one of the signs of a rebound relationship.
8. They want everyone to know you are together
Does your new partner go overboard with the social media PDA? Believe it or not, this could be one of the signs of a rebound relationship. If they advertise the relationship too much, maybe they want to show people (including their ex) that they have moved on.
9. It's all about the sex
Do they feel less emotionally invested in you? Do you feel it is all about the sex for them?
If you have these doubts, it could be one of the signs of a rebound relationship. When people are not emotionally invested in you, they crave a sexual or physical connection to fill a void in their lives.
Related Reading: 

Emotional Intimacy vs Physical Intimacy: Why We Need Both
10. They give you mixed signals
Are they hot and cold with you? Do they make you feel that they like you a lot, one day, only to become distant the next?
If yes, this could be a rebound relationship. When in a rebound relationship, they may find it difficult to be clear about their feelings, which reflects in their actions and words.
11. You have had a recent breakup
If you just got out of a serious relationship, chances are your next relationship is a rebound relationship, especially if it is happening too soon.
Even if you feel attracted and emotionally connected to this new person, it is better to take it slow if you do not want it to be a rebound relationship.
12. You do not wish to commit
If you feel a fear of commitment in this new relationship and feel that you aren't sure about this person, it could be one of the signs of a rebound relationship.
In rebound relationships, one is not sure about their feelings and how long they will last. This is one of the reasons they fear commitment.
Also Try: 

Am I Afraid of Commitment Quiz
13. You don't have much in common
If you both have a very different lifestyle, different interests but are still dating each other, it could be one of the signs of a rebound relationship. Rebound relationships are just about having someone around. It doesn't matter who, as long as the person receives some sort of attention and love.
14. You feel pressured
If you feel like you are constantly being judged on something or the other or feel pressured into the relationship, it could be one of the signs of a rebound relationship.
In rebound relationships, people are just in love with the idea of being in love and having a companion, and therefore, will want to mold you according to their wishes and needs.
15. You find them considering their options
When someone is in love with you and committed to you, they do not lookout for more options. If you find your new partner on the lookout for more options even as they are in a relationship with you, it could just mean that you both are in a rebound relationship.
How healthy is a rebound relationship?
Rebound relationships are not advisable to anyone due to their destructive results. While a few of them might last and end up being long-term relationships, most of them are not healthy.
Rebound relationships are often based on temporary fixes. When a person has just got out of an emotionally taxing situation, like a breakup, they need love, attention, and a feeling of belongingness.
More often than not, they can confuse these feelings for love and enter long-term relationships. Rebound relationships can create an unhealthy dynamic between two people, leading to more emotional hurt.
To know more about the good and bad of rebound relationships, watch this video.
How long do rebound relationships last?
Talking of rebound relationship success rate, most of these last few weeks to a few months tops.
It often dumps residual toxic emotions like anxiety, despair, and grief from the previous relationships onto the new one before the complete healing of the emotions occurs.
Since the individual on the rebound has not dealt with the emotional toxicity, they bring a lot of resentment and instability in the new relationship. That's why the average length of rebound relationships is not beyond the first few months.
So, do rebound relationships work? The likelihood is less. The only exception could be if the person on rebound chooses to date out of openness and a happy headspace.
If a person engages in rebound relationships to get back at an ex-partner or distract themself from the grieving process, these flings are doomed to end unceremoniously.
How to avoid a rebound relationship
The potential of rebound relationships blossoming into healthy and happy relationships is slim.
If you want to avoid the pitfalls of a rebound relationship, here are some effective ways to circumvent a rebound relationship. If you are already stuck in a rebound relationship, these tips will help you in ending a rebound relationship.
Focus your energy on entirely recovering

from your previous relationship.

Avoid dating immediately

after a long-term marriage, or a relationship has ended.

Don't dwell on your ex-partner

and the memories associated with them.

Practice self-love

and self-compassion.

Learn to be at ease with yourself.

Spend your alone time doing things you enjoy.

Invest your physical energy

in working out as it will elevate your mood and alleviate your stress levels.
Also, seek help from a credible expert to understand why your relationship ended and recover from the loneliness, shame, regret, and grief accompanying a tough breakup.
You will have a better chance of faster recovery and dating without repeating the previous patterns or mistakes.
Related Reading: 

Signs That a Rebound Relationship Is Not Healthy but Highly Toxic
Bottom line
Rebound relationships can be common and difficult to identify. If you see any of the above signs in your relationship with your new partner, it could be that you both are in a rebound relationship.
While you may deeply care about this person, it is best to take things slow, figure yourself out, and then pursue a romantic relationship with them.
Share this article on
Want to have a happier, healthier marriage?
If you feel disconnected or frustrated about the state of your marriage but want to avoid separation and/or divorce, the marriage.com course meant for married couples is an excellent resource to help you overcome the most challenging aspects of being married.
You May Also Like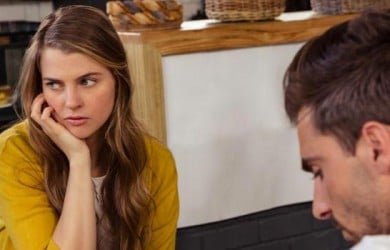 Popular Topics On Married Life