15 Common Relationship Mistakes and How to Fix Them
It's everyone's wish to have a good and happy couple relationship, and if you don't have that yet, you can be jealous when you see another couples rock.
Don't worry; it's normal to be jealous, but instead of being jealous, why can't you find a solution and make your relationship work?
The problem: As much as you strive to make your relationship perfect, you will still make serious relationship mistakes that can cost you your marriage.
Are mistakes in relationships normal?
Mistakes in love are not a new concept in relationships. No one is perfect, and misunderstandings, miscommunications, and disagreements are bound to happen in any relationship. What's important is how you and your partner handle those mistakes and learn from them.
It's essential to communicate effectively, be willing to compromise and work towards resolving any issues that arise. By doing so, you can build a stronger, healthier, and more fulfilling relationship.
15 most common relationship mistakes couples make
The worst of all is when you are going through ups and downs in your marriage, and you can't just figure out how to make things work once more.
It may sound rude and harsh, but the truth is that there will never be a perfect couple relationship. You will have to pass through lots of challenges, and that's when it's going to be a relationship.
"Mistakes are not only ok, but they are also good for you," Sara Stanizai says. That means there are things you will have to learn the hard way.
According to Sara, a perfect relationship is when each of you will take care of yourself. If you don't, then it is doomed to have ups and downs.
That's why you need to know some of the common mistakes even happy couples make so that you can have ways of limiting them from happening.
Four common couple relationship mistakes even happy couples will make
1. Getting too comfortable
The mistake you can make is to feel too comfortable when already you are in a relationship.
There is usually a point when you feel that you are already in love, and then you start relaxing. That's wrong.
Don't get it wrong. There is nothing wrong with being content, but being comfortable without watching out things carefully can end you in a ditch.
The point here is that you don't need to be lazy. Nurture your relationship and make it grow. You'll realize the advantage of doing so.
Tighten your feedback and engage in a series of communications to keep your couple relationship healthy all the time.
By communicating frequently, you will find the time to air your differences and find solutions to whatever problems you could be having.
This is the time when you can speak freely without being shy so that if there is any difference, then you can find solutions.
2. Your families getting involved in your relationship
When you get married, you always want to consult your family members to help you with solutions to some of your problems. This is one of the major relationship mistakes.
This is wrong. Look, when you got married, you knew and were prepared only to live with each other, until you were blessed to have children.
So, if there is any problem, make it a point to solve it internally. It will help you both, and the solution-finding process can be faster than when you involve tons of your family members.
3. Messaging unknown people
Not everyone will be pleased to see their spouse obsessed with the phone.
Usually, you'll feel insecure. You'll feel like there is something fishy even if there is nothing wrong.
You may have been in a life where you do a lot of texting and interacting online for the most part of the day, but as soon as you get married, you need to give up on some of your habits that are not conducive to your marital bliss.
Avoid talking to your previous partners. If you don't, you will end up ruining your marriage, and that's not what you want.
4. Avoiding money talks
Nobody has more, and that's a fact. It's not possible that you'll have more than enough, but that shouldn't make you avoid money talks. Not discussing finances with your partner is one of the relationship mistakes.
Make a point and be open to your spouse and put a way forward. By doing so, you will know how to fill any gaps, in case there are any.
For instance, if you want to buy a piece of land where you'll be building your new home, it's normal that you'll not have the same amount.
Don't be afraid to hold money talks with your spouse and add to the relationship's mistakes. By taking some of the precautions outlined above, you can live a healthy marriage life.
5. Lack of communication
Communication is the foundation of any healthy relationship. When couples fail to communicate effectively, misunderstandings, miscommunications, and conflicts can arise. To avoid this mistake, make time to communicate openly and honestly with your partner. Listen actively and strive to understand their point of view.
6. Taking each other for granted
It's easy to fall into a routine and take your partner for granted, especially when you've been together for a while. However, this can lead to feelings of neglect and resentment, resulting in one of the relationship mistakes.
To avoid this mistake, make a conscious effort to show your partner appreciation and affection regularly. Surprise them with a thoughtful gesture or treat them to a special date night.
7. Ignoring problems
Ignorance is one of the negative things to never do in a relationship.
It's tempting to ignore problems in the relationship, hoping they will go away on their own. However, this can lead to unresolved issues and resentment. To avoid this mistake, address problems as soon as they arise. Communicate openly and work together to find a solution that works for both of you.
8. Being too controlling
Relationship mistakes include being possessive about your position in the relationship. Being controlling can stifle your partner's independence and lead to feelings of resentment.
To avoid this mistake, respect your partner's autonomy and allow them to make their own decisions. Trust them to handle their own responsibilities and work together to make joint decisions.
9. Neglecting intimacy
Mistakes in a relationship are understandable but avoiding intimacy with your partner isn't.
Physical intimacy is an essential component of any healthy relationship. Neglecting it can lead to feelings of distance and resentment. To avoid this mistake, make time for physical intimacy regularly. This can include everything from holding hands and cuddling to more intimate acts.
10. Not prioritizing the relationship
Not giving your relationship the value it deserves is another one among relationship mistakes.
Work, family, and other responsibilities can easily take over your life, leaving little time or energy for the relationship. To avoid this mistake, make a conscious effort to prioritize the relationship. Schedule regular date nights and make time for each other, even when life gets busy.
11. Keeping secrets
Keeping secrets from your partner is basically what not to do in a relationship.
It can erode trust and lead to feelings of betrayal. To avoid this mistake, be honest and transparent with your partner. Share your thoughts, feelings, and concerns openly, and be willing to listen to their perspective as well.
Related Reading: 

15 Secrets You Should Forever Keep from Your Lover
12. Not taking responsibility
It's easy to blame your partner for problems in the relationship, but this can lead to a cycle of blame and defensiveness. To avoid this mistake, take responsibility for your own actions and attitudes. Recognize your role in the relationship and work together to make positive changes.
13. Being too critical
This is one of the most common relationship problems.
Criticism can be helpful when it's constructive, but too much criticism can be damaging to the relationship. To avoid this mistake, offer feedback in a constructive way, focusing on the behavior rather than the person. Offer praise and encouragement regularly, and avoid making sweeping generalizations or personal attacks.
Psychotherapist Esther Perel explains why a partner criticizes the other. Watch the video:

14. Holding grudges
Things not to do in a relationship include keeping scores against each other.
Holding onto grudges and resentments can poison the relationship over time. To avoid this mistake, work on forgiveness and letting go of negative emotions. Seek professional support and work on yourself.
Inculcating positivity in life can have benefits that reflect in your relationships and overall life satisfaction.
15. Not contributing to the relationship equally
It's important for both you and your partner to contribute to the relationship equally, be it emotionally, physically, or financially. An equal effort makes sure that partners feel respected and supported in the relationship.
Making mistakes in relationships involves unequal division of responsibilities. If either partner fails to add to the relationship in any of the aspects, it can lead to feelings of anger, disappointment, and resentment.
Related Reading: 

What Exactly is an Equal Relationship?
How to fix common relationship problems?
How to fix a mistake in a relationship?
Relationship problems are common and can arise due to a variety of reasons such as communication breakdown, trust issues, or differing expectations. The key to fixing common relationship problems is to first identify the underlying issue and then take steps to address it.
Effective communication is the foundation of any healthy relationship, so it is important to listen actively, express yourself clearly, and be open to feedback. It's also important to prioritize spending quality time together and finding ways to compromise when conflicts arise.
Trust issues can be resolved by being transparent, keeping promises, and being consistent in your behavior. Finally, understanding and respecting each other's boundaries and expectations can help prevent relationship problems from arising in the first place.
Seeking couples therapy is also a good way to sort out most of relationship problems.
What is the greatest mistake in a relationship?
The greatest mistake in a relationship is failing to communicate effectively. Communication is essential for building trust, resolving conflicts, and fostering intimacy. Without clear and honest communication, misunderstandings and resentment can fester, leading to a breakdown in the relationship.
Other common mistakes in relationships include neglecting the needs of your partner, taking them for granted, and failing to show appreciation or affection. Additionally, ignoring or dismissing your partner's feelings can lead to emotional distance and a loss of intimacy.
Ultimately, the greatest mistake in a relationship is not putting in the effort to maintain it. Relationships require work and commitment, and neglecting them can lead to irreparable damage.
Make up for your mistakes for a stronger relationship
In any relationship, mistakes are bound to happen. However, some mistakes are more common than others and can ultimately lead to the breakdown of the relationship. It's important to identify these errors and work on them before it gets too late.
What is worth remembering here is that it matters how much you do to amend your mistakes and make up for them for your partner. Recognizing your mistakes, apologizing for them, and working on them will only make your relationship stronger.
Share this article on
Want to have a happier, healthier marriage?
If you feel disconnected or frustrated about the state of your marriage but want to avoid separation and/or divorce, the marriage.com course meant for married couples is an excellent resource to help you overcome the most challenging aspects of being married.
More On This Topic
You May Also Like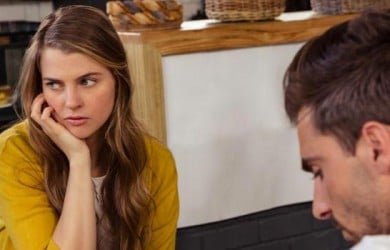 Popular Topics On Married Life