15 Signs of Jealousy in a Relationship
Generally, people consider occasional signs of jealousy in a relationship as harmless because most people don't like to deal with a threat to their relationship.
While signs of jealousy in a relationship are not a big deal initially, it is crucial to look out for extreme jealousy in relationships. You can show your displeasure when your partner prefers to be with other people even when you are around or if they value them more.
However, unhealthy jealousy over trivial matters is unacceptable as it can destroy your relationship. According to a study, jealousy is one of the leading signs of domestic violence. Although that does not mean relationship jealousy is always dangerous, it does mean extreme jealousy can end your relationship.
So, what does jealousy mean in a relationship?
Meaning of jealousy
Jealousy is a feeling of anger or resentment when someone thinks another person is trying to get the attention of their lover or partner. People use jealousy and envy interchangeably to mean a person's strong desire to possess what another person has. However, the two terms differ.
Envy is the feeling of resentment that builds up when you want another person's possessions or qualities. In contrast, jealousy is the control you wish to have over something or someone that is already yours. It is a means of protecting your attachment or showing absolute dominance over someone or something.
Psychologists have studied the difference between the signs of envy and jealousy to distinguish between their causes and how they impact behavior. Envy makes people desirous of other people's things and qualities. However, jealousy makes them insecure about something or someone that is already in their life.
Related Reading: 

What Is Really Behind Jealousy in a Relationship
15 Signs of jealousy in a relationship
When one is in a relationship, it can be hard to tell if jealousy has become an area of concern.
If you suspect signs of jealousy in a relationship that you are in, and you would like to know how to spot them, check out these 15 signs of relationship jealousy:
1. Checking up on you repeatedly
You can tell if someone is jealous by observing how frequently they check on you. Getting a few texts or calls means your partner cares about your wellbeing. But when your partner repeatedly calls, especially when you are out with friends, it is a telltale sign of jealousy in a relationship.
Communication is critical in any relationship, but studies have shown that using technology to connect constantly with your partner can decrease relationship satisfaction significantly.
2. Following you around
Following your partner to events is an excellent way to build a stronger bond.
However, when your partner feels the need to follow you everywhere or gets angry when you tell them to stay behind, it is a sign of relationship jealousy. Couples benefit from giving each other space, as it helps them avoid losing themselves in the relationship.
3. Furious when you do something without them
Spending significant time with your partner is a means of strengthening your relationship and building friendship. When you separate from them, it might feel like something is missing, which is normal. But if your partner gets angry when you do something without them, it shows extreme jealousy.
Couples do have separate hobbies where they enjoy me-time. It facilitates a happy and healthy relationship. Fuming when your partner decides to have fun with their friends or elsewhere shows jealous behavior signs.
4. Intervening in your social circle
One of the signs of jealousy in a relationship is when your partner constantly invades your social gatherings unannounced.
For example, your partner may suddenly pop into your friend's party, all in the name of checking on you. They might also stop by your place of work when you are in a meeting.
5. Questioning your friendship with other people
Asking questions about the people in your partner's life is normal as it is a way of knowing them better.
However, when your partner wants to know everything about your relationship with other people, it is a troubling sign of jealousy. Don't be surprised when they ask around to confirm everything you told them.
7. Telling you how to dress
When your partner firmly insists that you should wear a particular dress or hairstyle, it is a sign of jealousy in relationships.
People have a picture of how they want their partner to look, but they can't be demanding. Knowing where to draw the line marks a healthy relationship.
8. Don't see the good in you
One of the signs of jealousy in a relationship is when your partner undermines you and makes you feel small.
Instead of encouraging and supporting you, they persuade you to leave a project behind and suggest a lower concept for you to try.
9. Stalking you
Another sign of relationship jealousy is when your partner stalks you when you go out or are on your social media accounts.
They may even employ someone to keep an eye on you, hack your account, or demand to know why you have certain conversations. When you notice stalking, it is unhealthy jealousy.
Check out this video that can help you identify signs of stalking:

10. Flaring up when you mention another person
If you have asked yourself, "What does jealousy feel like?" watch how your partner reacts when you casually mention another person's name.
They may get angry or question you further to know your relationship with this person even when the other person is your friend or colleague at work.
11. Accusing you of cheating
A wrongful accusation of cheating is the culmination of all other signs of jealousy in a relationship.
Indeed, it is a typical accusation from someone with extreme jealousy. Joking with your partner is normal, but when every conversation revolves around you cheating when it is not accurate, you should be extra vigilant.
Related Reading: 

What to Do When You're Being Accused of Cheating When Your Not
12. Discouraging you from going out
Extreme jealousy reveals itself when your partner stops you from going out.
A jealous partner wants to see you by their side all the time, and they pick a petty fight anytime you have an outing. The argument is a direct result of their jealousy based on an insecure mindset.
13. Controlling your behavior
When your partner demands that you act in a certain way, it is one of the signs of jealousy in a relationship. For instance, if your partner tells you to compliment them on social media or tells you to sit behind them while they settle your problems, it is a clear marker of controlling behavior.
Therapist Kamalyn Kaur has observed that controlling behavior in relationships hurts the controlled person's confidence and overall emotional wellbeing. It is in everyone's best interest to steer clear of such a relationship.
Related Reading: 

Signs You're in a Controlling Relationship
14. Making you explain yourself
Another way to spot jealousy is when your partner demands details about everything you do and the people you meet.
Psychotherapist Sharon Martin details how justifying, arguing, defending, and explaining yourself (JADE) mark unhealthy relationship communication patterns that adversely affect the individual and the relationship.
15. Getting angry when you give compliments to others
If you want to check whether your partner is jealous or not, notice their reaction when you give others simple compliments.
Appreciating others even when you are in a relationship does not mean you are cheating. When your partners throw tantrums over harmless compliments, they are insecure, showing jealous behavior signs.
16. Wanting to know about your past
Even though your previous relations matter no more, a partner with signs of jealousy wants to know every detail. And if you say no, they will get angry. Their insecurity drives their ever-growing desire to learn more about your past constantly.
Related Reading: 

How to Deal with Jealousy in Relationships
5 Steps when confronting your jealous partner
If you still have the desire to make your relationship work, you can initiate changes that address these signs of jealousy in a relationship.
Check out the following steps to communicate with your partner about their visible jealousy:
1. Start the conversation calmly
Ensure you don't make it seem like they have a problem.
Instead, present it like it's a problem you would like to solve together to move the relationship forward. It would help as it would save your partner from feeling cornered, which might make them more open to the conversation.
Related Reading: 

How to Communicate With Your Spouse When Things Are Tough
2. Express how you feel
Communicate your feelings sincerely and honestly. Try not to mince words about how their behavior makes you feel.
Clearly express what your understanding of a healthy relationship is and what your expectations are moving forward. Be assertive and non-apologetic, as you have the right to be in a relationship that satisfies your needs.
Related Reading: 

How to Share Your Feelings With Your Spouse
3. Ask that they change
Let them know you need them to change their actions or the way they talk to you.
Asking for positive changes that would benefit your relationship is not selfish in any way. Decisively asking for a change would convey the seriousness of the matter for you to your partner.
Related Reading: 

How To Deal With A Partner Refusing to Change
4. Give them the chance to talk
It is best to listen to their explanation as well.
Try not to get too carried away with your grievances to forget to give them the space to talk. Hearing them out will help you understand things better and plan your actions accordingly.
5. Acknowledge their response or leave
At this stage, your partner's response will determine where the relationship is heading.
If they are somber and accept their mistakes, you can tell them you appreciate their honesty and plan to make things work. However, if they don't see anything wrong with their actions, it may be time to reassess your position and leave.
Related Reading: 

How to Not Be Jealous in a Relationship 
Conclusion
Relationships come with their traits, including signs of jealousy in a relationship.
Occasional jealousy is normal, but extreme jealousy can be disastrous for everyone involved. If you suspect your partner has some jealous tendencies and would like to know how to spot them, pay attention to the signs listed in this article.
Share this article on
Want to have a happier, healthier marriage?
If you feel disconnected or frustrated about the state of your marriage but want to avoid separation and/or divorce, the marriage.com course meant for married couples is an excellent resource to help you overcome the most challenging aspects of being married.
More On This Topic
You May Also Like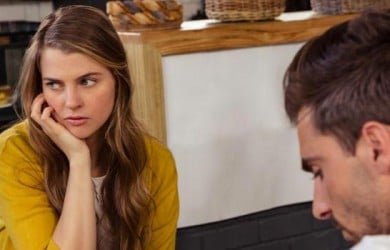 Popular Topics On Married Life