7 Signs of an Unhealthy Relationship
Much of what we grow up thinking about love and relationships rarely turn out to be true. Disney cartoons, movies, romantic comedies, and teen shows have distorted our perception of what love and a healthy relationship is.
We have preconceived notions of what a relationship should be, without ever having been in one. And of course, with accessible HughesNet internet, shady internet content adds its own flavor to the mix.
An unhealthy relationship – 7 signs that show you are in one
Human relationships have different dynamics but have one core dynamic, emotional support and fulfillment. People mostly enter into serious relationships with their partners because they form an emotional connection. The two-way emotion street becomes full of traffic, and you feel happy. You feel like you have someone who understands you and will have your back on bad days. So far so good.
Unfortunately, with most relationships, the connection starts to weaken after a while. This is because as two people spend more time together, they have to make more effort to keep up appearances. A person may not always be the same a few weeks or months down the road. There are thousands of relationships that started out happy but turned into disasters.
You might also be wondering why it's so difficult to leave an unhealthy relationship? There can be many reasons why couples find it difficult to get out of an unhealthy relationship and such can often be associated with personal insecurities.
Unhealthy relationships have a nasty habit of being slow burners. Relationships are challenging, no doubt. But a stressful relationship begins to spill over into other aspects of your life like work, friends, and family. Stressful relationships can even lead to an increased risk of physical or mental illness. Look out for clues you're in an unhealthy relationship to avoid heartache.
There are certain warning signs of unhealthy relationships that can't be ignored. If you witness these seven signs in your relationship, it may be time for you to reevaluate:
Constant exhaustion

Isolation

Needing permission

Always watching your step

Subtle insults

Uncertainty

Passive aggressive behavior
Let's examine each of these signs, so you can objectively judge your relationship.
1. Constant exhaustion
One of the biggest indicators that you are in a toxic relationship is near-constant exhaustion. In most cases, one partner is trying to constantly predict the other's mood or behavior to avoid conflict. This can be extremely tiring and stressful. Especially over a period of months or years.
While healthy relationships have their ups and downs, for the most part, both partners feel happy and relaxed. In a toxic one, good feelings start to shrink while the bad feelings increase in frequency. If your relationship is heavily draining and exhausting, maybe it is time to consider an exit.
2. Isolation
Isolation is another huge, obvious indicator that you are not in a healthy relationship. There are two types of isolation that could occur. First, your partner forbids you from meeting friends and family close to you. He or she does not let you meet colleagues after work. This is a huge red flag, and you should consider leaving that person.
The second type of isolation is a result of the constant exhaustion we discussed above. Exhaustion saps your motivation to go out and meet the people you love. After a point, you may stop making any effort to see the people close to you. Remember, meeting people online via your Internet plans wont help, and nor is it a substitute for real human connection.
3. Needing permission
In most relationships, this applies to one partner needing the other's permission to meet people they want to hang out with. An adult relationship comprises of two adults, which means both are their own boss. Of course, important life decisions need to be taken together.
But if your partner needs you to ask for permission before you go out and meet friends then it is a problem. If you need to ask your partner if you are allowed to wear certain clothes or go to certain places, that is a problem.
4. Always watching your step
Unhealthy relationships make you feel like you're walking on eggshells all the time. You are constantly trying to predict your partner's behavior, moods, and reaction to things.
You start to hide things because you are afraid of how they will react. If you're often in this situation, you may need a more open and communicative relationship.
5. Subtle insults
Unhealthy relationships are often characterized by abuse, and one of the forms of abuse is a subtle insult disguised as a joke.
Abusive partners will often make belittling comments about you, and call them jokes when you react to them. They will accuse you of overreacting. Make no mistake, if their "joke" makes you feel powerless, angry, or small, then it is abuse.
6. Uncertainty
Unhealthy relationships are very volatile, instead of being stable. They have extreme highs and lows, the timing of which is very hard to predict. You never know if the good feeling will last another day or if the bad days are going to stop next week.
This uncertainty spikes your stress hormone levels, which is an extremely unhealthy outcome if it is happening all the time. Conflicts happen in healthy relationships too, but not all the time and not this acutely.
7. Passive aggressive behavior
One of the earliest warning signs in an unhealthy relationship is passive aggressive behavior. It leaves very little room for conflict resolution.
You feel something is wrong. You ask your partner but they tell you nothing is wrong. Yet they still give you the silent treatment like you have done something wrong. Often accompanied by gaslighting, and shutting down your efforts. You may need to come to terms with the possibility that your relationship is toxic.
Relationships aren't always easy. They can be challenging and requires work from both people involved. However, if you find you're more at ease talking on the HughesNet Customer Service number that your significant other, you may have a toxic relationship. Take care of yourself, be careful, and if you need emotional help, don't hesitate to ask for it.
Share this article on
Want to have a happier, healthier marriage?
If you feel disconnected or frustrated about the state of your marriage but want to avoid separation and/or divorce, the marriage.com course meant for married couples is an excellent resource to help you overcome the most challenging aspects of being married.
More On This Topic
You May Also Like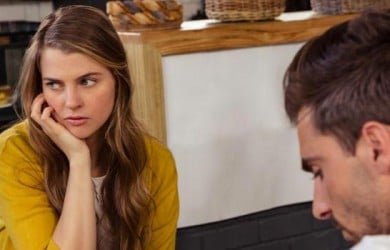 Popular Topics On Married Life