The Danger Behind Talking to an Ex While in a Relationship
Is it possible to be friends with your ex without it affecting a new relationship?
Honestly, you can't, and to think of it, there isn't any need to be in contact with your ex. The reason is that whatever you had with that person will echo in your current relationship. Memories you shared with that person will linger around you.
The faint memories of your previous relationship will cast the shadow over your current one you should be focusing on. Your new partner should feel special like they are the only person you love.
But how can they ever experience those feelings when they're reminded that you've already experienced that same love with someone else?
If you're truly ready to commit to a new relationship, then you need to forget about old romances. It's nice if you can be on friendly terms with your ex, but that's what they exactly are; an ex is nothing but 'History'.
What people say, is that really true?
People like to think that there isn't any romance left in the old relationship, that they truly are just friends. But at some point, you can't help but think that you've been intimate with this person, you've loved them; there was a time when you thought that you'd last forever.
The experiences you had with this person will stay with you forever. So, talking to an ex while in a relationship will only make matters more worse for you.
And if you decide to talk to your ex while being with someone else, then what will happen if you are suddenly caught up in a sacrificing situation? Who will you prioritize if your ex suddenly needs you? Whose feelings do you sacrifice?
Its kind of you to be there for that person and not hold any grudges but it's a cruel kindness that you're inflicting.
At the same time, you are being unfair to your new partner by reminding them that they are not special. It also states that your loyalty is divided. You have already experienced a love that you thought would never end, and that past love still exists in your life.
If you are truly ready to invest yourself in your new relationship, if you truly love them, you owe them a clean slate – a relationship where your love is unique and irreplaceable and not a love that came after the one you had before.
Minimize contact with your ex
You must completely let go of your past since talking to an ex while in a relationship is not such a good idea. They shouldn't be plastered all over your phone. It's okay to have them on your social media, but don't interact with them. Don't text each other or like each other's photos. Delete their number before your current partner feels like they should ask you to do it.
There's no need to hang on to an old relationship, especially if it hurts your new partner.
If you face difficulty in letting go, then you must step back and figure out how you really feel. Maybe there's unfinished business, and if so, then don't lead somebody else on. You can't have your heart and mind stuck in two places at one time because then you won't be able to invest yourself completely.
If you're distracted, then you won't be able to build new memories with your partner, and that can cause some major problems in your new relationship. If you wish to start a happy relationship with your current partner, then you must get to know the essential characteristics of being happy in a relationship.
It isn't healthy to live in the past.
Your ex is your past, and that is where they should stay. What if your ex still has feelings for you? And if they do, they will always be hinting at getting back together or mention how they miss being with you. This may divert your attention, and you will lose focus from your current relationship.
All in all, staying in touch with your ex is not a good option for you, and you must try your best to move on.
Share this article on
Want to have a happier, healthier marriage?
If you feel disconnected or frustrated about the state of your marriage but want to avoid separation and/or divorce, the marriage.com course meant for married couples is an excellent resource to help you overcome the most challenging aspects of being married.
More On This Topic
You May Also Like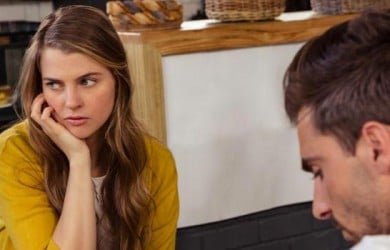 Popular Topics On Married Life