What to Talk About on a First Date: 20 Things
First dates are always unique. This is the first time you're meeting someone you like with a hope to take things ahead. It isn't as easy as it seems. Movies have shown that a lot can be done on first dates, but things can be very different in reality.
Some people try creativity to impress their date, but nothing can beat up the best conversation you have. An engaging and unique conversation can change a lot. So, if you're wondering what to talk about on a first date, worry not. Listed below are some successful tips that will make this easy for you.
How to get through the first date?


First dates can be tricky. It is not just about getting through the date itself; most people would also agree that even getting a first date with someone can be a daunting task. Thank God for dating apps in the 21st century that seemed to have made the process easier.
However, even with the convenience of knowing who is available, asking someone out on the first date can be intimidating.
Dating apps have given rise to the 'talking phase,' which many people find extremely draining. This is when two people talk to each other to find out if they want to go on a date at all or not.
Many people say they have been ghosted during this phase itself after being led on for a long time. The prospect of actually meeting in person has never arrived. The talking phase can last days or even weeks and can be tricky to navigate through.
Now, suppose you end up on the first date with someone you like. Getting through the first date and having a real chance at a second date towards its end is extremely important.
What you wear to the date, how you present yourself, and what you talk about can play a significant role in helping you get through the first date.
Related Reading: 

First Date Ideas to Make Your Date Memorable
What topics to talk about on a first date?
When on a date, you're there to know each other well. Striking a good conversation and asking the right questions can only serve the motive.
So, here are some first date topics that will help you with things to talk about on a first date. These topics to talk about on a first date will help you keep the conversation going without the risk of making it too serious for a first date.
If you are looking for great first date ideas, check out this book that will give you great creative ideas for the first time you take them out.
1. Ask them if they are nervous
People act clumsy on dates as they pretend to act confident and intelligent. Well, drop the act and admit that you're nervous. Ask them the same question. This will be an icebreaker between the two of you and will surely be one of the best first date topics, to begin with.
Besides, there is no harm in being nervous and certainly not in accepting it. Everyone is worried on their first date unless you have a good rapport with the person already.
Chances are, your date is equally nervous, and in fact, both of you end up feeling much more comfortable knowing that it is not just you.
2. Favorite place to visit
This will tell you a lot about a person's choice and is one of the perfect first-date conversation starters. Everyone has a place they wish to visit or have loved when they visited. It can say a lot more about the person and what they like.
For instance, if someone says Zurich, you know that the person is fond of mountains and cold weather. This, indeed, will get you both talking and keep up the conversation going naturally.
Related Reading: 

8 Dating Tips to Impress Her
3. Best meal ever had
If you're asking about their favorite food, you're most likely to get one-word answers. However, this specific question can let someone say more than a word. They might get into the history of the best food they had and why they think it was the best.
To keep the conversation going is essential, after all. Food can be a great topic on the list of what to talk about on the first date.
4. What makes you laugh
Everybody looks for humor in their potential partner. They want someone who can make them laugh and keep them upbeat in bad times. So, when you ask this question, you will know how to bring a smile to their face.
What makes them laugh tells a lot about them and can be one of the best first-date topics.
5. An important person in life
Wondering what to talk about on a first date with someone you already know? Well, ask about the important person in their life. If things move forward and you get together in the future, this would come in handy for you.
By caring for the most critical person in their life, you would show how much you care and love your partner. Indeed, you wouldn't want to miss out on this information, even if it's your first date.
6. Where is 'home'?
So, what to talk about on a first date? Well, consider asking them where home is for them. This is far deeper than where they live right now. It's about their childhood, where they were raised, how their childhood was, and small memorable moments they remember about it.
It could also mean where they see themselves living in the future and what they expect from their life.
7. Nicknames while growing up
If you are wondering what to talk about on a first date, ask them about their nicknames while growing up.
They must have had fun and a lot of nicknames given by almost every member of their family. They indeed will have some anecdotes to share associated with it.
8. Bucket list
This is an exciting topic about what to talk about on a first date. Some places to visit, some activities to do, and something interesting to do before they die. Their bucket list will tell you a lot about them as a person and personality.
If you wonder what to talk about on a first date with a girl or a guy, asking them their bucket list sounds like a great idea.
9. Are you pursuing your dream?
What to talk about on a first date that will strike a chord with them?
Well, ask if they're pursuing their dream. This will be a better question than what they are doing presently. While answering this, they will elaborate on what they dreamed about and how far they've reached.
10. Weekend activities
Wondering what to talk about on a first date with a guy?
Ask about how they spend their weekend. Generally, girls have many activities planned, but guys end up spending time either watching sports or playing games. This will give you a better perspective of what kind of person he is.
11. Perfect day
What does their perfect day look like is an excellent idea if you are wondering what to talk about on a first date.
Someone might think of just enjoying themselves on a beach, while someone else might go on a trek. Someone might enjoy staying in and relaxing, while someone else would like to go out with friends and party.
The answer to this question can help you figure out what kind of a person they are.
Related Reading: 

Good First Date Ideas to Impress Her
12. Their best friend
Almost everyone in the world has a best friend. They also have a good impression of that person. Talking about their best friend is a good idea for what to talk about on a first date. However, please don't make it look like you are more interested in their best friend than you are in that person.
It is only an icebreaker to learn more about what activities your date likes doing with their friends.
13. The hobbies
What people enjoy doing outside of their job is an excellent idea of what to talk about on a first date. Everyone has something they want that's not related to their career. It could be something they are now too busy to pursue, but there should still be something.
Hobbies are also crucial for planning a second date. Make sure to include it somewhere in the conversation. Setting up your next meeting together during the first meeting is the best way to keep both parties interested.
14. The future plans
Plans, at least those in the short term, are great first-date conversation ideas. All dates start with the intention of looking for a potential mate.
Discussing each other's plans together will give you a good idea if you're both on the same page or not and where you want to go from here.
15. The scariest thing you've ever done
Adventure is a part of life, and for some people, it is more important than most things. Some people look for someone fun, spontaneous, and adventurous.
Discussing the scariest things you have both done can help you understand how fun and spontaneous the other person is likely to be.
Also Try: 

Dating quiz
16. Their go-to drink
You both can talk about your go-to drinks, and if they turn out to be the same, that is even better. It does not necessarily have to be an alcoholic drink. Even iced coffee or a specific cup of tea could be someone's go-to drink.
If you are looking for topics for first-date conversations, asking this question can be significant. It also gives you room to plan a second date keeping their answer in mind.
17. Favorite movies and shows
What to talk about on a first date? This is one of the most exciting topics to talk about. People who happen to have the same taste in movies and TV shows are likely to get along really well.
It also gives you so much more to discuss if you have watched the same shows or movies. You can talk about your favorite seasons, episodes, scenes and analyze them with someone who has watched them as closely as you have!
18. Your idea of a holiday
Some people like to visit towns with a lot to do and see, and are always actively looking for something to do. On the other hand, others want to unwind with a book, sleep in, take hot showers, or spend time in the tub or the pool.
Ask them which one they are since if you happen to take a holiday together in the future, your plans must align.
19. A subject they know well
Some people are experts at their jobs and happen to be very interested in a completely different subject. For instance, a travel writer could know a lot about astrology, while a scientist may have a lot of knowledge about cooking.
Ask them about a subject unrelated to their job that they know well, and watch them tell you about it enthusiastically.
20. Ask them about their family
Your date is likely to feel welcomed and valued if you ask them about their family. Do not ask too many questions, as that can make things awkward.
But questions such as who all are in their family, what they do, and where they live can be some basic questions you can ask. Strong family relationships play an essential role in developing one's personality and knowing more about them can help you unravel more of your date's personality.
Related Reading: 

Things to Avoid on Your First Date
3 Things you should not talk about on the first date
While the ones listed above are a few ideas that will help you have a good conversation on your first date, some topics should be off that coffee table. Some of them are listed below.
Make sure the discussion does not head this way, as it is likely to reduce your chances of connecting with your date, and you may even lose out on the possibility of a second date.
Remember, as important as knowing what to say on the first date, it is also crucial to understand what you should not be saying.
1. Exes
It's not taboo for established couples or two people courting each other to discuss their past relationships. However, it's also a subject where one or both of you could step on potential landmines that would send the date to an abrupt end.
Exes are a source of good and bad memories. Good memories will make you jealous, and bad memories will sour the mood of your date. There's no good side to discussing it on the first date.
2. Sex
Like exes, it's something a couple in a relationship will eventually need to talk about, but it's not something that you can easily open up on a first date.
Every dating couple has sex on their minds, even on the first date. There is no problem with getting laid on the first date. It's the third generation since sexual liberation, any two consenting adults can do what they want, but the topic must be approached with care.
3. Politics
Political views may be necessary to you, but the person in front of you should be more crucial. Try to know them as a person, rather than what their political opinions are.
Most political discussions can end up in a debate or, worse, a fight, something you do not want to engage in on your first date. Political views, therefore, are not on the list of what to ask on a first date.
Related Reading: 

First Date Questions You Must Ask on Your First Date
6 First date conversation tips
Apart from the topics of discussions, here are some first-date conversation tips. These first date tips will also help you come across as more confident and charming to your date.
Make sure you follow these to make a great first impression on your date.
Do not come across as nervous or anxious. You already know the things to say on a first date. Do not think you will mess this up.

Present yourself well. Make sure you dress your best and are groomed well.

Speak in a language you are fluent in. It will help you be more confident and also help you articulate your thoughts better.

Do not speak while eating, especially when you get too excited. Do not let your nervousness get the better of you.

Do not speak over your date. Let them finish their sentences and stories.

Do not overshare. Remember this is the first date, and you will have plenty of chances to share serious stories later. Try to keep it fun and light.
Related Reading: 

After the First Date When You Really like a Person
Meanwhile, if you are looking for ways to make the date less awkward, watch this video.
Put the charm on!
Hopefully, the tips and topics for a first date conversation are enough to get anyone started on a successful first date and turn it into a second, third, and many more. Make sure you stay yourself and try to have a natural, pleasant conversation with your date.
If you cannot get them to talk to you even after trying to put these ideas to use, maybe they are not on the same vibe.
Share this article on
Want to have a happier, healthier marriage?
If you feel disconnected or frustrated about the state of your marriage but want to avoid separation and/or divorce, the marriage.com course meant for married couples is an excellent resource to help you overcome the most challenging aspects of being married.
More On This Topic
You May Also Like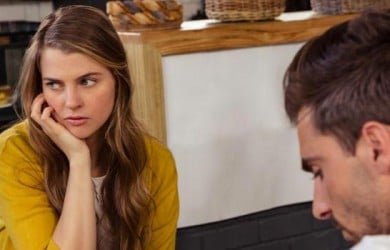 Popular Topics On Married Life