15 Common Mistakes That Lead to a Boring Relationship
If you've found yourself wondering whether you are in a boring relationship, odds are you feeling pretty fed up with your current romantic situation. Your lack of happiness in the relationship may be making you question things.
If you're in a boring relationship, you may be looking for a way to leave your partner without hurting their feelings, or maybe you're still in love and are looking for ways to reignite the excitement you felt when you first met your partner.
What can you do when a relationship gets boring, and how did it get that way to begin with? Keep reading for signs you're in a boring relationship and find out the mistakes that you should correct.
Also Try: Is My Relationship Boring Quiz
Signs you are in a boring relationship
Thoughts like "my relationship is getting boring" aren't anything new or unique. Most people who have been in a long-term relationship have felt the itch for something a little more exciting.
Here are some of the most common signs that you're bored by your current romance:
You'd rather be doing other things than hanging out with your spouse

You've stopped listening to your partner

Little things bother you more than they should

You've started flirting with other people

Intimacy doesn't interest you

You're always nitpicking your spouse

You create drama just to have something exciting going on in your life

You have your eye out for a new relationship

It doesn't matter if you hear from each other throughout the day

You don't make your spouse a priority

Breaking up is always on your mind
Reasons for boring relationships
New love is exciting, but the longer you are with the same person, the less there is to figure out about each other. And before you know it, you may find yourself in a boring relationship.
New relationships begin amidst excitement and anticipation. There is a mystery that keeps you engaged and interested in all that takes place between you and your partner. However, this equation evolves with time.
As relationships proceed further, the excitement should ideally be replaced by a deep bond that gives comfort. But it can also lead to boredom developing due to lack of excitement and complacency.
Couples can forget to reinvent and reinvigorate their relationship by not paying attention to each other. They can get caught up in work, financial and family responsibilities, and the relationship may become boring.
Related Reading: 15 Signs of a Boring Relationship
15 mistakes that lead to boring relationships
Do all relationships get boring? They don't have to.
Knowing what creates a boring relationship can help you to keep things hot and heavy. Here are some critical mistakes that are contributing to your relationship being a snooze-fest.
1. Letting emotional intimacy lag
Emotional intimacy is huge for an exciting relationship. Couples who maintain an emotional connection feel more secure and loved in their partnership.
Not only does emotional intimacy keep couples feeling close and understood by each other, but studies show that emotional intimacy plays a large role in maintaining sexual desire in a marriage.
If you lack emotional intimacy, you may start to feel helpless, lonely, and bored in your relationship.
Related Reading: Significance of Emotional Intimacy in a Relationship
2. Being with the wrong person
Why do relationships get boring? Sometimes it isn't about a mistake you're making so much as the person you're with.
Often what can create boredom and restlessness in a relationship is being with someone:
Who doesn't have the same goals as you

For their appearance

Based solely on a physical connection, or

Who doesn't share any of your interests
3. Ignoring date night opportunities
One of the biggest mistakes that can make you think, "my relationship is boring," is a lack of romance. Romance requires constant effort and initiative from the couple.
Going out regularly for a date night enhances relationship excitement, boosts passion, and increases sexual satisfaction and communication skills. But couples forget to prioritize their relationship, which makes the relationship boring for them.
Related Reading: 70 Adventurous Date Ideas For Couples
4. Forgetting about yourself
Just because you're in a relationship doesn't mean you have to do everything together. The more you cling to your identity as a couple, the more lost you'll feel if you ever break up.
To prevent boredom, spouses need to take time and pay attention to their own hobbies and needs. Take a personal day to focus on the things that make you who you are.
5. No depth in your relationship
Still feeling like "my relationship is boring"?
You are guaranteed to be feeling bored in a relationship when you are with someone who can't stimulate your mind.
A relationship needs to be more than being physical or having shallow interests in common. For a relationship to stay fresh and exciting, couples need to have a deep foundation.
6. Not spending time with your friends
If the number of people who lamented spending 24/7 with their spouse during lockdowns taught us nothing else, couples need their friends.
Spending all your time without a break from your spouse is bound to leave you thinking, "My relationship is getting boring."
Maintaining excellent relationships with your friends will help you feel rejuvenated and give you a much-needed social break from your spouse.
7. Unhealthy attachment to your phone
Don't get stuck feeling like "my relationship is boring" after staying glued to your mobile.
Spending too much time buried in your phone is a sure-fire way to be in a boring relationship. Research reveals that 51% of people feel their spouses are too distracted by their phones and 40% are bothered by it.
Ignoring your partner is an obvious way to make them feel like you've emotionally checked out of your relationship.
8. Being too comfortable
Consider your house habits if you're feeling bored in a relationship and aren't sure where it stems from.
Ask yourself, are you getting too comfortable together? Are you passing gas freely in front of your spouse or rarely dressing up for your partner anymore? If so, you are stuck in a monotonous relationship rut.
You should try to maintain some level of mystery so that your partner still experiences excitement and curiosity when they think of you.
9. Too attached to your routine
Reliability is excellent for a marriage. It boosts trust and enhances communication skills – but you may be building a boring relationship if you share a routine that you could predict down to the hour.
Step outside of your routine to prevent yourself from thinking, "My relationship is boring," for the rest of your life.
10. Letting sex get stale
In a survey of 200 married couples, participants said that physical affection is a "strong predictor of love" in the relationship. This means partners need to do more than just have sex.
Physical affection, such as caressing, cuddling, holding hands, and kissing on the lips or face, has been strongly linked to partner satisfaction in relationship studies.
If you want fireworks in your marriage, you need to keep things exciting in the bedroom. Sometimes all you need to kickstart that passion you once had for each other is to try something new.
Don't feel like you have to do extreme things; something as simple as making love in another room of the house or sending naughty texts to each other can liven things up quickly.
Related Reading: Importance of Sex in Marriage – Expert Advice
11. Letting the honey phase control you
Why am I bored in my relationship when the beginning was so great?
The truth is, the beginnings of relationships are notoriously magical. When you're together, you have butterflies in your stomach, you never fight, and every touch feels electric.
But the honeymoon phase doesn't last forever and expecting it to can lead to a relationship letdown.
Relationships demand effort to stay interesting.
12. Losing that little spark
Don't assume that a good relationship doesn't require work.
Long-term relationships get boring quickly when partners stop wooing each other. That is when they stop flirting and doing all of those fantastic little things that make the beginning of a relationship feel so exciting.
Couples can prevent the dreaded question: "Do all relationships get boring?" by continuing to flirt, making each other laugh, and surprising each other in the relationship.
Related Reading: Tips to Reignite the Romantic Spark in your Relationship
13. You never argue
You might think that arguing is a sign of an unhealthy relationship, but that isn't necessarily the case.
A lack of disagreements may mean a lack of interest. When you argue, you are actually learning how to work together as a team to solve a problem. The occasional bickering also brings out passion and excitement for couples when it's time to make up.
To learn more about how to have fights that are helpful for the relationship, watch this video:
14. Don't remember why you got together in the first place
What did you love about your spouse when you first met? Was it their laugh, their smile, or the way you felt when you were together?
Don't let a boring relationship blind you to why you fell for your partner. Make a list or reminisce about all the great things you love about them. Nostalgia can help bring that warm and fuzzy feeling back.
If your relationship was amazing once, it can be amazing again!
15. Ignoring the feeling
If you start to think, "My relationship is getting boring" then don't let that boredom creep into your relationship any longer than it should.
That boredom isn't going to go away on its own. If you are feeling unfulfilled in your relationship, look for ways to change it up.
You don't have to do anything drastic – just try something new. Turn off Netflix, set your phones on silent, and put other distractions aside.
Focus on your spouse by doing something small and simple together. Go for a walk, head for a coffee date, or spend the evening out on the patio with a glass of wine.
Doing something small will help break you both out of any monotony you're feeling.
How to cope with a boring relationship
Do all long-term relationships get boring? No. You are not doomed to be "bored in my relationship" just because you've decided to commit to someone for life.
Keep things interesting by having a regular date night, maintaining emotional and physical intimacy, trying new things together, and staying true to your hobbies and friendships outside of your marriage.
Prioritizing your relationship is a habit that you need to develop to keep boredom away from your relationship. You need to take the initiative and develop an attitude that takes steps to make the relationship work.
Conclusion
Are you in a relationship that has become stale and boring?
Signs you're "bored in my relationship" include drifting from your spouse, lacking communication, and entertaining a wandering eye.
A boring relationship doesn't have to stay that way. Most people in long-term relationships have thought, "my relationship is boring," – but that doesn't mean your love is doomed.
When a relationship gets boring, take action to keep that spark alive.
Share this article on
Want to have a happier, healthier marriage?
If you feel disconnected or frustrated about the state of your marriage but want to avoid separation and/or divorce, the marriage.com course meant for married couples is an excellent resource to help you overcome the most challenging aspects of being married.
More On This Topic
You May Also Like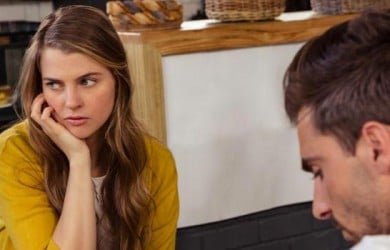 Popular Topics On Married Life