How to Let Go of the Past: 15 Simple Steps
Experiences from the past can significantly affect how you live your life today. Most often, people base their decisions on past events or past experiences with certain people.
Understanding how to let go of the past is never an easy task. Though it may be easy for some, for most, it is a challenging prospect.
With the proper guidance, you can learn how to let go of the past in a healthy and timely manner.
What does letting go of the past mean?
All human beings can feel pain. Whether it be emotional or physical, everybody has felt what it means to be hurt. What makes people unique is how they deal with pain. Experts say that when inner pain prevents a person from healing, it indicates that they are not moving on.
Letting go of the past means healing from past painful experiences, learning from them, and using them for emotional growth.
Research shows that letting go is a continuous process in every person's life that indicates change necessary for personal growth and development. It is a natural part of life that opens up possibilities by acting as a continuous refresh button.
Why is it not easy letting go of the past?
Experiences in life impact people in different ways. Some can quickly move on from the past, while others feel trapped and find it difficult to learn how to let go of the past and be happy. These people who can't free themselves from past events may be experiencing trauma.
Trauma is a psychological wound resulting from deep embarrassment, loss, danger, or a distressing experience. People often associate trauma with violent events, for example, being taken hostage or being kidnapped.
However, trauma can affect any person because of any extreme experience.
The distress that trauma causes can change the way you think. It may cause you to overthink things linked to the past deeply. People may believe that deep thinking can help them gain understanding.
However, rumination can make solving issues even more challenging, preventing you from moving on from the past. It may indicate PTSD (Post-traumatic Stress Disorder), OCD (Obsessive-compulsive Disorder), anxiety, or depression.
People may also hang onto past experiences or relationships for different reasons, like residual attachment to your ex, happy memories of the past or fear of what the future holds.
Also Try: Should I Let Him Go Quiz
15 steps to unshackle yourself from past relationships
There are ways to address the past in a healthy and healing way for the mind and the soul. The ability to move on can help you have a future that is brighter and ripe with possibilities.
So how do you let go of the past? Below are some effective ways to let go of the past you can follow:
1. Don't suppress your feelings
If you are afraid of feeling emotions, such as sadness, disappointment, anger, or grief, know that you are not the only one. People tend to shut these feelings or avoid them instead of facing them, preventing them from letting go of the past.
Negative emotions can fester and destroy the mental peace of the individual. Whether it is through self-reflection or therapy, the emotions have to be addressed and not denied.
One of the steps of letting go is to completely accept the cause of your pain and allow yourself to feel the pain while dealing with it in the right way.
Also Try: Are You an Empath?
2. Think positively
To fight painful thoughts, you can let all your negative emotions out physically. Once you have accepted that you are hurt, let go of hurt feelings and direct them towards something else (old magazines or newspapers).
While you feel all those painful emotions from the past, tear them into pieces together with sadness and anger. Then, throw them away along with all negativity. This is a good way to learn how to let go of the past.
Also, remember that what you tell yourself can determine whether you are stuck or have moved forward. Often, fighting negative thoughts with positive ones during emotional pain can help you have a different perspective.
3. Identify the problem
Accept the past and know when it is time to move on.
Remember that carrying all the negativity will serve you no good purpose. Whatever pain you may have gone through, keep them in the past and decide to let go. However, to learn how to let go of your past, you must know what is getting in your way.
It is crucial to know the source of your sorrow. For example, seeing your ex often because you have the same circle of friends can get in the way of overcoming your past. So, create distance to learn how to let go of the past.
As expressed by Ramani Durvasula, a Clinical Psychologist, "Creating psychological or physical distance from the person causing you pain can help you in getting over your past, so you do not have to be reminded about it."
Identifying the reason that stops you from letting go will help you know the measures you must take to make it possible. Though you have no power to change what has happened, you can prevent future pain and fight it.
Also Try: What Am I Doing Wrong In My Relationship Quiz
4. Focus on yourself and think about the future
Focus on yourself rather than the person causing you pain or your past experiences. Though you have to face and fight these things, always think about the present when learning how to let go of the past. Think of something you are thankful for.
Moreover, contemplate on what the future may bring. Though the past can be crippling, it also teaches you what you should do for your future. Think of how you would handle events that haunt you if they were to happen again.
5. Introspect your emotional habits
It is easy to go through certain emotions without even realizing the impact they have on your daily life. Hence, you can get accustomed to negative emotions that limit your beliefs and influence your view of life.
Worse still, you may justify your negative feelings by believing that anyone would react the same if in the same situation. Therefore, to learn how to let go of the past it is highly recommended to identify your emotional habits and take charge of them.
Condition your mind to more positive emotions and try not to entertain any negative thoughts and emotions. With time, you will find it easy to get over your past and be in the right state to move on.
Also Try: Is My Husband Depressed or Just A Mess
6. Don't be too hard on yourself
If one of the things hindering you from letting go of the past is self-criticism, show yourself compassion and kindness. Treat yourself the way you would treat a friend, offering yourself compassion and avoiding comparing your journey to others.
Moreover, learn to forgive yourself and even the one who caused you pain. You can't think ahead if you are stuck in the past or present. It won't serve you well if you hang on to negative emotions or thoughts. Positive thoughts are crucial in learning how to let go of the past.
7. Employ self-care
When you are hurting, it will feel like you have nothing else to feel but hurt. Employing self-care involves doing things that make you or make you happy. In other words, listen to what you think you need first.
You may also need to set specific boundaries and say 'no' where necessary. That is part of learning to let go of the past. Typically, you want to engage in things that bring you joy and comfort and empower you as well.
Also Try: Self-love Language Quiz
8. Stick to your morals and values
Pain from a past relationship can hurt your self-esteem, and you may start developing feelings of self-pity. While you can't change the past, you can do something about the future. An important part of understanding how to let go of the past is not question yourself unnecessarily.
An excellent strategy to help you with this is to stick to your values and morals. Doing this will develop a positive attitude in life, and you are more likely to do better in life eventually.
9. Be with those who make you happy
Be with people who help you through all that you have gone through. As the saying goes, "No man is an island." Do not expect that you can let go of your past without the help of your loved ones.
Though getting over your past does not happen in a blink of an eye, being with those who make you happy helps you focus on what is ahead. In your journey to learn how to let go of the past, spending your time with loved ones will make you realize that holding onto the past is not worth it.
Also Try: Am I Happy In My Relationship Quiz
10. Join a support group
Similarly, being around people that have been through the same situation can make a lot of difference in your effort to let go. This can be a local support group where people get the opportunity to open up about their feelings without feeling judged.
This way, you can learn from other people's past and even hear how they could move on from the past. The group will act as your support system in your journey to let go.
11. Do meditation or yoga
Yoga and meditation can help you control negative thoughts. By practicing yoga or meditation, you can become more mindful. These activities will help you focus or concentrate on the present instead of the past. This is a beneficial way of learning how to let go of the past.
Meditation is easier than you think. Watch this video to learn the basics of meditation:
12. Exercise every day
Exercising is not only great for your physical health but also your emotional and mental health. According to research, exercise releases endorphins like dopamine that are associated with feelings of happiness.
Besides, a study by Havard shows that exercise can drastically improve negative feelings. A good tip is to exercise for at least 15 minutes as you get started and later take it up to 30 minutes each day.
Also Try: Quiz: Is Your Relationship Exceptional?
13. Establish rituals
Developing rituals is a good way of soothing the mind. Routine activities help people let go of the past by improving their overall mental health.
Eating or sleeping at a particular time can be some routines that help keep the past trauma from bothering people. For instance, listening to music can help calm a struggling mind to let go of the past.
Learning new things can lead to massive change, making it easier to let go of the past for good.
Also Try: How to Cope With Your Mental Health Issues in a Relationship
14. Shift your focus
Another surefire way of letting go of the past is to shift your focus and start doing what you are most passionate about. If you can't fix an unhealthy relationship or event, you can surely learn from it.
Consider each day an opportunity to start over and create the life you deserve rather than dwelling on the past.
Engaging in something that you enjoy doing will make it easier to shift your focus from people who hurt you and unfortunate events that are out of your control. Furthermore, this will make you accountable for your time.
Also Try: Honest Self Evaluation: Are You in a Healthy Relationship?
15. Seek help from a professional
If you think it is shameful to get professional help for your mental health, get rid of that thought. It is normal for a human being to get help from another human being when things get too tricky.
Psychotherapy is an effective and yet underutilized resource that can help address behavioral and mental issues. It is less harmful than the
So, why not seek mental help? If you struggle to let go of the past and move on, you can benefit from speaking to an experienced professional.
Conclusion
Releasing the past requires practice and time. Though it may be a painful process, you must decide to be in control. Also, go easy on yourself, talk to someone, and focus on the future. Most importantly, do not forget to celebrate small victories.
Use the suggestions mentioned in this piece to help you move on from your past and towards a brighter and healthier future.
Share this article on
Want to have a happier, healthier marriage?
If you feel disconnected or frustrated about the state of your marriage but want to avoid separation and/or divorce, the marriage.com course meant for married couples is an excellent resource to help you overcome the most challenging aspects of being married.
Learn More On This Topic
You May Also Like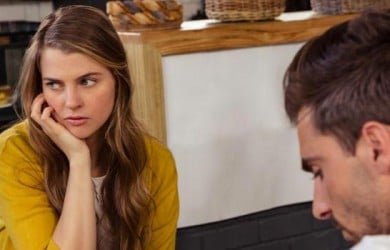 Popular Topics On Married Life