Honest Self Evaluation: Are You in a Healthy Relationship?
It's funny how often we notice things that are happening to others, but we don't see what's happening to ourselves. The same thing happens a lot in relationships. We see others in a healthy relationship or observe problems in unhealthy ones, but we miss signs on our own.
Psychologists say that it is a classic case of the boiling frog experiment. Subtle incremental shifts are harder to notice than sudden and abrupt changes. That's why we hardly notice it when we gain a few pounds, but see it outright from other people who we haven't seen for a while.
Healthy relationships: Comfort, contentment, and complacency
It is human nature to reject change when we are happy and content. People focus their attention on other aspects of their lives, and subconsciously neglect their intimate relationships. Small cracks are often ignored and left unattended until the foundations of the relationship come falling down their heads.
It's natural to be complacent when you have trust and security. Both are major ingredients for a healthy and long-lasting relationship, and partners rely on that trust and security believing that nothing will ever change.
But things do change, intimate relationships are like a fire, it needs to be maintained to keep it burning. People in long-term healthy relationships neglect to do it, believing that their partner will never do anything to hurt them. That is true in most cases, but there are times, even without third-party intervention, that the relationship is ruined even if that wasn't the intention.
That is why a periodic maintenance inspection is necessary to prevent problems from costing you down the line, just like what you do with your car.
Healthy relationships vs Unhealthy relationships vs Complacent relationships
1. Open communication / No communication / Assumed communication
Healthy relationships freely communicate their thoughts and feelings with words and actions. The couple shares every concern and victory, and they are always on the same page.
Unhealthy relationships have no communication at all if ever there is any, it's either an argument or one dictating to the other.
Complacent relationships assume that no words are needed and everything is understood right away.
2. Fidelity / Infidelity / Fidelity
Healthy relationships and complacent couples are loyal to each other. There is transparency and trust in both healthy and complacent relationships.
All complacent relationships started as a healthy one, it is that trust that made the couple complacent in the first place.
Unhealthy relationships have physical or emotional infidelity. The couple does it on purpose, but not to hurt their partner, they are simply reaching out to compensate what's lacking in their relationship.
3. Forward-looking / Living in the present / Assumed future
Couples in healthy relationships look forward to their future together. They are constantly discussing their plans. It's in sync with their individual life goals, and they are consistently working on it.
Unhealthy relationships, on the other hand, do nothing of the sort. They are simply living in the present and doing their own thing with at least one of the partners disregarding the feelings of the other.
Complacent relationships assume that everything is perfect, and nothing needs to be done for a bright future together.
4. Resolve conflicts / Constant issues / Ignore problems
It is practically impossible for any relationship to have no conflicts, even intimate and healthy ones. Healthy relationships discuss it in the open, and both parties work towards resolving them.
In unhealthy relationships, the conflicts are part of the background, and very little is done to change it. It is part of their toxic and suffocating lifestyle.
5. Positive behavior / Destructive behavior / Positive behavior
Healthy and complacent relationships are both in sync when it comes to child-rearing. This is where healthy vs unhealthy relationship activities make an impact.
According to the renowned child Psychologist Jean Piaget, a child's understanding and morality are heavily influenced by what they perceive during the early stages of their lives. The same age where they are dependent on their parents for basic needs.
Children are often neglected in unhealthy relationships while the other two nurtures their development.
Complacent vs Healthy vs Unhealthy relationship quiz
This simple test can help determine what kind of relationship you have with your partner. The couple will need to take the test individually.
When was the last time you had satisfying sex with your partner?
a) Last two weeks
b) Over a month ago
c) Over 3months ago
When was the last time you and your partner discussed your relationship and your future?
a) A few days ago
b) A few months ago
c) Over a year ago
When did you last date as a couple without a chaperone?
a) A few weeks ago
b) A few months ago
c) Over a year ago
When was the last time you had a real talk with your children about their lives?
a) A few weeks ago
b) A few months ago
c) Over a year ago
Do you and your partner discuss your day with your family?
a) Daily
b) Sometimes
c) Rarely
Do you get physical when you argue?
a) Never
b) Very rarely
c) Sometimes
Do you discuss ALL your life concerns with your partner?
a) Right away
b) Not All
c) No
Do you see a happy future together and constantly talk about it with your partner?
a) All the Time
b) Sometimes
c) No
Do you believe you will stay together with your partner "till death do us part?"
a) Yes
b) Yes
c) No
Are you Happy?
a) Very happy
b) As much as I can be
c) I deserve to be, but not yet
The total of both the results between you and your partner. Find the dominant answer; a,b, or c. If it's a, you are in a healthy relationship. If it's b, you are in a complacent one. And for c, you are in an unhealthy relationship. There are plenty of relationship quizzes on the net, but if you don't make an honest evaluation, you won't get an accurate result.
A relationship also involves at least two people. Healthy relationships mean those two people are in sync. Having one party happy and contented with their partnership doesn't necessarily mean the other party feels the same. It's important to get on the same level as your partner. Remember, the strength of the chain is always the weakest link.
Share this article on
Want to have a happier, healthier marriage?
If you feel disconnected or frustrated about the state of your marriage but want to avoid separation and/or divorce, the marriage.com course meant for married couples is an excellent resource to help you overcome the most challenging aspects of being married.
Learn More On This Topic
You May Also Like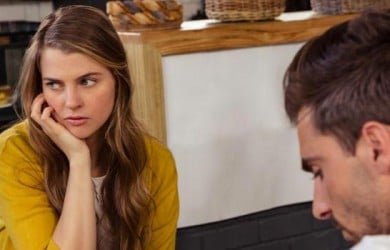 Popular Topics On Married Life