How to Stop Your Spouse From Bringing Up the Past
Anything we do has, more or less, an evident reason for it. Bringing up the past in a present argument may not be the most productive thing to do. Yet, it surely has an important meaning behind it.
Bringing up the past consistently is not helpful for problem resolution. However, understanding the reasons for doing so is. Once you comprehend why you are doing it you can find more effective ways of dealing with the issues.
Relationship Conflict– Still Fighting About the Same Old Things?
Relationship conflicts are common and crops up between couples every now and then. However, such fights only add negativity to the relationship and make you both feel worse and rather, trapped in the relationship.
If you are still fighting about the same old things, it's time to give each other space and work towards living in the present and planning your journey ahead, not backwards.
There are steps you can take to overcome bringing up the past all the time, whether it's yours or your partner's. First, we need to understand the potential reasons to approach the problem more strategically.
10 reasons why partners bring up the past in relationships
1. They don't want to be wrong
When the argument turns into a battlefield over who is right and who is wrong, the past can be used as ammunition. Past mistakes of someone can be employed to fortify other's position of righteousness.
When fighting turns to be about being right or wrong, your partner may come out as the winner, but your relationships won't.
2. There are things not yet forgiven
To you, it may seem that what a person brings up is out of the blue or completely unrelated. It doesn't have to be that way for them. They may have had the conversation in their mind going on for a while until a trigger appeared and pulled it into the present dialogue.
Bringing up the past often speaks to unforgiveness. Maybe it is infidelity or something said that seemed innocent yet was hurtful. Whatever the reason, the past will leak into the present until it is dealt with entirely, and the hurt has been healed.
3. Maintaining control
Bringing up past mistakes in relationships can be a way to remain in control over major decisions. When a person recalls the mistakes of their partner's judgment, they might be attempting to seize control over some of the current decisions being made.
Perhaps you are arguing about where to go for a holiday, and your partner says: "Maybe we should go with my suggestion. Don't you remember what happened last time we went with your selection? Clearly, you don't make good choices."
Bringing up the past in this way will likely escalate into a larger disagreement.
4. Diverting the subject
Bringing up the past mistakes by your partner to light can be used as a strategy to divert the focus from a mistake they made. Diverting the subject could bring you relief and help you avoid some unpleasant consequences.
For example, when you forget to do something they asked you to, and you come back with reminding of the things they forgot. It doesn't address the problem. It only temporarily shifts the responsibility and guilt away from you.
Moreover, it does not solve the problem. It can magnify them by ping-ponging accusations at each other.
5. Low emotional control
Perhaps you are already aware you are bringing up the past when you don't want to? You try to focus on the present, but emotions get the best of you?
Managing your emotional reactivity in an argument is key to resolving it productively and with minimal emotional scars.
However, it takes effort and practice to control your arousal state and what you say at that moment. If you recognize this is the main reason, don't despair. There are things you can do to stop bringing up the past, of which we will write shortly.
6. Finding absolution by comparing mistakes
Sometimes bringing up the past in relationships can show what you did is not as bad as they did. It could be a way of trying to get away with fewer consequences for your behavior.
You might be thinking (more or less consciously), "Perhaps if they remember how easy it was for them to make that mistake, they will have more empathy for mine?"
This approach doesn't help you correct your behavior or heal the hurt you imparted. Therefore, comparing can only make things worse. It may seem as though you are trying to convey that what you did is insignificant in relation to what they did.
You can imagine how that can make them even angrier and turn ugly rather quickly.
7. Punishing them
If you want to punish someone, you will most likely remind them of something they regret doing. Something they are ashamed of or feel guilty about. When you bring the situation up, the emotions tag along.
Nothing is worse than being constantly reminded of the times you were your worst self by someone you love dearly.
Hence, bringing up the past in this manner invites back the pain, decreases the chances of working through the issue, and severely damages the relationship.
8. Trying to restore trust
Bringing up your past indiscretions could be a way to control you through guilt.
When some form of infidelity happens, and trust is broken, it takes time to rebuild it. In the process of restoring trust, guilt could be used as a control mechanism to prevent any more transgressions.
The logic might be that if someone feels ashamed and terrible about themselves, they are less likely to make the same mistakes. Although that might be true in some cases, it is not a recipe for happiness and will not re-establish trust again.
9. Not feeling heard or emotionally safe
One of the reasons for bringing up the past is to finally get the other to understand what we are trying to convey.
The past is used until the spouse finally understands how it feels and does something about it. When the relationship is not a safe space anymore, we might attempt to re-create it in sometimes contradictory ways.
A part of the healing process is knowing our partner not only regrets the actions but can put themselves in our shows. We might feel that when the transgressor can perceive all hurt, they caused, and they truly know how it felt like the relationship can move forwards into honesty, reliability, and trust again.
10. An important need is not being met
Ignoring emotions won't make them go away, so they will come back in a moment when the person can't hold it in anymore. That is why sometimes, what they bring up seems unrelated and unexpected.
When a partner keeps bringing up the past, they might be feeling insecure in the relationship or trying to gain something that's missing.
If they are not sure what is missing, you can try to figure it out together. Otherwise, one partner continues to feel unsatisfied and the other guilty and on the lookout for defending themselves.
How to handle while bringing up the past in relationships
Anything that keeps reoccurring needs attention from both partners. To stop bringing up the past, you both need to be involved and willing to understand and then resolve the issues.
A way to start working on it could be by asking some insightful questions:
Why now? Why is this coming up at this moment?

What is the situation that keeps being brought up? (If it's different situations, you could ask, "What is in common to all of them?").

What lies behind the words? What is the emotional need that is not being met?

Write down what you are talking about since, to put it on paper, you need to make it more precise, concise and give you a distance from the emotional overwhelm.

What have we tried so far to address this? What haven't we tried? (Check out some advice below that could help you.)

If it persists, consider counseling. Unresolved problems will keep coming back until dealt with.
5 Tips for letting the past go and moving on to a healthy relationship
1. Get to the core issues
Why is either one of you bringing up the past? What are you trying to gain by it that keeps eluding you? Have you not yet found forgiveness and peace about a past incident? Do you not feel heard about an important need you feel is not recognized?
If you are to solve this problem, you both need to comprehend the core issues at play.
It seems relatively straightforward, yet if it were easy, we wouldn't be talking about it. If you find you are struggling with this, professional help is always available and can bring more awareness to problems and their roots.
When you learn the real reason behind the past coloring the present, you can address it.
2. Manage emotional reactivity
Learning how to stay focused on the topic at hand and not involve any past mistakes is not easy, yet it is an endeavor worth the effort. It might be that you both need to work separately on your emotional reactivity.
When you are in a heightened state of arousal, it is hard to solve a problem.
The "fight or flight" response can be activated. Although good for survival, not necessarily so good for relationships considering it is not "one against the other" situation. You should be focusing on resolving the problem, not fighting each other.
Therefore, learning to control your emotions to manage the discussion better is one of the key elements to a successful conflict resolution free of past mistakes.
In the video below, Stacy Rocklein explains how to express your feelings and share your emotions without fear.

3. Avoid trying to determine the "correct" version of the past
Here is the thing – you will recall the past according to your current state. Our brains are tricky that way and are influenced by many biases. That is why you may be remembering the "same" situation rather differently.
Because you may recall it quite uniquely, you should avoid trying to determine who is right or wrong. The only win-win situation is one where you both renounce being the winner of who has the truthful version.
In any case, the focus should be on the present problem. The more attention you give to the current situation, the higher chances of resolving it.
4. Agree on an adequate time for discussing the past
If it feels impossible to stop bringing the past into the present, at the moment, at least agree on bringing it outside of fights. It only fuels the fires further and shifts the focus away from resolution.
Act proactively in setting up an agreement about the topics allowed to be brought to the table during arguments. To accomplish this, you can agree on holding each other accountable for this agreement. This can be the answer to your question of "what to say when someone brings up your past."
Come up with a way to signal one another; you are going back to the old pattern and invite them kindly to circle back to the topic at hand.
Furthermore, you can set up a time to talk about the issue you are postponing at the moment of fighting. This sends a message that you are willing to hear them out when you are both able to approach it with less tension.
5. Validate emotions that resurface
The fact that something repeats itself speaks to its significance, although at first glance, what is being brought up can seem "insignificant" (like a comment over dirty dishes or house chores).
Always keep in mind that anything we do (or don't do) is related to some core values we hold important, like being appreciated, recognized, loved, accepted, etc.
Therefore, although you may choose not to talk about the past incident, you can validate how the person feels about it. Recognize they are feeling hurt, betrayed, upset, or sad.
Solving problems becomes much easier when both partners feel recognized. Add to that the fact that constructively managing conflicts is one of the key variables to a happy and long marriage. Give yourself the motivation to keep improving communication skills, including validating emotions.
Takeaway
If you find it difficult to let go of the past and you bring it up often, it is important you stop to understand what is behind it. Perhaps you aren't able to forgive or trust your partner? Are you punishing them or trying to gain absolution for your current mistakes by comparing it to theirs?
Whatever is the case, it's important to address the root causes if you want to have a happy and long-lasting relationship.
Bringing up the past can bring up a lot of hurts too, but won't solve the problem. Talk to your partner and try to address it. If it persists, you can always find a counselor to help you deal with it in a more productive way.
Share this article on
Want to have a happier, healthier marriage?
If you feel disconnected or frustrated about the state of your marriage but want to avoid separation and/or divorce, the marriage.com course meant for married couples is an excellent resource to help you overcome the most challenging aspects of being married.
More On This Topic
You May Also Like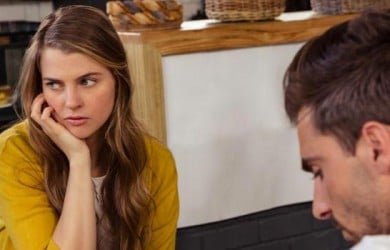 Popular Topics On Married Life