7 Ways to Feel Better When Someone Hurts You
"Truth is everybody is going to hurt you: you just gotta find the ones worth suffering for."
Bob Marley
We all have been hurt by someone we love, someone close to our heart. It's called life. But, as Bob Marley says, it's upon us if it's worth the suffering. Experts, friends and even your family members can advise you to bury your past and move ahead. Forget about the pain and start a journey afresh. However, it's never that easy, is it?
Someone said it right, the one whom we trust the most is the one who will break our trust. You're hurt because it came from someone who was close to you. Someone you loved deeply and perhaps was dreaming of a better life together.
But what to do when someone hurts you that badly? We have listed down a few solutions that will help you gather the courage and will guide you on how you can restart your life like a new morning.
1. Identify your pain
This is one of the most difficult parts of the whole exercise; to identify the pain. Often people fail to do so as they're unaware of it. They know there is something that's bothering them to the core, but aren't aware of what it is.
This also happens as they have accepted the situation as they're. For instance, someone in the toxic relationship has accepted it as their fate and ignores all the possible things that are causing them pain. Hence, the first step towards solace is to identify the pain.
2. Expressing the pain
What you generally do when someone hurts you? Maintain silence and let the person hurt you or confront them for their actions. There are both kinds of people. We wouldn't recommend you something that's not in your character as it might put you under pressure instead of helping you.
So, if you're the one who maintains silence, then don't let the emotion suffer you from inside.
Write it down somewhere, maybe on a journal, or speak to someone close.
Keeping the negative emotions inside isn't going to help you at all. If you're the latter individual, you're doing the right thing by confronting the individual.
3. Settle your emotions
You've identified your pain and have either expressed it or confronted the individual. But this won't help you settle everything. There may be an emotional typhoon that you need to settle before moving ahead.
Make distance from the one hurting you. Spend some quality time with your family and friends, who would help you, settle down with your emotional pain.
Connect with positive people as they would observe things as the third person and would show the positive outcome of it.
4. Acceptance
Happiness and sadness is the rule of the world. Every individual goes through this. The only way to escape is to accept the situation the way they are and move ahead. Dr. Brian Weiss, in one of his books, once mentioned that this life is actually a theatre and everyone is mere artists. Before taking birth we decide who will come into our lives and when, what role they will play and how and when they will make an exit.
So, when some hurt you, take it as a part of a plan. Accept the situation, the reason and move on. Don't blame yourself for what happened. You have the right to be happy, and let no one take that away from you.
5. Stay in the present
It's normal to have past flashing right in front of your eye. You've spent some good time with that individual, it's bound to happen. It's just the mind is going through a sudden change and is trying to recall all the past beautiful things.
The best way to avoid this or overcome this is to live in the present.
Don't dive deep into past and ruin your present. What happened was past, what's there right now is present.
Accept it, cherish it, and try to move on. It may be difficult in the beginning, but certainly not impossible.
6. Stop rewinding what happened
People will walk up to you to ask what happened and why are you sad. If you're trying to be over your past, stop rewinding what happened to you. That's why we suggested writing down a journal as it would help the memory go weak once it's out of the mind.
The more you rewind or express your grief to people, the more you tend to feel the pain. So, bury your past and forget it as a bad dream. Things go wrong with everyone, but life goes on.
7. It's never you
When someone hurts you, the first thing you might do once you're settled is starting blaming yourself for what happened. A relationship is like a cart, you need two wheels to move it further. If one breaks down, the cart won't be able to move ahead. Likewise, it's never about "I" or "Me", instead, it's about "Us" and "We".
So, stop blaming yourself for what happened. You may be at fault but you were not solely responsible for things to go wrong. The soon you would accept it, the better you would feel and would be able to overcome the entire situation.
Only you can help yourself
We understand what emotions one goes through when they're deeply hurt. But this is just a part of life. People would come forward and would advise you all possible ways to overcome the pain, but until you decide to, no one can help. So, don't feel bad over what happened. Gather all the pieces again and start afresh.
Share this article on
Want to have a happier, healthier marriage?
If you feel disconnected or frustrated about the state of your marriage but want to avoid separation and/or divorce, the marriage.com course meant for married couples is an excellent resource to help you overcome the most challenging aspects of being married.
More On This Topic
You May Also Like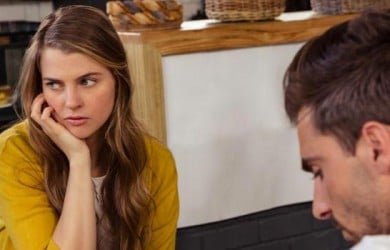 Popular Topics On Married Life