75 Best Marriage Advice & Tips by Marriage Therapists
Every marriage has a share of highs and lows. While there is no trouble getting through the blissful moments, overcoming marital problems is rather challenging.
For a successful marriage, what's important is to understand how to navigate through those problems and learning to resolve them. Letting your marital issues fester can wreak havoc on your relationship.
Marriage advice from experts
All couples go through tough phases, entailing intricate and tedious problems. No matter how long you have been married, getting through them doesn't get any easier.
But some tips from the experts can surely help you deal with the issues better, without having any damaging effects on your marriage.
We offer you the best marriage advice by the best relationship experts to help you have a happy and fulfilling married life-
1. Save your breath for the time when you are in a cool headspace
Joan Levy , Lcsw
Stop trying to communicate when you are angry. Whatever you are trying to say will not be heard as you would like it to be. Process your own anger first:
Check for projections from other situations with other people from your past;

Could you be adding meaning to what your partner said or didn't say, did or didn't do that might be causing you to be more upset than the situation warrants?

Ask yourself if you have an unmet need that is contributing to your upset? How can you present that need without making your partner wrong?

Remember that this is a person whom you love and who loves you. You are not each other's enemy.
2. Know how to listen and be fully present for your partner

Melissa Lee-Tammeus , Ph.D.,LMHc
In working with couples in my practice, one of the biggest sources of underlying pain comes from not feeling heard or understood. Often this is because we know how to talk, but not listen.
Be fully present for your partner. Put down the phone, put away the tasks, and look at your partner and simply listen. If you were asked to repeat what your partner said, could you? If you could not, listening skills may need to be tightened up!
3. Disconnection is inevitable, and so is reconnection

Candice Creasman Mowrey , Ph.D., LPC-S
Disconnection is a natural part of relationships, even the ones that last! We tend to expect our love relationships to maintain the same level of closeness all the time, and when we feel ourselves or our partners drifting, it can feel like the end is near. Don't panic! Remind yourself it is normal and then work on reconnecting.
4. Don't play it safe all the time

Mirel Goldstein, MS, MA, LPC
I would recommend that couples share something vulnerable with each other each day because couples who stop being vulnerable and "play it safe" can find themselves feeling more and more distant from each other as time goes on and daily responsibilities compete with relationship needs.
5. Put in the work to enjoy a rewarding marriage

Lynn R. Zakeri, Lcsw
Marriage is work. No relationship can survive without both parties putting in the work. Work in a happy, healthy marriage does not feel like work in the essence of a chore or a to-do type of thing.
But taking time to listen, to schedule quality time, to prioritize each other, and to share feelings are all work that pays off. Trust each other, with your vulnerabilities, and respect each other with authenticity (not passive-aggression). That kind of work will offer you a lifetime of rewards.
6. Open up more to your partner and build a strong relationship

Brenda Whiteman, B.A., R.S.W
The more you say, the more you talk, the more you express your feelings, the more you tell your partner how you feel and what you're thinking, the more you open up with your true self – the more likely it is that you will build a solid foundation for your relationship now and for the future.
Hiding thoughts and feelings is a sure-fire way to unravel the foundation of your intimacy.
7. Have empathy for each other's feelings and resolve issues together

Mary Kay Cocharo, LMFT
My best advice to any married couple is to take the time to learn how to effectively communicate. Most of the couples who end up in Marriage Therapy are in desperate need of this! Effective communication is a process where each person feels heard and understood.
It involves having empathy for the other's feelings and coming to solutions together. I believe that a lot of pain in marriage comes about when couples attempt to solve problems without any tools. For example, some couples avoid disagreements in order to "keep the peace".
Things don't get resolved this way and resentment grows. Or, some couples argue and fight, pushing the issue deeper and rupturing their essential connection. Good communication is a skill worth learning and will allow you to move through difficult topics while deepening your love.
8. Make an effort to know what makes your partner cringe

Suzy Daren MA LMFT
Be curious about your partner's differences and endeavor to understand both what hurts them and what makes them happy. As your knowledge of the other increases with time, be thoughtful – show real empathy when they're triggered and forever encourage what makes them shine.

9. Be the friend to your partner who turns on their mind, and not just the body

Myla Erwin, MA
To new lovers hoping that whatever "quirks" they may see in their mates can be changed, I assure them that those things will only intensify over time, so to be sure that they not only love the individual but that they genuinely like the person.
Passion will wax and wane. During the waning seasons, you will be glad to have a friend who can turn on your mind in the same fashion they once ignited your body. The other thing is that marriage takes constant work, just as breathing does.
The trick is to work so diligently at it that you become unaware of all the muscles you are using. However, let one become distressed and you will surely notice. The key is to keep breathing.
10. Be sincere in your intent and words; demonstrate more affection

Dr.Claire Vines, Psy.D
Always mean what you say and say what you mean; kindly. Always maintain eye-to-eye contact. Read the soul. In your discussions avoid using the words, "Always and Never."
Unless, it is, Never stop kissing, Always be kind. Touch skin to skin, hold hands. Consider not only what you say to your partner, but how the information is delivered; kindly.
Always greet the other with a touch of a kiss, when coming home. It doesn't matter who reaches out first.Remember that the male and female are species and the genetic roles are different. Respect and value them. You are equal, however, you are different. Walk the journey together, not fused, yet, side by side.
Nurture the other, one extra step. If you know their soul has been troubled in the past, help them honor their past. Listen with love. You have earned what you have learned. You have earned choice.
You have learned insight, compassion, empathy, and safety. Apply. Bring them into the marriage with your love. Discuss the future yet live the present.
11. Share your softer emotions with your partner for a lasting closeness

Dr. Trey Cole, Psy.D.
People tend to fear uncertainty and unfamiliarity. When we debate, intellectualize, or share harsh emotions with our partners, that tends to drum up fears in him/her about uncertainty in the relationship.
Instead, examining what our "softer" emotions are, such as how our partner's behavior activates those fears of uncertainty, and learning how to share those can be disarming and increase closeness.
12. Marriage needs regular maintenance, don't be lax about it

Dr. Mic Hunter, LMFT, Psy.D.
People who do regular maintenance on their cars find that their cars run better and last longer. People who do regular maintenance on their homes find they continue to enjoy living there.
Couples who treat their relationships with at least as much care as they do their material objects are happier than those couples who don't.
13. Make your relationship your highest priority

Bob Taibbi, LCSW
Keep your relationship on the front burner. It's all too easy for kids, jobs, everyday life to run our lives and often it is the couple relationship that takes the backseat. Build into this time, time for both intimate and problem-solving conversations so stay connected and don't sweep problems under the rug.
14. Build prowess in both verbal and non-verbal communication

Jaclyn Hunt, MA, ACAS, BCCS
The number one piece of advice a therapist or any professional would give to a married couple is communicate with each other! I always laugh at this advice because it's one thing to tell people to communicate and another thing to show them what this means.
Communication involves both verbal and non-verbal expressions. When you communicate with your partner make sure you are looking at them, make sure you are experiencing internally what they are conveying to you externally and then ask to follow up questions and show them outwardly your understanding or confusion until both of you are on the same page and satisfied.
Communication is reciprocal both verbally and through intricate non-verbal indicators. That is the best brief advice I could ever offer a couple.
15. Take care of your marriage health and protect it from 'predators'

DOUGLAS WEISS PH.D
Keep your marriage structures healthy. Share your feelings daily. Praise each other at least twice a day. Spiritually connect every day. Keep sex consistent and both of you initiate regularly. Make time to have a date at least a couple times a month. Treat each other like lovers instead of spouses. Respect each other as people and friends. Protect your marriage from predators like these: being too busy, other outside relationships and entertainment.
16. Avert rash decisions by accepting your own feelings

Russell S Strelnick, LCSW
Moving from 'don't just sit there do something', to 'don't just do something sit there' is the best skill to develop within myself to sustain a viable intimate relationship.
Learning to accept and tolerate my own feelings and thoughts so that I reduce my fearful, reactive and urgent need to 'do something about it' allows the time needed for me to return to the clarity of thought and emotional balance in order to exit the mess instead of making it worse.
17. Be on the same team and happiness will follow

Dr. Joanna Oestmann, LMHC, LPC, LPCS
Be friends first and remember you are on the same team! With the Super Bowl coming up it is a great time to think about what makes a winning, successful team rise above the best of the best?
First, identifying what you are fighting for together! Next, teamwork, understanding, listening, playing together and following each other's lead. What is your team's name?
Pick a team name for your household (The Smith's Team) and use it reminding each other and all in the family that you are on the same team working together. Determine what you are fighting FOR as opposed to fighting against each other and happiness will follow.
18. Own up to your mistakes

Gerald Schoenewolf , Ph.D.
Take responsibility for your own contribution to the problems in your marriage. It's easy to point the finger to your partner, but very difficult to point the finger at yourself. Once you can do this you can resolve issues rather than having a right-wrong argument.
19. Ask more questions, assumptions are bad for a relationship's health

Ayo Akanbi , M.Div., MFT, OACCPP
My one advice is simple: Talk, talk and talk again. I encourage my clients to process what whatever the situation is and find time to talk about it. Talking is key. It is also important that they listen to each other and ask questions. Neither should assume to know.
22. Don't let busyness hijack your relationship, stay engaged with each other

Eddie Capparucci , MA, LPC
My advice to married couples is to stay actively engaged with each other. Too many couples allow the busyness of life, children, work and other distractions to create distance between themselves.
If you're not taking time each day to nurture each other, you increase the likelihood of growing apart. The demographic with the highest rate of divorce today are couples who have been married for 25 years. Don't become part of those statistics.

23. Take time to process the situation before responding

Raffi Bilek ,LCSWC
Make sure you understand what your spouse is telling you before offering a response or explanation. Make sure your spouse feels you understand him/her as well. Until everyone feels they are on the same page with whatever the problem is, you cannot even begin to solve the problem.
24. Respect each other and don't get stuck in the rut of marital complacency

Eva L. Shaw,Ph.D.
When I am counseling a couple I stress the importance of respect in a marriage. It is so easy to become complacent when you live with someone 24/7. It is easy to see the negatives and forget the positives.
Sometimes expectations aren't met, the fairytale marriage dream may not be fulfilled, and people often turn against each other rather than working together. I teach that when 'courting' it is important to build a best friend relationship and to always treat your spouse like you do your best friend because that is who they are.
You chose that person to do life's journey with and it may not be the fairytale you envisioned. Sometimes bad things happen in families – illness, financial problems, death, a rebellion of children, – and when tough times come remember that your best friend is coming home to you, every day, and they deserve to be respected by you.
Let the tough times draw you closer together rather than pull you apart. Look for and remember the awesomeness you saw in your partner when you were planning a life together. Remember the reasons you are together and overlook the character flaws. We all have them. Love each other unconditionally and grow through the problems. Respect each other always and in all things find a way.
25. Work at creating a positive change in your marriage

LISA FOGEL, MA, LCSW-R
In marriage, we tend to repeat patterns from childhood. Your spouse does the same. If you can change the patterns of how you respond to your spouse, systems theory has shown there will also be a change in how your spouse responds to you.
You are often reacting to your spouse and if you can do the work to change this, you can create a positive change not only in yourself but also in your marriage.
26. Make your point firmly, but gently

Amy Sherman, MA , LMHC
Always remember that your partner is not your enemy and that the words you use in anger will remain long after the fight is over. So make your point firmly, but gently. The respect you show your partner, especially in anger, will build a strong foundation for many years to come.
27. Refrain from treating your partner with contempt; silent treatment is a big no

ESTHER LERMAN, MFT
Know that it's ok to fight sometimes, the issue is how you fight and how long does it take to recover? Can you resolve or forgive or let go in a fairly short amount of time?
When you fight or just interact with each other are you defensive and/or critical? Or do you use "the silent treatment"? What's especially important to watch out for is contempt.
This attitude is often the destroyer of a relationship. None of us can be totally loving all the time, but these particular ways of relating are truly harmful to your marriage.
28. Be authentic in your communication

KERRI-ANNE BROWN, LMHC, CAP, ICADC
The best advice I can give to a married couple is not to underestimate the power of communication. Spoken and unspoken communication is so impactful that couples often aren't aware of how significant a role their communication style plays in their relationship.
Communicate often and with authenticity. Don't assume your partner knows or understand how you feel. Even in relationships where you have been together for a long time, your partner will never be able to read your mind and the reality is, you don't want them to either.
Share this article on
Want to have a happier, healthier marriage?
If you feel disconnected or frustrated about the state of your marriage but want to avoid separation and/or divorce, the marriage.com course meant for married couples is an excellent resource to help you overcome the most challenging aspects of being married.
You May Also Like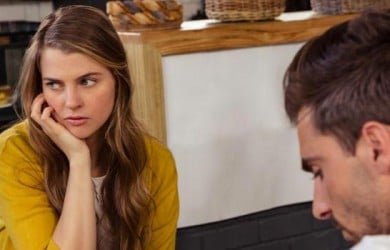 Popular Topics On Married Life