Best Marriage Advice For A Successful Married Life
As soon as you slide a ring on each other's fingers, remember that marriage advice will start pouring in whether you want to hear them or not. Most times these family bits of recommendation along with family advice quotes might be something you may not want to hear (this might be the case all the time), they might make fun of you and might even make you have cold feet. However, some of these pieces of advice are critical for the future; it may help you build each other up and may even tighten the bond you and your partner have,
Marriage advice always starts up with a lot of humor including the most common joke, "There are always two teams in marriage- one is always right, and the other is the husband," but such a serious commitment and a start of a new life are not always about jokes and rainbows and unicorns.
You need to listen carefully to the advice given to you by people who have been married and knew what it is all about.
Love each other even when you are struggling to like each other
This is the most common family advice quote and also the most important one. On days when you argue, and it becomes difficult for you to share a bed with your partner, stop right there and remember no matter how bad the argument was and who was wrong; keep in mind that you are arguing with the most important person in your life.
You love that person who you just fought with so instead of not being able to look at that person when you argue, close your eyes and start to list the things you love about them. This trick is bound to make you fall in love.
Communication is the key
This is very important advice and is also very helpful. You should not only focus on what your partner is saying, but you should also speak for yourself when you think the timing is right. There is nothing wrong with expressing your opinions, but the way you express them must be in a 'non-arguing' kind of way.
Also, remember to listen what is being said and if you mishear something then ask for clarification rather than try to make assumptions about what you may have misheard. These assumptions are bound to make you argue
Use non-verbal signs
Psychology studies say that most of the conversation between couples is nonverbal. When talking to your significant other, try to show physical signs so that your partner knows you are listening. Some non-verbal signs can be, squeezing their hand, look at them when they are talking or lean slightly forward.
Respecting each other is vital to make your marriage work
The number 1 thing after communication is respect. Most family advice quotes trying to sound funny are all about making you sound like a pansy for respecting your wife, but that is not the case.
Respect is the most crucial factor in marriage, and it is above good looks, attraction and even shared goals. There will be times where you may not love your partner as much, but you never want to lose respect for your significant other.
Once the respect is lost you may never get it back and try to make a marriage work without respect is trying to use a cell phone with no SIM- empty and useless.
Focus on laughter as your marriage soundtrack
There will be ups and downs in your marriage, and you will go through some very hard times but whatever happens, try to find small reasons to laugh and share moments of joy with one and another.
Remember that there won't be a "winner" and a "loser"
As mentioned in the start about marriage having two teams- sadly this is not the case. There is no winner and loser in an argument because you are partners in everything so whether you win or you lose you will have to work together to find a solution. Don't let the winning and losing get to your head and instead act like you two are part of a single body with two souls.
Final take away
Marriage is not 50/50; it's a complete 100. Sometime you will have to give 30, and your husband will give 70, and sometimes you will give 80, and your husband will give 20.That's how it works. You will have to make it work, and both partners will have to give in their 100 percent, every single day.
Share this article on
Want to have a happier, healthier marriage?
If you feel disconnected or frustrated about the state of your marriage but want to avoid separation and/or divorce, the marriage.com course meant for married couples is an excellent resource to help you overcome the most challenging aspects of being married.
You May Also Like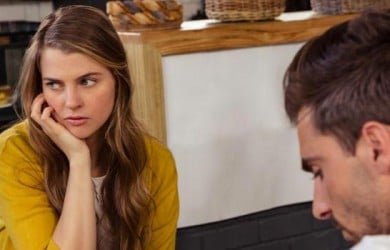 Popular Topics On Married Life