20 Ways to Respect Your Husband
When it comes to marriages, respect between spouses is a must for a happy and fulfilled relationship, and the question of how to respect your husband more is not that commonly asked.
However, it should be getting more attention than it is.
Here is why: both spouses should equally respect each other because if you lack respect, you're very likely to slip into harsh arguments, fights and you are more likely to use hurtful words.
Related Reading: 

How to Respect Your Spouse
Why should you respect your husband?
Too often, we forget about the "stronger sex" in the relationship and marriage, and we underestimate the importance of showing them how much we respect them.
So, why is your respect important to your husband?
When you show your husband how much you appreciate him and respect what he does or thinks, you're charging his batteries, and he is ready to conquer the world knowing he has you by his side. It's like you're giving him the wings to do whatever you two want to do.
It is a sign that you trust him. "Respect won't exist unless trust exists first," and it's the absolute truth.
You are also acknowledging him as a good leader who is capable of taking care of his family.
Besides, respect also provides encouragement to do better and even harder things. Even when he feels defeated, your little words of encouragement will go a long way to keep him going.
Also Try: 

How Much Do You Admire And Respect Your Partner Quiz
20 ways to show your husband respect
If you want to know how to respect your husband a little bit more and how to show respect to your husband, read on and learn simple things that can improve your relationship.
1. Give him your undivided attention
Too often, we're distracted by devices or other things when our spouses are talking to us. Some watch tv, others shop online or browse social media.
So, how should a wife respect her husband?
If he's speaking to you, stop everything you're doing and look him in the eye when you both are communicating. If you're thinking how to respect your husband and how to show respect to your husband, we have great news – it's these small things!
Related Reading: 

Tools for Showing Attention to Your Spouse
2. Ask him about his day & show genuine interest
Simple questions like "How was your day" can mean a lot and is a great way to show respect to your husband.
You want to show genuine interest in his activities and, most importantly, his feelings and thoughts about whatever happened during the day. This will help you understand what he's going through, and you can
3. Ask him how he feels
Guys can be very timid, and they try to put a brave face on thinking that exposing their true feelings means they are weak.
Let him know he can share everything with you. Wives should respect husbands because it can either make them or break them. Let him know you're his safe zone and that you love him and respect him, no matter his weaknesses.
4. Smile more often
Smile is a universal language of happiness. Send some happiness your husband's way and show the love for your husband with this simple yet meaningful gesture.
Many women say, "I have my own ways of loving my husband," but everyone feels better when they see a smile on their beloved one's face, so be generous with smiles and kind words.
5. Let him be the boss (once in a while 😉)
Most men need reassurance that they are good enough, strong enough, smart enough.
Show respect to your husband by letting him decide where you'll go for dinner or what movie you'll watch. Maybe you're not 100% in Fast and Furious, but if this will make him happy, share this experience with him, he will appreciate it.
The same applies to sex life. Allow him to express his desires and fantasies, take the lead, and give your best to make him feel desired too.
6. Kiss him often
We all kiss at the start of relationships, but it's almost like life gets too busy for us. At least, you can stop and give each other even a peck on the lips. Grab him and give him the mind-blowing tummy-twisting French kiss!
This will release hormones in both of you, and you will instantly feel happier!
Related Reading: 

Why Kissing Is Super Important in a Relationship
7. Ask him for his opinion
Regardless if it's about big decisions or small, ask him what he thinks about it and listen to him intently.
You don't need to get a headache thinking about how to respect your husband. Just do what you would like him to do, and you'd definitely like him to ask you about your opinion, right?
8. Encourage him more
When was the last time you told him he's doing an amazing job? Men need to be constantly reminded (women too!) about all the amazing things they do.
Respecting your man is showing him that you appreciate everything he does, but also telling him this often and helping him have more confidence and faith in himself.
9. Treat him well
Nothing worse than seeing spouses making jokes about their "significant" ones!
If there is humiliation, there is no room for love here. To show respect and love, you have to make him feel great regardless if you're alone at home or with friends. Say kind things about him, and you'll see his chest pumping from love and pride.
10. Cook for him
Men love home-cooked food. For them, cooking is a way of showing love and dedication to him and the family.
If you're thinking about how to respect your husband more, just cook him his favorite meal and surprise him with delicious food. "Love comes through the stomach" is an old and very popular saying, and there's a good reason for it.
11. Don't nag
No one likes to listen to nagging, especially not your husband, who just came home from a long day at work.
Show respect to your husband by making it about him, not about you or others, or small things that didn't go the way you wanted them to go.
When you nag, you drain his energy, and yours too. Instead of complaining about things, try to change perspective and be grateful for everything good that happened that day. This will help both of you feel happier and in a better mood.
Related Reading: 

What Does the Bible Say About Dealing With a Nagging Wife
12. Admit when you're wrong
How to respect your husband if you have just had a fight and you can't get over it?
Plus, you know it was your fault, after all, then apologize.
Don't let silly pride take a toll on your relationship with him. "I am sorry" can be the magic word, and it will help him feel your respect for him too, by showing you see him as equal and that you love him enough to put his feelings over your pride.
13. Make time for the two of you
This can be a REAL challenge if you have kid(s), but it's an absolute must.
Respecting your man means making sure you two still have time for each other. An odd date, or a stroll in the park, whatever that is, it's a MUST if you want your marriage to last.
Related Reading: 

Making Time for You And Your Spouse
14. Wear his favourite outfit and throw on some make-up
Men (and women too) love seeing beautiful things, whether it's landscape, painting, or a pretty face. You can surprise your man by putting on a bit of makeup and wearing a nice outfit (or buying a nice set of lingerie), even if it's a day you're spending together.
Things to do for your husband don't have to cost a lot or take a lot of time. They can be just thoughtful surprises like this.
15. Thank him
There are a million ways on how to respect your husband more, and one of them is simply thanking him more often. "Thank you" is such a simple phrase, but it means the world to people who hear it.
Say it with genuine care and a heart full of compassion and understanding.
He will love you even more, knowing you appreciate everything he does for you, even the smallest things, and by knowing this, he will be keener on doing the bigger things for you too.
16. Support his ideas
A great way to show respect to your husband is to support his ideas. Whether they are business or personal, just the fact he is sharing them with you should mean a lot to you.
Show him respect and love by supporting him and helping him develop the ideas further. Nothing can stop a couple who are rooting for each other and inspiring each other along the way!
Related Reading: 

Steps to Becoming a Supportive Partner
17. Accept him as he is
No one is perfect. We all have flaws and virtues, but you will show respect and love to your husband by accepting him as he is and by not trying to change him.
He is trying his best, and if you encourage him and show him support, even more, he will get better and better at everything he does. Couples get together because all they see are virtues, but they stay together because they learn to love and accept their flaws too.
This video below discusses ways to love someone for the way they are. Acceptance helps us treat them with compassion and kindness:

18. Acknowledge him as a parent
There are different types when it comes to parenting. Some are stricter and more disciplined, while others are softer with kids.
Don't question your husbands' decisions when in front of children, as this will rattle his authority in their eyes and won't develop as much respect for him if you keep saying how he is not right and how he's not good at parenting.
19. See him the way you want him to be
Treat him even better than he deserves. You can't change him by telling him what's wrong. But if you show him love and care and support, you will encourage him to grow and change himself.
If you're thinking "loving my husband" is hard, think twice. Love him for the man you want him to be, and you will find yourself focusing on his virtues more often than on his flaws.
20. Be there when he fails and falls
Allowing him to fail is good for both of you. Nothing shows respect to your husband more than helping him get up and encouraging him to try again. They are not perfect, but nor are we.
The worst thing a woman can do is tell the man what he did wrong and why he failed. Let him figure it out, and you support him and help him get back on his feet after he falls and learns the lesson.
Related Reading: 

Tips to Bring More Love and Respect in Marriage
What does respect mean to a man?
Men have historically played a role of a leader and protectors of women and kids and the tribes. This has carried on through ages, and they still have this role in their genes. This is why it's important to know how to respect your husband and how to show respect to your husband.
Respect is a reassurance that they are valued, loved, cared for, and that they are doing a great job. Respect means encouraging him to gear up to his full potential.
Isn't this beautiful? The more you show him love and respect, the better he gets and the happier your marriage is.
If you're someone who's always thinking of new gift ideas to surprise their husband, slow down and ask yourself, is there something you can DO to make him feel loved and respected?
Related Reading: 

How to Make Your Husband Happy
Takeaway
The best things in life are always free– hugs, kind words, love, kisses, and bigger value than anything else that money can buy. They can mend broken relationships.
At the end of the day, all you need to do is treat your husband the way you would want him to treat you. That's all it takes to start and keep a happy marriage happy and harmonious!
Respect him for what he is, and see the man he can be. Wives respect your husbands because they will treat you like their queens and will look after you better than anyone else in the world.
Share this article on
Want to have a happier, healthier marriage?
If you feel disconnected or frustrated about the state of your marriage but want to avoid separation and/or divorce, the marriage.com course meant for married couples is an excellent resource to help you overcome the most challenging aspects of being married.
More On This Topic
You May Also Like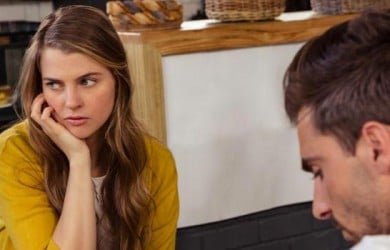 Popular Topics On Married Life