Put Some Happiness Into Your Marriage With These Easy Steps
Happiness in marriage is a state that comes and goes with time. Especially as your marriage gets older, you find yourself maneuvering your relationship through rough patches.
Gradually, when you are not happy in your marriage, the distance between you and your spouse starts to grow. Before you know it you find it hard to imagine how the both of you have lasted as long as you did
Tired and exhausted, many couples give in and accept that maybe their marriage was always bound to fail. On the other hand, many couples desperately look for ways of finding happiness in marriage.
The most astonishing thing is that finding happiness in a bad marriage or finding happiness in marriage requires small actions and efforts of love and togetherness.
So if you find yourself at a junction in your life where your marriage has lost its charm, and you are wondering how to find happiness in your marriage or how to be happy in a bad marriage.
We present you with a guide of things you must do to find happiness in marriage or finding happiness in a bad marriage.
Setting realistic expectations
When you first get married, you and your spouse are in deep amour; bad habits don't annoy you, and you find their quirks charming. Everything they do brings happiness in marriage.
However, as time goes on, those quirks and bad habits aren't so cute anymore, and you come to resent the idiosyncrasies as well as your spouse. Many times you realize that you are married but not happy.
You might even start to question why you married this person in the first place. But the fact of the matter is, this is the same person you fell in love with. So, what's different?
With any new relationship, we go into the union with certain expectations. The problem with a 'happy marriage' is that over time, we start to expect our partner to act and behave in a certain way. Which to be honest is very unrealistic.
So what to do when your not happy in your marriage? How to be happy in marriage? Or how to find happiness in marriage?
When the honeymoon phase dies down, we are left with seeing our spouse for who they are and not who we want them to be.
The key to a happy marriage or the key to a happy relationship is to bridge our expectations and what is realistic.
You can try to simply lower your expectations. This might not be the answer you wanted to hear, but you will be much happier in the end.
If you are accepting of your spouse's personality, you will realize it was the reason you fell in love in the first place.
Nobody's perfect. Neither your spouse nor you. But you are two people who complement each other. Becoming realistic about your expectations will remove any frustration and give your marriage the room it needs to blossom.
Reconnect with your partner
At the start of your relationship or marriage, you spend an ample amount of time with each other, during which you get to know your partner better.
However, with time, the amount of time you spend together can considerably decrease. Somewhere within, you feel like you already know you, partner.
This way, you can justify the distance and space that has developed between the two of you.
The one thing that you might not have taken into account is that people change over time. Their preferences change; they even develop new habits and lose the old ones.
Reconnecting with your partner to bring happiness in marriage requires you to get to know your partner as they go through many changes in their lives.
It is a process that demands people to learn about each other to keep it alive intentionally.
Even though it is easy to get stuck in the comfort of your married life routines, you must create a space where you can invest your time and energy to acquaint yourself with your partner.
You can never know how their hopes, dreams, ideas, and even habits might inspire you.
Make your best effort, even if it is for only an hour every other day. When you are being genuinely interested in learning more about your spouse is how to live a happy married life.
Also watch: How to Find Happiness in Your Marriage
Be kind and thankful
One thing that couples loose over time in a marriage is their ability and will recognize their partner's qualities. Couples become lazy when it comes to appreciating their spouses and tend to take their actions for granted.
Also, through marriage, you inherit your partner's love, which in times pushes the relationship into patterns of taking advantage of that love.
The extent of your kindness reduces as you know that you can get away with it. And if both the partners start exhibiting this behavior, it spirals into a tit for tat scenario, where both of you scrutinize and criticize each other.
To develop happiness in marriage and build a healthier relationship you need to recognize such behavior and make a conscious effort to not fall in a pattern of being unkind and ungrateful
Start by keeping a mental score of the right and positive things that your spouse does in a day. USe such occasions as an opportunity to be thankful to them.
Watch what you say and how you say it; your action of kindness and restraint would nudge your partner to bring about the same change in them.
Be kind to your partner, share things, complement each other, fulfill their emotional needs, include each other in your happiness, and above all else, make sure to keep trying.
All this might seem tedious, and you might feel skeptical about your spouse's responses, but if you are looking for happiness in marriage, you must at all cost give it your best.
So whenever you feel like your marriage is in perils, make use of these tips for finding happiness in marriage.
Share this article on
Want to have a happier, healthier marriage?
If you feel disconnected or frustrated about the state of your marriage but want to avoid separation and/or divorce, the marriage.com course meant for married couples is an excellent resource to help you overcome the most challenging aspects of being married.
More On This Topic
You May Also Like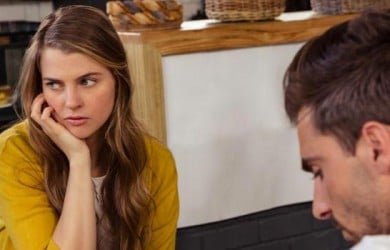 Popular Topics On Married Life