Prioritize your Relationship, Partner, and Sexual Connection
Have you ever taken time to wonder what your priority in marriage is?
Should you prioritize sex?
Should you prioritize intimacy?
Should you prioritize your marriage?
Or maybe you should be putting your partner first, and the rest can follow.
There is no one mantra for setting relationship priorities. You need to gauge what aspect of your relationship seems to be the cause of concern and work towards improving it.
Every relationship evolves over time, and the things that might seem significantly important today might not seem relevant in the future.
Setting relationship priorities is an ever-changing process. So, the best way to go about it is to focus on what your relationship needs today while keeping in mind what it might need tomorrow.
Prioritizing sex and intimacy
How important is sex in a long-term relationship?
This can be answered by understanding the numerous benefits of sex in marriage. Not only does it bring your partner and you closer to each other, but it also boosts the sense of self-confidence.
Sex and intimacy are the lifeblood of your relationship and must always be at the top of your relationship priorities.
We are emotional, sexual beings who need love, attention, and affection, and we have to be intentional about nurturing and working towards enhancing intimacy with our partners.
Time is definitely a constraint, but it's the quality of those moments that count. That brings us to the question – how to make sex a priority in your relationship?
Don't worry. Just use these tips as ways to improve your sex life and the bond with your partner!
Think about the way that you greet and say goodbye to each other
Making a ritual around being affectionate can make such an impact on your day and relationship.
Research shows that it takes 5-10 seconds of a hug to release the bonding chemical called oxytocin, the warm and fuzzy feeling that makes you feel close to someone.
Commit to doing this with your partner at least twice a day. Increasing non-sexual touch can often spark sexual desire but don't make your partner feel that affection is shown only as a precursor for sex.
Make intimacy and sex goals
As for sexual intimacy, lovemaking naturally varies. People have different drives and desires for sex. Be mindful that more sex doesn't mean more intimacy, and intimacy is more than just sex.
As a couple, you need to make "intimacy & sex goals" or "sexual relationship goals."
It is crucial to think about how you would like to enhance your connection with sex and maximize pleasure and satisfaction for yourself and your partner.
Include daily and weekly goals for kissing, hugging, affection & foreplay. Talk about what makes you both feel close and how it makes you feel to be satisfied with each other.
Make time for sex. Have an effective conversation about what frequency and quality of closeness, intimacy, and sex makes you both feel emotionally fulfilled as well.
Explore each other's fantasies
Keeping things interesting sexually can be challenging for couples, especially those who are reluctant to share their sexual fantasies.
The thought of your partner rejecting your sexual fantasy or looking down on you for suggesting something kinky can be very traumatizing. However, you still need to make an effort to explore each other sexually.
Start with the smaller details. Ask what they like, and see how you can incorporate their needs with yours. Do not judge each other. Create a safe space for them to share what they like.
Often, just talking about a fantasy can bring pleasure, and you might not even have to engage in the act.
Prioritizing your relationship and partner
Like many couples, your goals and expectations don't have to match up perfectly, but both of you should commit to taking small steps and put the needs of your partner and your relationship at the top of your priority list.
Schedule time for each other
With time, relationships start to fall into a pattern of monotonous routines. Even though such routines serve a purpose and bring consistency in your lives, this can also leave you and your partner feeling neglected and unwanted.
The best way to break this monotony is to recreate the early days of your relationship. Plan a date or even set aside some time to focus on your partner's needs.
If your partner is not feeling like a priority in a relationship, take this opportunity to pamper them with some time away from all the worldly problems.
Make them realize that you do notice them, and regardless of all other priorities and distractions, you would always be there for them.
Do things together
Couples get so caught up in their personal lives that they forget about the things that they used to do together.
Rather than making an effort to learn about each other's passions and appreciating each other's differences, we tend to go our separate ways.
Can't deny that it does give you more time to focus on your passions and ambitions but at what cost? Is losing your relationship worth it over evaluating the need to make changes and adjustments?
Be patient, considerate, and bring your passions together. Find ways to involve your partner in things that you like and do the same for them.
There is no need to make big and abrupt changes. Eventually, the challenges would become less apparent, and you both would appreciate the efforts you are making for your relationship.
Appreciate your partner
Another thing that couples lose over time in a relationship is the sense of gratitude and appreciation for the little things their partner does for them.
You get so used to having them around that you do not notice the small gestures and sacrifices they make to enrich your lives. Before you know it, your partner starts to feel sad, let down, and even isolated.
Not that they don't know that you appreciate their efforts but your inability to express gratitude every now and then makes them question their importance and relevance in the relationship.
In the video below, Mike Robbins, author of the book Focus on the Good Stuff, talks about the power of appreciation.
He distinguishes between recognition and appreciation, and how often we confuse the two. Mike also suggests some methods to improve and condition oneself to be able to appreciate others better and keep yourself motivated to do so.
It might take you some time to build a routine where you keep track of how your spouse enhances your relationship, but it is essential that you make it a habit.
Share this article on
Want to have a happier, healthier marriage?
If you feel disconnected or frustrated about the state of your marriage but want to avoid separation and/or divorce, the marriage.com course meant for married couples is an excellent resource to help you overcome the most challenging aspects of being married.
More On This Topic
You May Also Like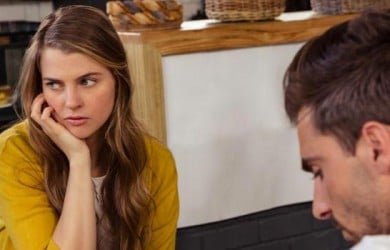 Popular Topics On Married Life