20 Steps for Coping With a Husband Always Complaining About Something
We all experience moments when it's necessary to vent frustration to relieve stress and upset, but keeping them inside is unhealthy once the feelings escalate.
But a husband always complaining about something with no attempts to solve the problems or willing to listen to sound advice or accept help can result in a spouse feeling annoyed by the constant negativity created in the home.
That negativity can deplete any positive energy bringing the other person down. In the same way, joy and contentment are contagious; criticism and unhappiness can be as well.
Why does your spouse continually complain?
Someone who complains all the time can have numerous reasons, whether there's a need for validation or attention, the feeling that responsibilities aren't met, or generally having a low bar regarding frustration.
When a husband complains about everything, he's often unaware unless you say something to him. Unfortunately, in many cases, when a husband complains all the time, it's challenging for him to stop the behavior, nor will he likely do so without some professional guidance.
20 steps to take with a husband who's a constant complainer
All marriages and relationships endure their share of challenges. Many experience episodes of negativity, with one or both pondering the question, why do people complain all the time, at some point.
Typically, there's one who tries many different solutions to deal with people who complain all the time. There are a few steps to follow to assure the relationship's health and mutual respect for each partner.
1: Develop boundaries
Setting personal boundaries doesn't mean that you're shutting the other person out, nor does it mean that you don't want to listen to what they have to say.
It merely means that there will be guidelines, including not directing criticism towards you.
In return, you will be thoughtful with your behavior to avoid unnecessary hurt with the complainer.
In this way, each of you will learn a healthier way to interact in the relationship, while the person venting might find less reason to do so.
Related Reading: The Importance of Discussing Sexual Boundaries With Your Spouse
2: Don't react on impulse
While you know your husband is always complaining about something, it's essential to recognize the intense emotions, predominantly the negative, and avoid lashing out, ultimately resulting in conflict instead of benefiting either of you.
Instead, pay attention to the complaints, listening objectively to see if there's a solution towards which the two of you can work. Once the complainer feels heard, there should be a sense of clarity and a willingness to help you resolve the problem.
3: Fight or flight response
If a partner feels attacked when they view things as "my husband is always negative towards me," it can be perceived as criticism and taken personally.
A mate will automatically react to an attack either by responding in kind with equally negative remarks or can withdraw emotionally from the marriage.
The better approach would be to attempt to reply with neutral comments for which there would be no "comeback," perhaps along the lines of "I can see that," "you could be right," you've given me something to consider."
The approach tells your partner that you're paying attention to their comments but offering kind, productive solutions without any power struggle intended.
Also Try: Do We Fight Too Much Quiz
4: Become knowledgeable on the subject
If you notice yourself feeling like "my husband complains about everything I do," research the topic of complaining and criticism in marriage to learn ways to cope and how you can help your mate.
You can generally find so many resources online, and often these sites recommend literature, books, and even professional services you can turn to for solutions.
5: Try to Uncover the underlying situation
No marriage is always going to be full of roses and sunshine. Each mate will go through periods of frustration, aggravation, and the need to vent. Who else better to share troubles with than your spouse?
But when it seems as though the complaints are constant and becoming small, almost like complaints merely to hear themself complain, the negativity can be a sign of something more profound.
It's essential to focus on where the complaints mean to be directed, whether work, relationship, showing signs that they're in some way put upon.
The spouse needs to see that you notice they're unhappy, but you're available for them, but they need to help you understand so you can help.
Related Reading: 15 Signs You Are in a 'Right Person Wrong Time' Situation
6: Try to avoid internalizing the negative vibes
Sometimes the negativity is rooted in an issue having nothing to do with the relationship or you, as the partner.
As mentioned, it can be an underlying cause elsewhere, making it crucial that you not internalize the negativity – even if it is related to the relationship.
These are merely problems that need working through. That doesn't make you the cause or at fault.
Your spouse is just incapable of verbalizing healthily what the genuine issue is.
7: Learn active listening
People today are challenged listeners meaning minds are too busy to pay attention, whether it's to a husband always complaining about something or an average conversation with a friend.
If your husband doesn't feel like he's heard, he will continue on the same page until he does. Instead of multitasking while nodding along to the conversation, sit down face to face with eye contact and pay attention to what's said. It might redefine venting for the complainer.
Learn to listen better with this video:

8: Attempt to get your spouse's mind on a different topic
When it seems a mate is continuously lamenting over a subject that's going poorly, they are likely unaware of the fixation, with an inability to refocus their attention.
If you make an effort to turn the conversation to a different topic, perhaps check in on another part of what's happening in the day-to-day for which your partner might be psyched.
You can also see if they can help you out with some challenges you're having, it could change your mate's whole vibe.
Related Reading: 15 Mind Games Insecure Men Play in Relationships and What to Do
9: Shift the attention to the positive
Regardless of the focus of the negativity, it's critical to help your spouse find some semblance of positivity, if not in that particular situation, in other areas where they prevail.
Negativity can be all-consuming if allowed and can often lead to bouts of stress, episodes of depression, and anxiety if left to get out of control.
Reminding your mate of those things working out well or the parts of life that are under control helps bring things back into perspective.
10: What can you do for your husband?
A spouse needs to know their mate is fully supportive of them in every situation. When there are complaints or criticisms, if you merely suggest that you'd like to help in any way you can, that's exceptional to hear when there appears to be no solution.
Instead of focusing on the problem details, you make it known that you're available to participate in a constructive conversation to make them feel better.
Your husband might just need someone to listen or offer some sound advice.
Related Reading: 101 Sweetest Things to Say to Your Husband
11: Try to discern when the complaining started
If you find your husband always complaining about something, try to discern when it began. The real issue could be completely unrelated to the actual venting that's occurring.
What was happening in the relationship, the home, at work, anything possibly out of ordinary circumstances that took place simultaneously to bring the change? That will give you a start towards coming to a resolution.
12: Communicate the way the complaining is affecting you
Communication might be challenging for your spouse, but you must lead by example to share how their negativity affects you.
Perhaps you feel as though the relationship and the life you're attempting to create together is unappreciated.
There's also genuinely little opportunity for you to have a bad day or vent when you have a husband always complaining about something.
It leaves you with pent-up feelings and emotions and no one to share. Once they see it from your point of view, it might change their mindset.
Also Try: What Is Your Communication Style?
13: Set your mood without a second thought to your mate's demeanor
You don't have to allow your husband to always complain about something to dampen your spirit.
The negativity will go on whether you fall into the depths of the darkness with him or allow yourself to experience joy.
If your mate has made up their mind to complain, find your positivity and make the most of each situation.
Ultimately, you'll have a good time on your own while you allow (and respect) that your spouse would instead prefer to sulk in the corner.
14: Don't allow the relationship to turn toxic
You can't assume full responsibility for the happiness in the union. You can show support and even empathize with the person you love, but that doesn't mean you can control how they feel in every situation.
The reality of the situation is if someone wants to gripe and complain about every little thing instead of finding a constructive way to communicate their feelings and attempt to resolve them, you can't force them to do so.
When you encourage it but having to explain their mood away and feeling a sense of responsibility for their mindset leads to a toxic situation. That's when you need to consider professional guidance.
Related Reading: How to Handle a Toxic Girlfriend and How It Affects the Relationship
15: Express the need for your mate to own their moods
Once you disallow accepting responsibility for your husband's negativity, it's next time to encourage him to take that responsibility independently. When the experience starts, the complainer is typically unaware of the behavior.
Still, once you make the person aware and it continues, it's up to them to learn how to manage the emotional turmoil they bring to themselves and consider ways to improve or keep the problem from affecting other people, especially their spouse.
You can explore ways to cope with helping them understand empowerment and self-awareness.
16: Take time apart
When you set healthy boundaries, and these are not being respected, creating a challenge for you to remain an individual in the situation separate from their path of negativity, remove yourself from the scenario to take control of the boundaries.
Related Reading: 10 Signs You're Not in Love Anymore
17: Don't engage with your spouse
After some time of a husband always complaining about something, it can begin to become contagious. You might start to notice the desire to complain or find yourself becoming negative.
You should avoid the urge since it will only create a worse situation and make your mate even moodier.
18: Develop constructive communication and positive reinforcement as a team
Griping and complaining to someone can come across in a nagging and controlling context where communicating with each other in a constructive and with requests followed by appreciative recognition warrants better results and can ultimately eliminate the need for complaints.
Related Reading: 25 Valuable Pieces of Advice for an Unhappy Marriage
19: Reset the mindset for a different result
Frequently, complaints and negativity are due to some sense of dissatisfaction with a component of daily life, whether it's your relationship, work, social circle, personal frustrations, or unfulfilled needs.
An ideal method for breaking up the day-to-day is to try something off the schedule. Encourage a new activity or make an attempt at spontaneity, perhaps enjoy a day away together to help rejuvenate your mate.
You can make a point of doing something different at least once a month to keep the routine fresh and exciting, giving your husband something new to look forward to regularly.
20: Seek counseling from a professional therapist
If you find your husband always complaining about something and inherently harmful regardless of your efforts and support, a professional counselor can offer impartial guidance in a unique light.
You can suggest with the assurance that you will attend if that's warranted but will also be there to support them behind the scenes.
Related Reading: 6 Signs That Tell You May Need Marital Counseling
Conclusion
A spouse finding themselves in a situation where their mate is constantly in the throes of a personal crisis can feel drained and depleted of energy.
Healthy marriages take considerable work, but when one person seems always dissatisfied, it brings the other down.
It's critical to find a way to be supportive and communicative without losing sight of your positivity and boundaries.
Share this article on
Want to have a happier, healthier marriage?
If you feel disconnected or frustrated about the state of your marriage but want to avoid separation and/or divorce, the marriage.com course meant for married couples is an excellent resource to help you overcome the most challenging aspects of being married.
More On This Topic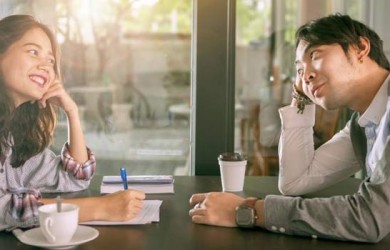 You May Also Like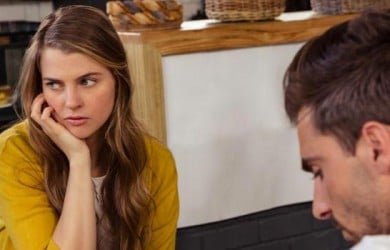 Popular Topics On Married Life