10 Reasons Why Respect Is Important in a Relationship
Respect in a relationship is the key to a harmonious and happy life. Not only is it important for love relationships, but it's also important for healthy social relationships too: with your family or friends.
For some people, the importance of respect is very obvious, while others are struggling to understand why it's important to ask partners when making big decisions or why we should suck it up sometimes and go with them to the opera.
We don't like doing certain things, but we can still do them and find certain enjoyment if we know that by doing them, our partners feel respected and loved.
Sometimes happy relationships turn nasty if one of the partners violates the respect for others, and it just ruins the future for them.
How many times have you lost respect for someone after they have done something you don't approve of? Or you heard them talk about you behind your back?
Once lost, it can rarely be retrieved and restored. Respect is very fragile in a sense because it can take ages to be earned, and it can be broken and lost in a second.
What is respect?
What does it mean to respect someone? To respect someone means to love them and allow them space to be who they are, to feel how they want to feel and express their opinion, but most importantly, to acknowledge their opinion, wants, ideas, feelings.
There are different ways we can show respect to our partner. You have to
– Respect how they feel
You have to understand each other's feelings. You have to respect opinions and look after each other's emotions. Work together and find common ground to respect emotional values.
You just have to accept and respect the fact that you and your partner are two different people with individual differences.
Also Try: Does My Husband Respect Me Quiz
– Respect who they are
Do not try to change your partner or let them change you. Respect them for who they are, and if you can't do it, you might need to rethink your relationship.
There will be differences but do not try to force your will on your partner.
Understand that you both can have a difference of opinion.
– Respect them as an individual
The bare minimum threshold for respect in a relationship is that you have to respect your partner for being a human. Please treat your partner with the amount of respect you will want any other human being to give you.
If one of these is missing, it's likely you'll have a hard time overcoming this issue in the future, and it might be a good time to sit down and address how you feel about showing respect in relationships.
Also Try: How Much Do You Admire And Respect Your Partner Quiz
Why is respect important in a relationship?
Without it, there is just no solid foundation for your future together.
Imagine living with someone who doesn't respect you: they will make decisions on their own, although they affect you too, they wouldn't treat you nice in front of people, they would make you feel less worthy and less important all the time.
Who would ever want to be in a relationship like this? By not showing respect, you are only sabotaging your relationship.
The importance of respect between two people shouldn't show up as a topic for discussion at any point in your life if you are with the right partner.
If, however, you find yourself trying to explain why it's important to respect each other, it means that one of you is lacking the understanding.
It can be explained, but it's also a rocky road if someone sees nothing wrong with treating you in a certain, disrespectful way.
10 Reasons why it's important to show respect in a relationship
We can think we love someone unconditionally, but when we're going through hard times, we can show a lack of respect, and unfortunately, this is the mirror of how we truly feel about them.
You probably know many examples of people who are great at spending money and buying gifts, diamonds, or expensive watches, thinking this is the best way to express love and appreciation to their partners, and yet, somehow, their relationships fell through or ended in a bad way.
On the other hand, there are many couples who rarely share their life on social media, they don't buy expensive jewelry or cars, and yet they have a very happy life, and many admire them.
How does this happen? Well, some people don't understand why it's important to have respect in a relationship, and that respect can be shown in many different ways.
Others think that they don't have to show respect at all. They just "feel it" and "say it," and that's enough.
Here are 10 reasons why it's important to show respect in a relationship:
1. It means you truly love them
Love without respect simply doesn't exist and is not something we can call "love" or a happy relationship or marriage.
Why? Because showing respect in relationships means you appreciate them and love them unconditionally. Everything else is just vague and fake. Relationships between two people who don't respect each other is a recipe for misery.
Also Try: Who Is My True Love?
2. Through respect, you learn to accept the flaws too, not only virtues
Nobody's perfect, and we only see this after a couple of months. When you truly respect someone, you will willingly accept the good and the bad and help them be a better person every day by supporting them and showing love and appreciation, not only in the happiest moments but in moments of failures too.
3. You will learn to be patient
Some people just want it all, and they want it now. These relationships don't last because love just doesn't work this way. You have to develop patience, and you develop it through nurturing and growing respect in a relationship.
Related Reading: The Most Important Need of a Married Man
4. You make wiser decisions
No matter how strong the love between two people gets, there will always be certain temptations we will encounter throughout the journey. When you build respect in a relationship, you won't be as tempted.
Building trust and respect in relationships is crucial because you will always choose what's best for the two of you, rather than thinking what you want for yourself.
5. It helps with communication
One of the most common reasons for breakup and divorcing partners is the lack of communication or misinterpretation of their feelings, words, and actions.
When you have respect in a relationship, you will always sit down and talk to each other about the problem you're having.
Also Try: Communication Assessment Quiz
6. You learn to think about others
There's no room for egoism in relationships. When you respect each other, you act selflessly. You put others before you, and you show love by acknowledging their desires, wishes, and dreams, too, which helps them develop their potential.
7. You will help them do great in life
Nothing beats encouraging words from your partner. Respect in a relationship can either make or break one's confidence and self-esteem.
How you treat your partner will influence how well they do in life. Just put yourself in their shoes and compare how a person who feels respected and supported does in life versus someone who's voice and wishes are not being heard at all.
Also Try: Who Is the Love Of My Life Quiz
8. Respecting your partner will improve your sex life
Nothing better than making love to a confident person who feels valued and appreciated. Why? Because they are not afraid to open up and share what they want in bed., but they will only do this if they feel respected and loved.
The overall quality of your relationship will improve, and this includes a better sex life too.
9. You'll have your biggest supporter
Mutual respect in a relationship is important for both partners because it means that they have their biggest support right by their side whenever they need them.
Respect your partner, and you will see how he/she will have your back all the time. It's a great, reassuring feeling to know the love of your life is there to back you up and help you at any time.
Also Try: Check Healthy Boundaries in Your Life Quiz
10. Your relationship will go a long way
It's crucial to build respect in a relationship if you have found someone you are really fond of.
Having respect for each other in a relationship means that you will go a long way together and that you will always find a way to overcome any obstacles your relationship might face in the future.
When you respect each other, you are always ready to talk about things and make them better.
How to show respect to your partner?
Respect in a relationship can be shown in many, many different ways.
If you want to show them you respect an important value they honor, you can work on implementing habits that will enhance this value in your own life and show them your love and appreciation this way.
Maybe they care about helping others, and they contribute to charities. They do voluntary work and invest a lot of time in different public projects. You can take part and express interest in helping them out. Not only do you get to show them you appreciate them, but you will also spend more time together.
Respect in a relationship can be shown in many simple ways too. One of the best ways to show respect in a relationship is listening.
Listen to your partner carefully. They are sharing certain things with you for a good reason. It's important they know you really listen to them when they are talking.
If you're not attentive and you're distracted by other things, they will feel like they're burdening you, and that's not how respecting relationships feel like. You can learn to be a better listener, so choose to do so. It will drastically improve the quality of your relationships.
Also Try: Does My Husband Take Me for Granted Quiz
Giving respect to others makes you a better human
When you learn how to show respect in a relationship, you are also learning how to be a better human being.
Self-centeredness is not a desirable characteristic in humans, and those who can't see further than their own life, problems, and feelings are usually the ones who end up alone and lonely.
The great news is that you can improve your social skills daily by showing respect to others. It will make you a kinder person, easier to be loved, and everyone will want to be around you.
How can I respect my relationship more?
We can show respect to humans, to ideas, to things, and to our relationships too.
Nurture your relationship more by investing more time and energy (and money) into it.
Go for trips together, spend more quality time with your partner, ask yourself what you can do to make your life a happier and more fulfilling journey.
Talk to your partner about people you're seeing that are maybe causing some friction between the two of you, and work on improving those relationships.
Too many times, we are a product of our own environment, so it's important to reflect upon what we can do to improve or change the environment we are in, especially if you two live together.
Watch this video to know about ways to make people respect you:

Why can't some people find respect for each other?
Respect and relationships come hand in hand for some, while others have a hard time respecting each other. Maybe they came from a dysfunctional family, or they have been abused and feel angry or abandoned.
There can be so many reasons why people fail to understand the importance of respect.
Whatever the reason can be, whether it's past trauma in relationships or just lack of certain social skills, respect in a relationship can be built if there is a willingness to change and grow.
Respect in a relationship comes with understanding each other
Also Try: Why Is My Husband Always Cranky Quiz
We can't respect someone if we don't understand where they come from.
This is why it's important to be patient with your partner and allow them to express themselves. Get to know their personality, and the more you know them, the more respect you will have for them.
If we sabotage our relationship at the very start by not allowing them to open up, by not giving them a chance to express their true self, we are just wasting time and energy trying to grow a tree out of a dead seed.
Conclusion
Give yourself time to get to know each other and don't have any judgments. Just because they like or do something we don't agree with doesn't mean it's not good.
"If you're right, it doesn't mean I am wrong." You can both be right, and this is why respect in a relationship is important: you will learn that other ways are good too and that there is more than one way to get to the destination.
Respect each other and allow your personalities to grow and expand with your relationship. This is the secret recipe to a long and happy relationship.
Share this article on
Want to have a happier, healthier marriage?
If you feel disconnected or frustrated about the state of your marriage but want to avoid separation and/or divorce, the marriage.com course meant for married couples is an excellent resource to help you overcome the most challenging aspects of being married.
More On This Topic
You May Also Like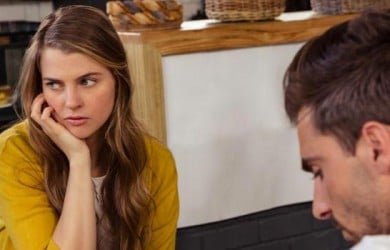 Popular Topics On Married Life