7 Ways on How You Should Complain in a Relationship?
No relationship is full of happiness. There are ups and downs in every relationship. Sometimes there are agreements and sometimes there are disagreements. It is quite tricky to express disagreement or complain.
Sometimes a simple complain worsen the situation and can escalate to arguments or even the worst fight.
Listed below are some of the best suggestions on how to complain in a relationship without putting your partner down. These suggestions will advice how to maintain a strong relationship even when you're expressing your disagreement to your spouse or partner.
1. Don't attack
To complain is to point out someone's fault. No matter how close you're, the moment you start to complain, the other person will go defensive.
To them, your words of complain will sound like you are attacking them. That's why many end-up saying that wife doesn't listen or husband not listening to their wife.
The best way to ensure that your partner listens to you is by starting a conversation instead of attacking them.
Start saying something good about them or how well do you understand them. Then, subtly put your point forward with what you didn't like about them in a particular moment or at that moment.
This way, you both are involved in a conversation than just pointing out each other's mistakes.
2. Don't run behind the bush
Noone will stay happy if married to a complaining husband or wife. It's quite distraught when your wife ignores you or a husband who's always defensive and stops listening to you.
This sometimes happens when you're not straightforward or are not discussing the matter straight with them.
It's understood that to point out your wife's or husband's mistakes are difficult. You surely don't want to hurt them in anyway. However, by not saying things up front, you end up irritating them more.
So, whilst you're starting the conversation with a positive note, say things without any hesitation. This might avoid any clashes.
3. Provide a solution
Provide a solution than just pointing at the problem.
If you're one amongst those couples who say 'my wife doesn't listen to me' or 'my husband complains all the time', then you need to revisit the conversation you had.
In how to complain in a relationship, it is essential that you pay attention to the problem, but at the same time, you must offer a solution.
The reason you're complaining is because you found a fault in them. Since you've found a fault, it's essential that you offer a solution to it as well. Without a solution, it looks as if you're blaming them for something they've done.
Instead, when you offer a solution, you are trying to make them a better person.
4. Choice of words
Most of the times when wives ask 'why doesn't my husband listen to me' or husbands complain that wife won't listen to them they're missing out on the most important aspect – choice of words. Indeed, it's an important answer to how to complain in a relationship. You surely don't want to upset your spouse or partner and would want them to listen to you attentively.
With the right choice of words you can always make your spouse listen to you and welcome your suggestions. For instance, never talk about what others feel or have to say, instead talk about what you feel. Start with what you feel about a particular situation and how you believe they should have responded at that time. This way, you won't be criticizing them, but would be helping them analyze the situation differently.
5. Don't make it a routine
'My boyfriend says I complain too much'. We do hear women talking about these quite often.
When you're in a relationship, you promise to accept the individual the way they're. However, when you start to complain a lot, you put up an image that 'to complain' is your habit.
It's understandable that there are certain things that you don't like about them and surely would want them to become a better person.
However, by simply complaining every single day and making it a habit isn't a solution. Once your partner would realize that it's a habit, they would stop listening to you.
6. Don't demand, request
The worst thing that can happen when you're complaining is you may demand things to be done a certain way.
This isn't the right thing to do when you're looking out for answers on how to complain effectively.
Instead of demanding things and asking your spouse to simply accept their fault and walk your path, twist it a bit. Don't make it look like you're complaining to them. Instead, make it look like you're working towards improving them as an individual.
Every individual has both good and bad part.
You surely can't expect them to leave behind their negative side and follow your orders, just like that. Be sensible and smart.
7. Not a trouble-maker
It's essential for you to understand if you're looking for answers to how to complain in a relationship. You must never put your partner in a position where they start believing that they're the trouble maker.
It is entirely wrong and it surely will lead to the worst thing you can imagine; which is the end of the relationship.
When wife not listening to husband or when the wife says that the husband ignores my needs, take it as a hint that they're done listening to complaints. They have either believed that it's your habit to complain or you've started considering them as a trouble maker in the relationship.
In either case, further nagging can lead to the end of the relationship.
No one wants to have a nagging partner who complains a lot and have issues with everything one does. However, there are situations when you must share your feeling since you've genuinely identified something wrong your partner has done.
In such a situation, the aforementioned points will guide you and are the perfect answers to how to complain in a relationship.
Share this article on
Want to have a happier, healthier marriage?
If you feel disconnected or frustrated about the state of your marriage but want to avoid separation and/or divorce, the marriage.com course meant for married couples is an excellent resource to help you overcome the most challenging aspects of being married.
More On This Topic
You May Also Like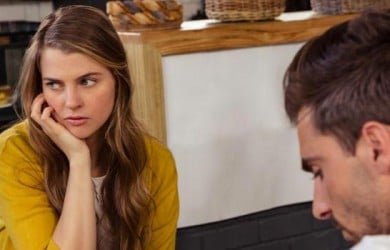 Popular Topics On Married Life