How to Encourage Your Husband
Learning how to encourage your husband correctly is a process in every marriage. This applies to all marriages, regardless of same-sex marriages or heterosexual marriages. This is something that every spouse can learn and master.
A relationship doesn't thrive only on love. Partners also need to be around each other in tough times and hold hands in times of need. Just that fact that someone has the back is enough support to keep the person going.
There could be times when your husband is ridden with distress and cannot figure out what he can do to come out of the situation. He might not express it but he needs you around.
Related Reading: 

20 Steps to Becoming a Supportive Partner
10 ways to encourage your husband
Now is your time to learn how to encourage your husband in the right ways. Not only can this lead to a happier husband but also a healthier and more productive marriage. Plus, if you learn how to encourage your husband, it will have major benefits for you too.
You will be surprised at how simple some of these methods are, discover them all right now.
Here are ten ways on how to effectively encourage your husband:
1. Offer words of encouragement for your husband
One of the best ways to encourage your husband is to do so verbally. You should always be there to cheer him on no matter what the circumstances may be.
Encouraging your husband and helping him to feel better in times when he may be uncertain, is part of the package when it comes to being married. A simple word of encouragement for your husband may mean the world to him.
Simple words of praise and love may help him to thrive more than you will ever know.
Related Reading: 

10 Trusted Tips For Encouraging Communication With Your Spouse
2. Discover what your husband's love language is
Each person has a very different language and this can have a huge impact on your marriage. By discovering what your husband's love language is, you will be able to encourage your man better.
If his love language is affirmations, then finding encouraging things to say to your husband is more important than ever. It is important to continuously offer him affirmations of encouragement consistently, even when he may seem like he is doing well.
The best way to affirm your husband is by praising him verbally and offering verbal support.
If his love language is gifts, then you could write down messages of love and show encouragement in that regard. If physical touch is his love language, then make sure to always offer small gestures of physical affection.
There are five love languages in total, and encouraging your husband in his own unique love language can be very useful.
3. Turn his frown upside down
It is so important to encourage your man when he's down. It is up to you to put a smile on his face by making it your number one mission to make him happy.
There are many ways you can use it when it comes to how to help your husband. Put in some effort by planning his favorite food and the genre of movies that he enjoys best.
Try to make him laugh and smile and remind him how important he is to you. Sometimes you may need to show him how much you love him, and this can be just as encouraging as words. However, don't forget to tell your husband you love him too.
It is imperative to encourage your husband by doing small things for him continuously. Making him a cup of coffee without him asking, or putting chocolate on his pillow, are all ways to make him feel special, loved, and most of all encouraged.
Related Reading: 

Ways to Show How Much You Love Your Spouse
4. Remind him of his amazing qualities
Sometimes supporting your husband may require you to "stroke his ego."
The best way to encourage him is often by praising him. You could tell him what a great husband he is and how good-looking he is. (After all, if he wasn't good-looking and wonderful you wouldn't have married him, right?). By leaving an encouraging word for my husband, it will show him how much you care.
Let him genuinely know how sexy he is to you— making use of words to genuinely uplift your man. This could be the encouragement that he badly needs to feel better about himself or about possible rejection, such as a bad job interview.
It is important not to assume that he knows how much you love all of his amazing qualities. You need to tell him actively. You could even make a list of the things that you love about him and remind him of these qualities on a daily basis.
5. Tell him how proud you are of him
When it comes to ways of learning how to encourage your husband best, sometimes it's the simple things that matter. You don't need to do anything extravagant or out of the ordinary. All that you need to do is learn how to motivate your husband by telling him how proud you are of him.
It is essential for him as a man to gain a sense of how proud you are not only of him but of everything that you have achieved together. Tell him daily how proud you are of him and how proud you are to be with him.
Even though it may be obvious to you that you are proud of him, it may not always be obvious to him. By telling him and others how proud you are, it will help to encourage your husband.
If you're both on social media, make a point of tagging him in a photo of the two of you and mentioning how much you love him and how proud you are of him. Small gestures like this could really do big things for your relationship.
Related Reading: 

6 Easy Steps to Inspire Your Spouse to Change for Better
6. Listen genuinely when he talks
A lack of communication is, unfortunately, one of the biggest reasons why good relationships turn bad. Do not allow this to happen to your relationship. Learning how to encourage your husband entails also learning how to communicate effectively with each other.
While communication is a "two-way street," it is important for you to do your part. As a spouse, it is highly important to not just listen to him but to genuinely hear him.
Listening and hearing are two different things, and it is highly recommended that you understand the fundamental difference. When your husband genuinely feels listened to, this is one of the best ways to encourage your husband that exists.
Pay extra attention to the details, and remember these small details. Let him know without a shadow of a doubt that you are genuinely hearing and understanding him. This is one of the greatest forms of encouragement that you can provide.
Related Reading: 

How to Understand Your Husband
Check out this video that explains listening skills that every relationship needs:

7. Create a regular date night
Many couples underestimate the true value of a set date night. Setting date nights and sticking to the schedule is able to really help you reconnect with your husband. Life becomes stressful, and it can often feel like you are "living past one another".
One of the best ways of discovering how to encourage your husband is by having a date night and talking.
A regular date night will help you to reconnect as a couple. Due to financial constraints, time, and more, once a week or once every two weeks is not an option for many couples. In this case, you could even choose to schedule a date night once a month.
This date night doesn't need to be extravagant in any way. It can consist of the two of you sitting on a park bench and eating sandwiches, taking the time out to eat a romantic meal at home with a bottle of wine. It could be something simple as taking a walk by the beach and visiting a coffee shop afterward.
8. Let him take the lead
If you really want to excel at encouraging your husband, there is a simple and effective way to do it that generally works. What is required is for you to simply allow him to take the lead. When it comes to making the big decisions, allow him to feel in control.
It is imperative to encourage your husband by proving to him that you trust his judgment and opinions. The best way to actively show your husband that you trust him explicitly is to allow him to take the lead.
This does not always need to be with big things. It can be with simple things such as deciding what take-out you want to get. Allow him to make decisions, trust his judgments and allow him to feel in control. Without even knowing it, you are actually encouraging your husband more than you know in this manner.
9. Always have his back
In order to really support your husband, it is important for you to "always have his back." Not only should you always be loyal and "have his back," but he should be completely aware that this is the case. Not only should you tell him on a regular basis that you will always "have his back," but you should also show him with action.
When it comes to encouraging your husband in all the right ways, this may entail some awkwardness at times. There may be times during your relationship where you will need to stand up for him, even if you don't fully agree with him. Your loyalty needs to lie with your husband always and forever.
Related Reading: 

15 Ways to Improve Emotional Support in Your Relationship
10. Remember to say "thank you"
Always remember to say "thank you," even after small things. If he buys you a meal, remember to say thank you and express your appreciation verbally. Never let him feel taken advantage of or taken for granted.
Always say thank you and show your husband you appreciate him. One of the best things that you can do to show appreciation on a regular basis is to say thank you for being you to him before going to sleep and giving him a goodnight kiss.
20 things to say to encourage your husband
If you are looking for some quotes to use that could encourage your husband, here are 20 things that are sure to give him the right push:
1. You have come so far since I met you, and it has been a true honor sharing this journey with you
2.You are really the best husband anybody could ever ask for
3.I see the problems other couples are having, and I am so pleased to be with you
4.I love the way you touch me
5.Your kindness makes you the most handsome man in the world
6.You are my number one
I enjoy every moment that we spend together

Your morals and values always amaze me

I love the way you treat other people

You always look good even when you just wake up

Your heart is always in the right place

Thank you for everything that you do for this family

Thank you for treating me right

I really do love and appreciate you

I genuinely love the person who you are, and I never want you to change

You make the world a much better place

Spending time with you is always time well spent

I admire your bravery and courage

You have some amazing qualities

You truly are my dream partner
In Conclusion
Your husband might not openly say he needs you but there could be instances when he could be silently suffering and needing you by his side.
These methods can work wonders in discovering how to encourage your husband in the right ways. It will take time, energy, effort, patience, courage, and even practice, but in the end, it will be worth it.
Share this article on
Want to have a happier, healthier marriage?
If you feel disconnected or frustrated about the state of your marriage but want to avoid separation and/or divorce, the marriage.com course meant for married couples is an excellent resource to help you overcome the most challenging aspects of being married.
Learn More On This Topic
You May Also Like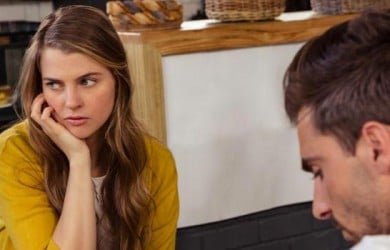 Popular Topics On Married Life