10 Signs of a Toxic Girlfriend and How to Deal With One
Do you understand what it means by toxic girlfriend or boyfriend? When we enter a relationship, we feel positive about a lot of things, we tend to be happier, be more inspired and even want to become a better person.
With the start of a new relationship, you expect your life to change for good but sometimes, your partner doesn't support this idea. A toxic partner can make your life a living hell and one has to keep an open eye to notice the signs of a toxic girlfriend or boyfriend.
Finding the woman who would make you feel complete is such a wonderful feeling. What if the woman of your dreams turns out to be a toxic girlfriend? Is love and patience enough or will this deteriorate the relationship over time?
What does it means to have a toxic girlfriend?
No relationship starts off as toxic or unhealthy but as weeks, months and years pass, you'd likely see some changes. If your partner is toxic, these changes would be subtle to start off but gradually, you'd be forced to ask yourself "is my girlfriend toxic?"
If you constantly feel that she is, then you might start analyzing when it started or did something happen that might have triggered a person's attitude to change.
So, what is a toxic girlfriend? Or how do we define a toxic girlfriend?
Your girlfriend can be termed toxic when she is always controlled and driven by her negative emotions, when she no longer listens to reasons and thinks logically.
It's when you're together and all of a sudden, there's an issue that you don't even know about, where a date that is supposedly filled with happiness is filled with stress and negative feelings. This means that you have a toxic girlfriend.
To better understand the different toxic girlfriend signs, check out the pointers below.
You feel that you can no longer be yourself when you are with your girlfriend. You can no longer be who you really are when you're with her. When you have to watch every move or word that you say, then this might signal that you have a toxic girlfriend.

You

often fight and argue

. She is always in a bad mood and blames you and your actions as to why she's experiencing these negative emotions. She fails to take responsibility of her actions and moods.

You have a toxic girlfriend when she picks fights more than she expresses affection. It's when she bursts out in anger on the most trivial issues.

She becomes irrationally jealous of any girl that you talk to. You have had an experience where she would even get jealous of your friends and workmates.

Your girlfriend has started to belittle you. How about making fun of your physical appearance, work, how you speak, and even how you make love to her?

When you bring up these issues and tell her how to stop showing toxic girlfriend traits — she gets angry and threatens you that she'll leave you. She blames you and says that you have shortcomings, thus justifying her actions.

You feel that when you are with her, you are no longer happy and instead you feel stressed, sad, and just frustrated.
Related Reading

: 

13 Easy Ways to Show Your Affection in a Relationship
10 warning signs of a toxic girlfriend
A toxic girlfriend will eventually lead to a toxic relationship, that's a fact. If you are with a toxic girlfriend and have been with her for a while now, then you might already know the warning signs. For those who think they are in this type of relationship, read through.
1. Your relationship makes you feel bad
When you're too tired at work, and you just want to be with your girlfriend to feel happy and to unwind but being with her lately has become more toxic than before.
It's when you are with her and instead of enjoying the moment; you are greeted with issues and emotional outbursts that are out of control.
2. Trick questions that lead to arguments
How to tell if your girlfriend is toxic? She always engages you in tricky questions.
Surely you've dealt with trick questions that have led to major issues, such as asking if you have a close female workmate or if someone asked for your number or those situational questions like "What if your ex calls you? Will you answer?"
These questions would often come from a toxic girlfriend who's just waiting to trap you with your own answers and create a bigger issue using them.
3. No open communication
Have you tried talking to your girlfriend just to see and understand what's happening with the communication? If so, you've also experienced being diverted to another topic or just playing innocent. You'll see her blaming other people into justifying her actions. In a toxic relationship – there's no open communication.
Related Reading

: 

Open Communication In a Relationship: How to Make it Work
4. One-way effort
You can do so many things for the woman you love but sometimes, it's just too much. When all you do is to try and please her but still feel that all your efforts are put to waste because there's no reciprocation or counter-action from her end.
Related Reading

: 

20 Effective Ways to Put Effort in a Relationship
5. Irrational doubts and jealousy
Surely you've seen your toxic girlfriend just explode in anger and you on the other hand had no idea why she's acting like that. Apparently this isn't just the case of a jealous girlfriend but rather an irrational woman who has been eaten away with insecurity, hate and irrational thinking.
When you no longer feel at ease to be in a company of a female friend because you're afraid of what your girlfriend might think.
6. Physical and verbal abuse
Physical and verbal abuse can happen to both men and women. When a toxic girlfriend is angry or is thinking that you're cheating on her, she can commit acts of physical and verbal abuse too. It depends on you how far you think is tolerate for you.
7. No privacy
What does it feel like to have no privacy in your phone and your things? When the first thing that your girlfriend does on meeting you is to check your phone instead of hugging and kissing you? Going through a partner's phone without their permission is an infringement of privacy.
Related Reading

: 

Why Women Should Respect Cell Phone Privacy in the Relationship
8. You are no longer happy with the relationship
The final straw that you'll feel if you are in a toxic relationship is when you no longer feel happiness in your relationship. Being in a relationship is all about bringing the best out of each other, being happy and being inspired despite life's trials.
If this is missing in your love life, you're probably with a toxic partner.
9. Continued stress
It's common to be stressed once in a while, but if you are constantly stressed out that too because of your love life, this might be a signal that you have a toxic girlfriend. Your love life should be the reason of your contentment and not your worries.
Related Reading

: 

20 Causes of Stress in Relationships and Its Effects
10. Your needs are not met
Being in a relationship involves care and efforts from both partners and both should feel satisfied from each other. But your girlfriend repeatedly ignores your needs and wants and is majorly focussed on her own desires.
How a toxic girlfriend can affect a relationship
A toxic girlfriend can make the relationship feel like a burden instead of an availability. It can hardly feel like a partnership where support from both individuals is seen and felt. Such a relationship can visibly lack affection and respect which form the basis of any relationship.
Being in such a relationship can ruin your self esteem and you'll be left doubting your capabilities most of the time. You will be stressed and tired on a lot of occasions and negative emotions will your thoughts.
A toxic girlfriend can make you lose hope from the relationship and your future altogether. You will feel like turning into a different person over time.
10 ways to handle a toxic girlfriend
After learning about the warning signs of a toxic girlfriend, it might feel like handling such a partner is something next to impossible, but there can be ways to manage such a situation.
So, how to deal with a toxic girlfriend? If you ever get stuck in such a situation, It is important to know how to get to safety.
1. Don't fall for fake apologies
If you have a toxic girlfriend, chances are she's repeatedly putting you down and coming up with a meaningless 'I'm sorry' every time you try to convey your feelings. You should know that an apology loses its meaning if the offender keeps repeating the mistake.
A fake 'sorry' is among the things toxic girlfriends say.
2. Don't stay with her out of fear
If your girlfriend is constantly threatening to break up with you if you complain about her behavior, don't act out of fear. She might think as a weak point to gain control over you and will continue with her following warnings.
To get over the fear of relationship ending, watch this video:

3. Don't let her presence in your life define you
Do you feel your existence revolves around your relationship or is defined by the presence of your toxic girlfriend in it? Well, break this chain of thought. Understand your worth as a person and maintain your individuality. The lesser you depend on your partner, the safer you'll be from her influence.
4. Fight the temptation to forgive her all the time
She's pretty and cute, and you love her after all; it's easy to forgive her all the time for everything that she does to you. But think about how many times you can let her get away with that.
The temptation to let go might take a toll on your relationship and your mental health.
5. Protect your privacy
It's common for couples to share their phones and passwords with each other but that should be mutually agreeable. If she keeps sneaking into your phone every now and then without your permission, it is not a healthy habit. Take charge of your privacy.
6. Don't let her kill your confidence
Confidence is a life skill to have. Being with a toxic girlfriend for a long time can take a hit on your confidence and self-esteem. If she's always belittling you in private and public spaces, you might start thinking of yourself in low light, which is extremely unhealthy for your mental peace.
7. Know that her jealousy has no cure
She constantly suspects you of infidelity and directs you to stay away from other females out of her jealousy. Just try to communicate that you're not going to detach yourself from every other person she gets skeptical about. That's not how partners behave.
8. Avoid
guilt trips
Stop taking the blame every time she misbehaves or goes through an emotional outburst. If she can't handle her feelings at all, it's probably her requirement to seek support and rethink her actions. Guilt trips are not good for anyone's health.
9. Don't think that there's no way out
A relationship starts when two individuals are willing to stay together in a romantic bond. It cannot be forced on anyone. Don't feel pressured into staying in a relationship that isn't happy. There are always ways to sort out relationship issues. Just find the one suitable for you.
It's a good idea to consult a relationship therapist for your toxic girlfriend as it might help her recognize her fault and work on them.
10. Try to communicate effectively
You might have already tried talking to her but she pays no heed. Try to think of other, subtle ways in which you can communicate your feelings to her. Find an occasion where she is more receptive and approachable and talk to her.
Some relevant questions
We have discussed signs through which you can identify a toxic girlfriend and also some ways that csn help you deal with such a person. Now, let's look at some relevant questions and topics you might have in this regard.
What does toxic love look like?
When you're in love, it can be hard to decide whether it's a toxic relationship or you're just having a tough phase of romance. Love, out of all other things, should feel peaceful and affectionate. Despite the issues at hand, there should be a feeling of belonging between partners.
If there are constant warning signs of missing love, respect and care, you can realize it's not romantic love. If your partner repeatedly exposes you to harsh, negative behavior and never tries to understand you, it's clear that the love has turned toxic.
Is it true love or toxic?
Sometimes, there can be very subtle differences between true love and toxic love. If you and your partner get back together even after arguments and try to resolve the issue through mutual opinions, it is a sign of true love.
In toxic love, it can look very similar to romantic love but one can notice minor details to know the truth inside. In toxic love, partners are pressured into doing things that they might not do otherwise. They are nehgatively dependent on each other and hardly feel any satisfaction.
Do not let toxic love make you toxic!
If you've been fed up with your toxic girlfriend and can't see a way out, there might come a time when you feel enough is enough. Even if there is still love between you two, sometimes, it is better to let go of the things that cannot be mended and only cause sadness.
It's crucial that you realize a relationship that's not healthy anymore and can do more damage than good. You might even wonder "how to get rid of her?" but the answer is really simple. Adopt the best solution possible.
Try your best to make her understand your situation and offer your support to get rid of destructive habits. Suggest her to seek therapy if nothing else works out. At last, remember that nothing matters more than your physical and mental health.
Share this article on
Want to have a happier, healthier marriage?
If you feel disconnected or frustrated about the state of your marriage but want to avoid separation and/or divorce, the marriage.com course meant for married couples is an excellent resource to help you overcome the most challenging aspects of being married.
Learn More On This Topic
You May Also Like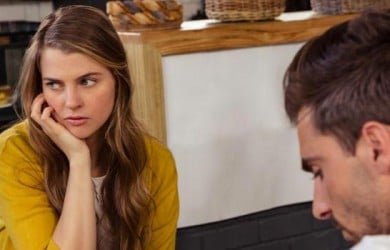 Popular Topics On Married Life