How to Handle a Toxic Girlfriend and How It Affects the Relationship
When we enter a relationship, we become positive on a lot of things, we tend to be happier, be more inspired and even want to become better. For men, finding the woman who would complete them is such a wonderful feeling and for women who think that men can't be devoted to a woman – you haven't seen someone who has found "the one"
But what if the woman of your dreams turns out to be a toxic girlfriend? Is love and patience enough or will this affect the relationship?
Do you have a toxic girlfriend?
No relationship starts off as toxic or unhealthy but as months and years pass, you'd see changes, subtle to start off but is enough for you to ask yourself "is my girlfriend toxic?" If you feel that she is, then you might start analyzing when it started or did something happen that might have triggered a person's attitude to change.
How do we define a toxic girlfriend?
Your girlfriend is toxic when she is controlled by her negative emotions, when she no longer listens to reasons and thinks logically.
It's when you're together and all of a sudden there's an issue that you don't even know about, where a date that is supposedly be filled with happiness is filled with stress and negative emotions. This means that you have a toxic girlfriend and to know more about the different toxic girlfriend signs, check out the signs below.
Do you feel that you can no longer be yourself when you are with your girlfriend? When you can no longer be who you really are when you're with her? When you have to watch every move or words that you say, then this might be the start of realizing that you have a

toxic girlfriend

.

Do you often fight and argue? Is she always in a bad mood and blames you and your actions as to why she's experiencing these negative emotions? Does she fail to take responsibility with her actions and her moods?

You have a

toxic girlfriend

when she picks fights more than she expresses affection. It's when she bursts out in anger on the most trivial issues.

Does she become irrationally jealous over every girl that you talk to? Have you had an experience where she would even get jealous over your friends and workmates?

Does your girlfriend start to belittle you? How about making fun about your physical appearance, work, how you speak, and even how you make love to her?

When you bring up these issues and tell her

how to stop being a toxic girlfriend

— does she threaten you that she'll leave you? Does she blame you and say that you have shortcomings thus justifying her actions?

Do you feel that when you are with her, you are no longer happy and instead you feel stressed, sad, and just frustrated?
Related Reading: The Psychology of Toxic Relationships
Warning signs of a toxic relationship
A toxic girlfriend will eventually lead to a toxic relationship, that's a fact. If you are with a toxic girlfriend and have been with her for a while now, then you might know the warning signs of a toxic relationship and for those who think they are in this type of relationship then read through.
1. Your relationship makes you feel bad
When you're too tired at work and you just want to be with your girlfriend to feel happy and to unwind but being with her lately has become more toxic than before. It's when you are with her and instead of enjoying the moment; you are greeted with issues and emotional outbursts that are out of control.
2. Trick questions that lead to arguments
Surely you've dealt with trick questions that has led to major issues such as asking if you have a close female workmate or if someone asked for your number or those situational questions like "What if your ex calls you? Will you answer?" These questions would only come from a toxic girlfriend who's just waiting to trap you with your own answers and then will become a major issue.
3. No open communication
Have you tried talking to your girlfriend to see and understand what's happening? If so, you've also experienced being diverted to another topic or just playing innocent and would rather blame other people into justifying her actions. In a toxic relationship – there's no open communication.
4. One way effort
You can do so many things for the woman you love but sometimes, it's just too much. When all you do is to try and please her but you feel that all your efforts are put to waste.
Related Reading: Tips on How to Get out of a Toxic Relationship
5. Irrational doubts and jealousy
Surely you've seen your toxic girlfriend just explode in anger and you on the other hand had no idea why she's acting like that. Apparently this isn't just the case of a jealous girlfriend but rather an irrational woman who has been eaten away with insecurity, hate and irrational thinking.
When you no longer feel at ease to be in a company of a female friend because you're afraid of what your girlfriend might think.
6. Physical and verbal abuse
Physical and verbal abuse can also happen to men. When a toxic girlfriend is angry or is thinking that you're cheating on her, she can commit acts of physical and verbal abuse too. How far can you tolerate this?
7. No privacy
What does it feel like to have no privacy in your phone and your things? When the first thing that your girlfriend does is check your phone instead of hugging and kissing you?
8. You are no longer happy
The final straw that you'll feel if you are in a toxic relationship is when you are no longer happy. Being in a relationship is all about bringing the best out of each other, being happy and being inspired despite life's trial.
Related Reading: Tips for Letting Go of a Toxic Relationship
Giving up on a toxic girlfriend
When enough is enough and you just want to end the relationship even if there is still love, sometimes, you have to let go of the relationship because it's not healthy anymore and before it can do more damage – let go.
You'd be surprise to see that it's not as easy as you may think and you might even wonder "how to get rid of toxic ex girlfriend?" but the answer is really simple. Let go of this person and don't look back. Don't talk or entertain her calls no matter how much she asks for forgiveness. You owe it to yourself to be free from your toxic girlfriend and to find someone who will love you and someone who will lift you up.
Share this article on
Want to have a happier, healthier marriage?
If you feel disconnected or frustrated about the state of your marriage but want to avoid separation and/or divorce, the marriage.com course meant for married couples is an excellent resource to help you overcome the most challenging aspects of being married.
More On This Topic
You May Also Like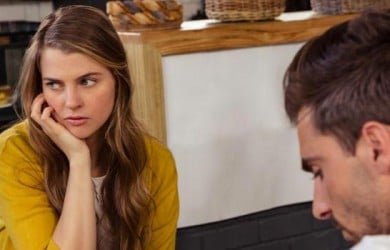 Popular Topics On Married Life