When Relationship Feels Like Friendship: 15 Clear Signs
"I feel like my boyfriend and I are just friends." Is this you?
Several signs, some subtle and some very obvious, can indicate that your relationship feels like friendship and nothing more. There are several reasons as to why this may happen.
But don't worry; there are ways to fix the situation you may be in. Moreover, it's always best to be informed about these signs so that you can work on them at the very beginning!
Read on and learn about everything you can do if the thought "I feel like my partner and I are just friends" has been bothering you!
Is it normal for romantic relationships to feel like friendship?
Different people have different love languages. People express their romantic inclination towards their significant others in different ways. A solid friendship is just one of the many ways this special bond is developed and nurtured.
When your relationship feels like friendship and nothing more, is it normal? Not quite. There are other things you need to have a long-lasting romantic relationship—passion, intimacy (both sexual and emotional), a bit of possessiveness, and so on.
If there is just platonic love and admiration for each other, after a while, one or both of you may feel like there is definitely something missing in the bond because the relationship feels like friendship.
15 signs your relationship has turned into a long-term friendship
Here are some key signs that you can be on the lookout for if you suspect or think your relationship feels like friendship:
1. You don't go on dates anymore
Romance is a key aspect of your relationship with your significant other.
If you notice that you two don't go out for romantic dinners, movies, long walks, or whatever it is that you both would do earlier on, the relationship can start to feel just like a friendship.
2. You have platonic pet names for each other
Having cute nicknames for each other is adorable.
However, if you find that you or your partner call each other "dude," "bro," "man," etc., things might be getting platonic.
3. You both feel like the typical pet names are too cheesy
Do you feel awkward at the thought of referring to your boyfriend as "baby," "honey," "darling," "love," etc.? Maybe it doesn't feel natural to use these terms with each other.
This could mean that the relationship you share leans more toward friendship.
4. You two always split the bill
Finances in romantic relationships are important. It's crucial to maintain a balance where the partners take turns to pay the bill and sometimes split the bill. However, if you're always splitting the bill, it may be becoming very platonic.
Why so? It's because this is something people mostly do with their friends.
5. Sex seems funny to both of you
Another big sign that your relationship feels like friendship is if you just can't take sexual intimacy seriously. When they are always casual about sex and intimacy, it can signal that your boyfriend or girlfriend just wants to be friends.
If one or both partners find sex with each other to be funny, the relationship may be turning platonic.
6. No expectations from each other
In a romantic relationship, it's more important to balance your expectations from each other rather than not have any expectations at all from one another.
Having no expectations may indicate a lack of devotion to each other.
7. Public displays of affection with your partner seem awkward to you
Couples who are together often engage in PDA. It's quite normal and acceptable. But if you feel like your partner just wants to be friends, you two probably feel very awkward about publicly expressing your love for each other.
You hang out with your significant other like you would with a friend.
8. You find couple activities to be very cheesy
The idea of a romantic date night or movie night, or a long stroll in the park with your boyfriend makes you feel cringy.
This happens if you see them as just a friend.
9. There's no passion
Although it's quite normal for that spark between two partners to dim down a little as a relationship progresses, a complete lack of passion may be a sign of just friendship.
10. No sense of partnership between you two
What makes a relationship different from a friendship is the connection and partnership between the two individuals. This partnership is based on commitment toward each other.
The relationship might feel like a mere friendship if you don't feel your significant other is your support system, irrespective of the circumstance.
11. You question if your partner is even interested in you anymore
If you've found yourself wondering if your boyfriend or girlfriend is even attracted or interested in you anymore, there's a high chance your relationship feels like friendship.
12. You're unsure about your feelings for your partner
You may be questioning whether you're romantically inclined towards your boyfriend.
This may come from a place of not feeling assured by your partner through their actions and words that they love you as more than a friend.
13. You're both on the lookout (consciously or subconsciously) for someone else
Although it's absolutely okay to check out an attractive stranger, it isn't normal if either or both of you feel the need to be romantically involved with someone else.
14. You don't talk anymore
If you find yourself not interested in catching up with your significant other as regularly as you used to, the communication between you and your partner has been affected. This can be a sign that the relationship is a friendship.
15. There's no intimacy
As mentioned earlier, the spark and passion between two people may dim with time, but the relationship feels like friendship if emotional and physical intimacy is gone.
Is it a roommate-like relationship? Well, to identify, you need to watch this video by Psychotherapist Mary Jo Rapini:

3 reasons why your relationship feels like a long-term friendship
As mentioned above, a relationship based on friendship is beautiful, but there's so much more that goes into it than just friendship.
Now that you know some hallmark signs, let's take a look at the reasons why your relationship feels like friendship:
1. The romantic relationship may have hit a plateau
If your romantic relationship doesn't feel romantic anymore and just feels like a friendship, it may have hit a plateau. Maybe both you and your partner expect the other person to take some sort of action to reignite that spark, love, and passion.
If you're stuck at this stage for too long in the hopes that the other person will do something to revive that love, the connection will turn completely platonic.
2. A complete lack of attraction for each other
For a romantic relationship to work out in the long run, you both need to find each other attractive (physically and sexually). Attraction and intimacy are the two primary ingredients in any romantic relationship.
If intimacy and attraction are missing, the relationship will automatically feel like a platonic bond.
3. You two have different needs and wants
If you and your partner are at two different places in life and you don't see each other in the same light, the bond can start to feel like a friendship and just that.
Say you aren't attracted to your girlfriend/boyfriend, and you don't see them as your significant other, but they see you as their partner and are attracted to you; things can turn very awkward.
How to fix a relationship that only appears to be friendship
Friendship in a relationship is important but isn't the be-all-end-all of a relationship. You've acquainted yourself with the signs that your relationship may be turning into a pure friendship and the top 3 reasons as to why this happens.
Now it's time to take a look at what you and your partner can do about this situation. When your relationship feels like friendship, it's time to solve this problem at the root.
So, instead of expecting your partner to do something to revive that love and passion suddenly, it's time you take things into your own hands. It's time to be proactive to bring back all that heat and romance.
There are exercises and strategies covered in the following section that you may consider implementing.
15 things to do when your relationship feels like friendship
If your relationship feels like friendship, you may consider doing these 15 things that have been listed as follows:
1. Talk to your partner
The importance of healthy communication in a relationship is undeniable.
So, if you've felt like you view your partner as just a close friend, communicate what you feel to him and see what he has to say about this.
2. Don't nag about it
If this turn in your relationship has made you feel upset, it's better to get it out in the open with your partner. But nagging about this to your partner is counterproductive.
So, acknowledge it together and then try implementing any of the following exercises to work on this matter.
3. Go on double dates
Being around other couples with your partner can help you remember and revive what's missing in your relationship. You and your partner can observe other couples and how they are around each other by going on some double dates.
This may help to rekindle the romance.
4. Try out some outdoor activities
Exciting outdoor activities, such as going on a hike, going on a camping trip, going to an amusement park, etc., can give you that adrenaline kick and dopamine boost.
This can help you create beautiful memories with your partner and might reignite that flame of romance.
5. Kiss slowly
The power of a slow and passionate kiss cannot be ignored or undermined. Couples who are physically affectionate more frequently can keep the spark and passion alive.
6. Plan your dates
Date nights are imperative. Think about the kind of dates you both enjoyed when you initially started dating each other.
Keep this in mind, plan regular dates with your partner, and relive those memories and make new ones!
7. Try to be interested in your significant other's interests
This is a great way to re-establish a smooth channel of communication between you and your lover.
If you actively ask and learn about your partner's current interests, you will feel closer to your partner.
8. Don't talk to your partner like they're your therapist
There is a fine line between talking to your partner about your everyday life and straight out complaining to them all the time about your problems.
When you treat your significant other as your therapist, it won't help the situation. You will view them as even less of a romantic partner.
9. Buy nice gifts for each other
This is not about buying over-the-top expensive gifts for each other. It's the thought that is important here.
When you buy something nice and thoughtful for each other, it makes the gift recipient feel important, significant and loved.
10. Text your partner often
Remember how you and your partner would send cute or flirty messages to each other at the beginning of your relationship?
Try to recreate that.
11. Go on a romantic getaway
Traveling is just overall great for anyone. It's especially great for couples who are struggling to bring back the romance in the relationship.
The idea of seeing the world with your lover in itself is so romantic, so you can imagine how romantic the trip can be!
12. Prepare a list of the things that you feel are missing in the relationship
When you think, "My relationship feels more like a friendship," just try to make a list of the things that you feel are missing in your relationship. It can honestly be anything.
After you've made that list, sit down with your partner and talk about it. Communicate this to your partner lovingly and patiently.
13. Try out some PDA
A little bit of PDA never hurt anyone! If you and your partner used to be quite affectionate with each other in public earlier on, try to do it again!
The thrill and excitement of indulging in some PDA can help you feel more attracted to your partner!
14. Try not to "go Dutch" all the time
As mentioned earlier, money matters in a relationship are all about balance.
Splitting the bill all the time is very platonic, so take the initiative to pay the bill when you're out on a date with your boyfriend or girlfriend so it feels more romantic.
15. Go for couple's counseling
This is not the last resort. This is one of the best ways you and your significant other can work on your relationship.
Having an unbiased perspective and personalized tools and strategies to improve your relationship is one of the best ways you can deal with this situation.
Commonly asked questions
Understanding our feelings within relationships can be tough. Let's answer some common questions about the differences between love and friendship and how they work together in relationships.
What's the difference between how love and friendship feel?
Love often involves intense emotional and physical attraction, a desire for closeness, and a deep commitment to another person. Friendship, on the other hand, is characterized by companionship, shared interests, trust, and mutual support.
Love tends to be more passionate and romantic, while friendship is rooted in camaraderie and shared experiences.
Is there friendship in a relationship?
Yes, friendship is a crucial component of a healthy romantic relationship. A strong emotional connection and compatibility are often built on a foundation of friendship. Sharing common interests, values, and trust can strengthen the bond between partners, making the relationship more fulfilling and enduring.
What is a relationship supposed to feel like?
A healthy relationship should feel like a safe and supportive partnership. It involves open communication, trust, respect, and emotional intimacy. Both partners should feel valued, understood, and able to be themselves. While challenges may arise, the overall experience should be one of happiness, growth, and mutual fulfillment.
Is it love, or are we simply friends?
Distinguishing between love and friendship within a relationship can be tricky. Love often includes romantic attraction and a deep desire for a future together, while friendship emphasizes companionship and shared interests.
To determine if it's love, consider your emotional intensity, physical attraction, and long-term commitment. Friendship alone may not encompass these aspects.
Let there be love
Feeling like your relationship has ended up becoming a close friendship may not be the best feeling. While a friendship is a significant relationship to share with someone, it may not sustain a romantic relationship.
Don't be sad if you think, "My relationship is turning into a friendship"! Just read through this article and implement these strategies to rekindle passion, love, and intimacy!
Share this article on
Want to have a happier, healthier marriage?
If you feel disconnected or frustrated about the state of your marriage but want to avoid separation and/or divorce, the marriage.com course meant for married couples is an excellent resource to help you overcome the most challenging aspects of being married.
Learn More On This Topic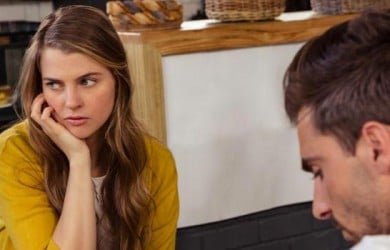 You May Also Like
Popular Topics On Married Life