10 Relationship Conversations You Can Have With Your Partner
Communication is the key to making any relationship last longer. Undeniably, different relationships entail different facets to perpetuate the essence. However, rich and healthy communication is the only prerequisite to making any kind of relationship a long-lasting one.
Here's a list of different kinds of meaningful conversations you can have with your loved one. Whether you are planning to get hitched, shacking up, or just currently dating; make your bond stronger.
What is a relationship conversation?
The way two partners share their emotions determines their intimacy levels and relationship patterns in the future. It also helps in helping them develop a meaningful bond.
Relationship conversations are nothing but the communication between the partners over varied topics that creates a base for the relationship to grow and prosper. It is a key to intentionally building an intimate relationship.
Are conversations important in a relationship?
In a relationship, communication is the key to building it stronger and better. So, yes, conversations are important. Listed below are the importance of communication between partners:
It helps clarify the doubts leaving no room for guesses and assumptions

It eliminates the possibility of misunderstanding

It allows the partners to be supportive and understanding of each other

It sets the boundaries and expectations

It builds a better understanding
When should you have a relationship conversation?
Relationship conversations can vary based on the stage of the relationship in which you are with your partner. The depth of the conversation is based on the same.
When you are in the dating phase, research says you should discuss getting into the relationship or having the What Are We talk within 3 to 6 months of dating. This is sufficient time for both people to gauge whether they would want to continue dating or not.
When you are in a relationship already and have some serious things to discuss, ensure that both of you are in a calm state of mind before beginning the conversation. It could be about anything like finances, family planning, etc.
7 healthy relationship conversations you can have with your partner
Looking for things to talk about in a relationship? Here are some topics to talk about with your partner
1. Engage in meaningful conversations
In this list of what to talk about with your significant other, an important point is to avoid small talk. Whether you guys are going on a first date, are already hitched, or planning to marry anytime soon- don't do small talk. Just Don't. Period.
Talk about stuff that makes your eyes sparkle with passion, talk about career goals and aspirations, and talk about hobbies.
Ask creative and exciting questions. Keep your questions open-ended and phrase them in such a way that it makes your partner flutter with delight. Don't get too anxious about what to ask- exhibit the rawness to the other person. Display yourself in the purest and most real form of yours.
Here are a few questions that can foster engagement between the two parties-
Who will be the five people in your top list you would call straight away when you are stuck in a problem?

Which flaw of yours can be turned into one of your biggest strengths?

What are you passionate about?

What question do you want an answer to?

How far do you agree that individuals in a relationship should maintain separate identities instead of one being the shadow of another?
The list will go on and on. The questions will never end so will your interest in the other person if you share the like-mindedness.
All you have to do is think a little hard. Be expressive and not stodgy. Be real and just be you.
Related Reading: 

10 Conversations Every Couple Needs to Have for a Better Marriage
2. Crystal clear discussions about your past
Talk about your past. A relationship is no small deal. It requires commitment and loyalty. One fine day you woke up and realized you can't spend your life with your partner. It doesn't happen like that. It isn't supposed to work like that. Therefore, be mindful of your decision and be picky when it comes to choosing your significant other.
Before acting on your impulse and losing control over your hormones, it is vital to discuss each other's past.
Invalidating experiences/sentiments should signal either one of you to pull the plug or let go of one's horses. Keep the air clean about your past.
Related Reading: 

Should You Tell Your Partner Everything About Your Past or Not?
3. Check up on your partner frequently
Whether you are hitched, are planning to hitch in the near future, or are just currently dating- check up on your partner from time to time. Hit a text, shoot an email, make a PowerPoint presentation, call away, Skype; do anything just to have a heart-to-heart conversation every day.
It is imperative to make your significant other realize that you are there for them at any time of the day.
Make them feel loved. Make them feel appreciated. Share your highs, your lows, and every minute detail in between. Because nothing is too small or too big to share with your loved one.
At times, lend a listening ear or a shoulder to weep on or render valuable advice. Make sure no bitter feelings are stacked up against each other and you guys are on the same page. Be clear in your communication and give them their personal space if they need it.
4. Talk about the future goals
It's perfectly okay to delay your future planning session for a span of a short time. It will get overwhelming or either one of you may get too anxious to even bring this topic to discuss in a conversation. Regardless of anything, do talk about it.
Instead of jumping to conclusions or spewing out hate against each other, it is better to reconcile differences and make sure what kind of a relationship your partner needs. If you think that your differences are irreconcilable and incompatible, then it's better to reassess your relationship.
Related Reading: 

35 Relationship Goals for Couples & Tips to Achieve Them
5. Family planning
Do you want kids? Do you want to raise a family? Bring up these questions and discuss them with your partner.
It may be the case that your significant other does not believe in the institution of marriage or maybe either of you does not want to have kids at this point in time.
6. Discuss trauma and hurtful experiences
Have heart-to-heart conversations with your boyfriend or girlfriend about your exes, friend's betrayal, and family traumas, to name a few, you have been through in the past that have left a hole in your heart.
Your significant other should understand what you have been through and accept you like the person, which has been molded by the intense experiences.
7. Money
Financial issues are one of the biggest reasons people get divorced. Issues like different attitudes towards money, opposing priorities, debts, and not setting financial goals are a few of the quick recipes that lead to the downfall of the couple.
So one of the must-have conversations to have in a relationship is about finances. Money matters in the relationship should be discussed from time to time and financial goals should be set.
Related Reading: 

Facilitate Your Understanding of Types and Ways to Handle Financial Issues in Marriage
8. Intimacy
While it might seem like hard work to initiate conversations or talk about different topics, it should all come naturally to you if you really put your personal life in focus.
When it comes to intimacy, figure out each other's love language, the favorite intimate memory for both of you, favorite positions etc.
Related Reading:

 How Important Is Intimacy in a Relationship
9. Everyday chores
When it comes to running the house as a couple, each partner should have their responsibilities clear. The arguments arise when there is confusion and one partner gets burdened with a lot of work while the other one remains indifferent.
So, talk about a fair division of chores as per each other's comfort.
Related Reading: 

How to Divide Household Chores Fairly in Marriage
10. Values
Your partner and you have been raised differently. So, it's obvious that you both have different ideologies. For a deeper bond, ask each other questions that can help you understand your partner more:
What are you most selfish about?

What do you worry about the most?

What motivates you professionally?

What's more important: forgiveness or acceptance?
How do you keep a conversation going with your partner?
How to have meaningful conversations in a relationship? Well, an ideal and perfect relationship is one where the communication is free-flowing and feels fresh.
To avoid the relationship from turning boring, check out these tips on how to spice up your relationship conversations that will keep your conversations with your partner lively:
Throw open-ended questions rather than Yes- No questions to keep the conversation going. This way, one topic would lead to further conversations. You can ask things like, "What was the best part of your day?", "What should be our plan for the coming weekend?" etc.
Talk about positive and negative things
Don't just talk about the good things. Also, tell your partner the things you dislike or hate. Express your views freely. Your viewpoints will lead to your partner expressing their thoughts on the topic too.
Related Reading:

 4 Tips on How to Get Rid of Negative Thoughts in Relationships
When you wish to have real conversations, keep your phones and laptops at bay. These will only distract you both and submerge you into the loop of scrolling and texting.
Having good relationship conversations isn't just about expressing yourself. It's also about listening to your partner. So, observe when your partner is willing to just have someone listen to them.
Check out these listening skills necessary in a relationship:
Don't assume things about your partner. This will only create misunderstandings and end the conversation on a bad note. Question them instead to keep the conversation flowing.
Final thoughts
Frankly speaking, there is no genie to grant your wish or no better heart-to-heart conversation to make your love stay if the two parties don't accept the differences. Have the patience to deal with it and don't let overwhelming sentiments cloud your judgments.
Share this article on
Want to have a happier, healthier marriage?
If you feel disconnected or frustrated about the state of your marriage but want to avoid separation and/or divorce, the marriage.com course meant for married couples is an excellent resource to help you overcome the most challenging aspects of being married.
Learn More On This Topic
You May Also Like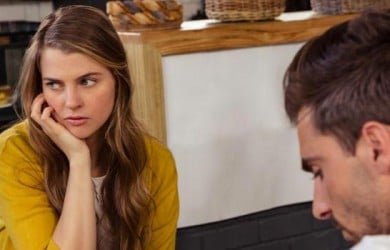 Popular Topics On Married Life