How to Deal With an Unhappy Marriage
Your spouse used to be the highlight of your day. They made you feel safe, special, sexually desired and loved. But now you find yourself in an unhappy marriage and spending time with your partner is one of the last things you want to do.
What is the source of your unhappiness? What is the state of your emotional and physical intimacy with your partner? Have you and your spouse drifted apart, or is there something deeper that's affecting your marriage? These are important questions to consider when coping with an unhappy marriage.
If your marriage has turned into a relationship you don't even recognize, it can be difficult not to feel hopeless – but don't give up. Studies show that there may be a good reason to stick it out with your mate, even if you are in an unhappy marriage.
Common signs of an unhappy marriage
You're always arguing: While it's normal for healthy couples to argue every now and then, it should not be a regular part of your daily life. Studies show that consistent arguing can have a negative effect on one's psychological well-being.
You feel lonely: One of the many benefits of getting married is that you get to be with your best friend every single day. This should not be something that makes you feel lonely. If it does, you are likely in an unhappy marriage.
Your Sex Life is Non-Existent: One of the biggest predictors of an unhappy marriage is an invisible sex life. Of course, raising children, working full-time, or working opposite shifts than your spouse can all get in the way of making love. Studies even show that sexual history has a big impact on marital happiness.
But many find that their sex life will take a hit when there is marital discord. Either you desire to be with your partner and they aren't giving you the time of day, or you have completely lost interest in being intimate with your spouse.
If it is the latter, it is likely that you no longer feel a deep emotional intimacy in your marriage and a deeper issue is the cause.
Money is always on your mind: One study reveals that couples in a low-income marriage are more likely to be hurt by mental health issues or other stressful life events than couples from a higher socioeconomic level.
You don't like being alone together: When you and your spouse are alone together it doesn't feel romantic, it just feels awkward. You constantly find yourself inviting other couples over or planning solo outing just so that you can have someone else to talk to.
You're talking to someone else: This is a giant red flag of marital unhappiness. If you have kept in touch with an ex or are pursuing a "friendship" with someone you are attracted to, you may be trying to fill your spouse's shoes with someone new.
How to fix an unhappy marriage
No matter what issue you are dealing with in your relationship, you cannot fix your marriage overnight. But, there are some steps you can take to start healing today.
Have an honest conversation
They say communication is the key to a happy marriage. Your partner can't read your mind, nor can they try and fix your relationship if you are employing the "silent treatment". Communicate openly and honestly with your spouse about how you are feeling, about the problems in your relationship, and genuinely express to them that you want to be happy with them again.
Think as a team
Part of escaping from your unhappy marriage is being willing to make the first move and start from scratch with a clean slate. This means thinking of each other as a team. True partner's – not enemies.
Part of thinking as a team is showing consideration for your partner. You can do this when making decisions by consulting your spouse about them first. Look for ways to be kind to one another each day, and approach arguments as a team by attacking the subject at hand and not each other.
Also watch: How to Find Happiness in Your Marriage
Look for ways to connect
One way you can heal your relationship is by spending more time together.
They say husbands and wives should never stop "Dating" – each other, that is! During the dating portion of your relationship, you were constantly getting to know one another. Figuring out your favorite food, pastimes, and hobbies seemed fun and exciting. You were connecting like never before.
Over the years you've stopped trying to get to know one another. You've stopped "dating". You rarely plan fun outings, you don't have romantic dinners, and you've definitely stopped talking to each other as friends or even lovers.
If you want to escape your unhappy marriage you need to take the initiative to get to know one another again. Act as though you just met. Ask your spouse about their favorite things, their hobbies, dreams, and goals. You may be surprised at what you learn and how much you actually like this "new" person.
Stop blaming each other
If you have been together for a long time, or have been unhappy for a while now, you likely have some built up anger and resentment toward your spouse. It's easy at that point to blame your spouse for everything that has gone wrong in your relationship but don't.
Avoid pointing the finger at your partner. Playing the blame game is a surefire way to put your spouse in defensive-mode instead of giving them an open space to communicate about your issues. Instead of focusing on past mistakes, acknowledge that both of you have played a part in the decline of your marriage and it will take both of you to fix it.
Focus on the positives
Your spouse isn't romantic, they're not interested in your hobbies, or they aren't much of a talker, but what are some of their positive qualities? Perhaps they are a trustworthy partner, a wonderful provider, or they always know how to make you laugh.
Don't let negativity overtake what was once a wonderful marriage. Instead, focus on the positives and choose something to be thankful for every day.
Stick it out
All couples go through peaks and valleys in their marriages. Sometimes it's great, other times you wonder what you were ever thinking saying the words: I do. But if you truly want to be with your spouse until "death do us part", science is suggesting that you stick it out*.
New research reveals that couples who stick out the tough years in their marriage end up happier for it. The study sheds light on findings from 10,000 parents. Results reveal that of the 70% of couples who were unhappy after the birth of their first child, a whopping 68% reported being anywhere from happy to "Extremely Happy" 10 years later.
A marriage, in many ways, is like a rollercoaster. It's an amazing experience, but it has its ups and downs. Many couples go through periods of unhappiness, but that is no reason to give up on trying to change your relationship. Life is what you make of it. Coping with an unhappy marriage is all about changing your perspective.
* This advice excludes those who put themselves at risk by staying in an emotionally, physically, or mentally abusive relationship.
Share this article on
Want to have a happier, healthier marriage?
If you feel disconnected or frustrated about the state of your marriage but want to avoid separation and/or divorce, the marriage.com course meant for married couples is an excellent resource to help you overcome the most challenging aspects of being married.
You May Also Like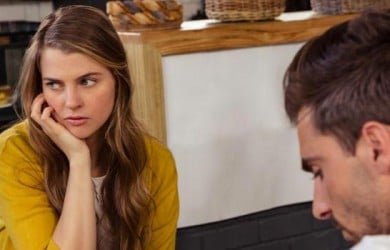 Popular Topics On Married Life