5 Signs of a Lazy Husband and How to Deal With Him
You met him, dated him, and fell in love. Then came the hustle and bustle of marriage preparation and the day itself. Everything happened so fast that you didn't get a chance to stop and observe his habits.
Well, that can be a huge mistake if you married a sloppy guy and now you are stuck with a lazy husband. The realization isn't instant; it builds up until you finally accept 'my husband is lazy and unmotivated'.
A report from a survey conducted by the Pew Research Center's Religious Landscape Study shared that 61% of the participants said that sharing household chores is very important for a successful marriage.
Considering such statistics for a marriage to succeed it is essential to look for signs of laziness from your husband and find ways to motivate him.
Here are some of the signs of a lazy husband you should look out for.
Signs of a lazy husband
If you have a lazy husband but aren't sure, explore the following traits of a lazy husband and decide for yourself.
1. Tries to avoid the household chores
Are doing the dishes, taking out the trash, cleaning up after meals, laundry washing and putting away, are all these your responsibilities? Has your husband ever tried to lend a hand?
If these are your responsibilities and he has never lent a hand then yes you have a lazy spouse.
While you do all the work, he sits on the couch watching sports? Then you are no doubt dealing with a lazy and unmotivated husband. However, this isn't the only thing; more is yet to come.
Related Reading: House Chores - the Hidden Challenge in Every Relationship
2. Expects sex and wants you to serve
After a tiring day, when you finally get some ease of time, with a book your favorite show, he starts hinting sex when you don't want any. Not only that, he expects you to serve and himself to enjoy.
Laziness can lead to selfishness in men. They don't see past sex, your mood or tiredness doesn't really matter to them.
This may be the most prominent sign among the many signs of a lazy husband.
This also leads to unwanted stress as the husband won't back off without being annoyed and pissed. Don't worry there are ways to motivate a lazy partner.
3. Leaves a mess behind without considering your workload
After all the household chores, you also have to clean up behind your husband as well?
The lazy husband syndrome proves that a lazy husband leaves a mess behind in every room.
Even when he goes into the kitchen for a spoon, he will make a mess. The first thing he wouldn't know where a spoon would be while searching for it he will mess all drawers and will not even bother to shut them.
4. He rarely compromises
He shows reluctance towards making compromises or finding a middle ground. His needs and desires are more often more important than yours.
On top of that, he is unwilling to communicate, listen, and understand what you want. At the beginning of the relationship, your love and commitment made you ignore such behavior but now it an ongoing pattern.
However, this has made him even more ignorant and demanding, and he is not averse from using emotional manipulation or even physical threats to get his way.
If all these traits point out that your husband is a lazy bum, we have good news for you, we have foolproof tips and tricks that will help you understand how to deal with a lazy husband as well as how to motivate a lazy husband.
Also Try: How To Compromise In Your Relationship Quiz
5. His work over yours
When you and your husband both have a full-time job, you both need to share the household workload. That includes the bills as well as the mundane work like laundry, cooking, and cleaning.
If he considers his work more important than yours, you are in trouble.
A lazy husband always thinks that his work matters more, he does more and he shouldn't be bothered with household chores.
Related Reading: What Should You do if Your Wife is Lazy
How to deal with a lazy husband?
As per a brief report on the changing household patterns by the Council on Contemporary Families, the analysis of time diary data on household and care work in the United States from 1965 to 2012 indicates that women's and men's housework and child care are much more similar today than they were fifty years ago.
This suggests that men are not intrinsically lazy, and they can be motivated to extend a helping hand.
1. They all want to be heroes
Show him that he is your hero and you can't really function without him, make him think that there are certain things that only he can do. When you make him feel needed, he will start thinking of himself as more important.
This heroic feeling will help him take off the lazy cape and wear the Superman cape. Try role reversing; don't make him feel that you can do it all by yourself.
This will only make him slack even more and make your lazy husband even lazier.
2. Let go of the threatening attitude
If you want something done by a grown-up man, you will need a little change in yourself. No threatening, no pointing fingers, and no arguments. These negative points will only make him more adamant not to work.
3. Appreciation and positivity
Load him with praises at the smallest favor he does. These favors may not seem much, but in the long run, they will help him to change. Start with the trash and more gradually to other small chores like loading the dishwasher.
Things that can make him feel that he has made a difference, but these need to be speedy chores, not something that takes time. Appreciate every tiny effort that he makes.
Related Reading: Appreciating And Valuing Your Spouse
Also watch: Positivity and support in marriage.
4. Ask about preferred chores
Giving your spouse the choice of chores and asking him to commit to getting them done on a schedule is more collaborative than telling him what to do.
Even if you are stuck with some chores you don't like, you have fewer overall to complete, so there is a positive trade-off to consider.
This is one of the best tactics for dealing with a lazy husband.
5. Lower your expectations and compromise
Maybe you are expecting too much, and this can pressurize him. Try lowering your expectations and start compromising a bit for his sake. Reconnect with your husband and get through to him regarding his laziness.
A lazy husband may be the hardest person to deal with, but it's not an impossible task. Have a bit of patience and tact, and you will be able to change your lazy husband into an ideal one.
Share this article on
Want to have a happier, healthier marriage?
If you feel disconnected or frustrated about the state of your marriage but want to avoid separation and/or divorce, the marriage.com course meant for married couples is an excellent resource to help you overcome the most challenging aspects of being married.
More On This Topic
You May Also Like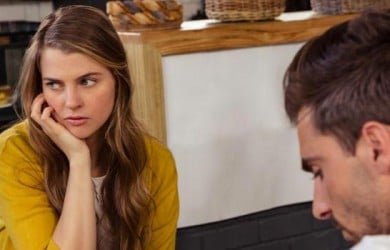 Popular Topics On Married Life