How to Deal With Uncertainty in Relationships
Uncertainty in relationships can create feelings of anxiety. You may not know where you stand with your significant other, and you may constantly be wondering how they truly feel about you.
Relationship uncertainty can also lead you to question whether your relationship is right for you and whether you want to be with your significant other. Unfortunately, being unsure about a relationship can lead you to push potential partners away because you may feel the need to protect yourself from being hurt.
If you have been dealing with relationship uncertainty, you can take steps to manage the situation and feel more comfortable effectively.
Working through relationship uncertainty can also help you to determine whether the relationship is meant to weather the storms you face or if perhaps it is not the right matchup for you.
What does relationship uncertainty mean?
Uncertainty in relationships can be described as a state where you have mixed feelings.
On the one hand, you may feel that you have a satisfying relationship and a close connection with your partner. In contrast, on the other hand, you may not be sure that your significant other is really into you or interested in being with you long-term.
You might also question whether the relationship is right and whether you are happy with your significant other. In addition, you may worry about where the relationship will head in the future, whether or not it will last, and whether your partner cares about you.
Uncertainty can also be a form of insecurity about the relationship. You may feel your partner is interested in other people or on the verge of leaving you.
This uncertainty can lead you to become obsessive and analyze every interaction you have with your significant other because you are unsure of how they are feeling. You're attempting to have more control over the relationship.
Is relationship uncertainty normal?
We've all been nervous about our relationships from time to time. After all, most of us want to settle down in a happy, successful relationship, and our fear of being hurt can lead us to question whether someone we're with is committed to us.
That being said, some degree of uncertainty in relationships is average. You cannot control another person's heart or be sure of how they will act in any given situation, so that you might feel unsure on occasion.
Furthermore, life is constantly changing, which is something you can be sure of at any moment. You cannot predict what roadblocks you and your significant other will encounter in the future, nor can you predict exactly how the relationship will play out over time.
Given these facts, having uncertainty or being unsure about a relationship is just a part of life. While some degree of uncertainty is customary and even expected, what is not typical is when you have so much uncertainty that you cannot develop connections with people.
If you have such strong feelings of uncertainty, you constantly push new partners away or find that you are consumed with anxiety in your relationships. There is probably an underlying issue, such as unresolved trauma from childhood or past relationships, that you are bringing to the table.
What causes uncertainty in relationships?
Uncertainty in relationships is partly a natural reaction that comes from our desire to protect ourselves.
Most people are so focused on achieving a successful relationship that they have some anxiety in relationships, as they are always worried that their current relationship will fail. They will never find "the one."
In some cases, relationship uncertainty can be extreme and come from severe insecurities. For example, some people may have an insecure attachment, which can cause fear of abandonment and a feeling that a relationship is destined for failure any time a minor issue presents itself.
An insecure attachment style can develop due to child abuse and neglect or inconsistent care from parents or other caretakers during childhood.
Uncertainty can also result from any of the following:
You perceive that your partner just isn't supportive of you.

Your partner behaves in ways that you don't like.

There may be key differences between you and your partner.

You may have issues, such as unrealistic expectations, that you bring to the table.
15 Ways how to cope with uncertainty in relationships
Feeling the fear of uncertainty may be expected in relationships, at least to a degree, but having anxiety surrounding the feeling of uncertainty can be problematic.
If you experience constant uncertainty in relationships, consider the following ways of how to deal with uncertainty in a relationship:
1. Communicate clearly
If you're experiencing uncertainty in a relationship, take time to communicate your fears to your partner.
It may be that the feelings of anxiety are simply from a misunderstanding that can be resolved through a conversation. If you hide your feelings, you may build resentment, and the issue will never be resolved.
Related Reading: 

Easy Tips for Effective Communication Between Couples
2. Give up your need for control
Sometimes uncertainty in relationships can be worsened by a need for control. Giving up the need to be in control can help you cope with some of these feelings.
If you let things unfold naturally, you may find that some of your anxiety dissipates.
3. Get in touch with your feelings
In some instances, relationship uncertainty can come from difficulty identifying your true feelings, and you may resolve the uncertainty if you get better at identifying what you're feeling.
Perhaps you feel sad about something, or maybe you're feeling tension because anger is building up.
Often, emotions are associated with physical sensations, and research has even shown that people with depression may struggle to identify these physical sensations in the body.
If you're feeling uncertain about your relationship, you might consider if something else is going on.
4. Avoid criticisms of your partner
When you're feeling uncertain in a relationship, you may project your feelings onto your partner and accuse them of certain things. This only drives a wedge between the two of you and makes you feel even more uncertain.
Avoid telling your partner, "You never pay attention to me!" or making an accusation like, "You always ignore my feelings!" and instead use "I statements."
For example, you might share a feeling like, " I feel as if my feelings have not been acknowledged lately."
Related Reading: 

Critical Spouse Signs and How to Deal With It

 
5. Become more involved with your partner
As relationships progress, partners may naturally begin to grow apart as the excitement of a new relationship wears off.
If you find yourself constantly making plans without your partner or failing to include them in your daily life, it may be time to make some changes.
Becoming more involved with each other can erase some of the feelings of uncertainty you have. Invite them to work out with you, come to dinner with your friends, or try a new hobby together, and be sure to keep them updated about your day.
6. Try to learn your partner's love language
Sometimes a disconnect between partners and feelings of uncertainty in relationships result from two people speaking different love languages. Dr. Gary Chapman developed the five love languages, which describe ways that people prefer to be loved.
For example, your love language may be physical touch, whereas your partner feels loved through acts of service or you doing nice things for them.
If you are trying to communicate with your partner in a way that is not best for them, uncertainty can crop up in the relationship. Try learning about your partner's preferred love language, so you can meet each other's needs better and eliminate some of the uncertainty.
Related Reading: 

All About The 5 Love Languages in a Marriage

 
7. Practice self-care
Sometimes people become so dependent on their partners that they expect them to meet their every need.
If you're letting all of your happiness depend on your partner, it is natural to feel uncertain at times because no one person can meet your every need or make you 100% happy 100% of the time.
Taking time to practice self-care can make you feel better about yourself and increase your confidence in the relationship.
Related Reading: 

Pillars of Self-Care
To know more about how to practise self care, watch this video:

8. Let go of high expectations
If you hold your partner to impossible standards, the chances are that they will let you down from time to time, leading you to wonder, "Why do I doubt my relationship?"
Stop expecting perfection from your partner and accept them for who they are, and you will likely find that dealing with uncertainty and anxiety becomes easier.
Related Reading: 

How to Recognize and Tackle Unrealistic Expectations in Relationships
9. Evaluate where the feelings of uncertainty are coming from
Sometimes you may feel uncertain in relationships because your partner has values that seem to be wildly different from your own.
For instance, you might prefer a typical 9 to 5 work schedule and the structure that such a life provides, whereas your partner may be working from home and setting their schedule with less consistency.
If there are critical differences between you that have resulted in feeling unsure about your relationship, evaluate whether these are deal-breakers or things you can come to terms with.
10. Accept that not all relationships work
You might have to let go of being upset about feelings of uncertainty and instead learn to embrace them.
Acknowledge that the relationship might not work out, and understand that whether it does or not, life will go on, and you can still find a way to be happy.
11. Don't put all your eggs in one basket
If you think you need an ideal relationship to be happy, think again. If you're placing all of your happiness in whether or not the relationship works out, any issues that come up will lead to relationship uncertainty.
Instead, accept that your relationship is not the only thing you have going for you, and learn to find happiness in your hobbies, friendships, and life aspirations.
12. Address your fears
We all have past relationships, some of which can involve serious baggage. If you experience chronic uncertainty in relationships, it may be time to evaluate whether these
feelings come from your fears of rejection.
It is time to address these fears, so they do not get in the way of present relationships.
13. Be more generous with your partner
Maybe your uncertainty about the relationship has led you to pull away from your partner and not give very much of yourself to them. If this is the case, take some time to be generous toward them.
Be open with your expressions of affection, and be willing to do things to make their life easier. This can lead you from growing apart and feeling even more uncertain.
Related Reading: 

The Power of Generosity in Marriage
14. Turn to someone for support
If you find yourself wondering, "Are doubts in a relationship normal?" you might turn to a friend to discuss your concerns.
They may provide a fresh perspective on whether your feelings are normal or a bigger issue that needs to be resolved. In cases where you just can't seem to shake your feelings of uncertainty, you may even benefit from seeing a therapist work through your feelings.
15. Consider if your feelings are red flags
Some uncertainty in relationships can be expected, but if you get the sinking feeling that your relationship just isn't right, your body may be trying to warn you that the relationship is not the one for you.
For example, if you find that you are often sad around your partner or fearful of expressing your feelings, you may be experiencing more than uncertainty. You might be in a situation that could become toxic.
Your uncertainty may be because of red flags, such as warning signs of emotional or physical abuse, in which case your best choice is probably to end the relationship.
Related Reading: 

Relationship Red Flags to Watch For
Conclusion
Settling down with a lifelong partner is a serious matter, so it is normal to have some feelings of uncertainty in relationships.
When you find yourself feeling uncertain, it is important to reflect upon your feelings. They might be a natural reaction to problems that come up within a relationship, or they could be coming from your insecurities.
Whatever the case, there are steps you can take to relieve your feelings of uncertainty and determine whether the relationship is right for you.
Share this article on
Want to have a happier, healthier marriage?
If you feel disconnected or frustrated about the state of your marriage but want to avoid separation and/or divorce, the marriage.com course meant for married couples is an excellent resource to help you overcome the most challenging aspects of being married.
More On This Topic
You May Also Like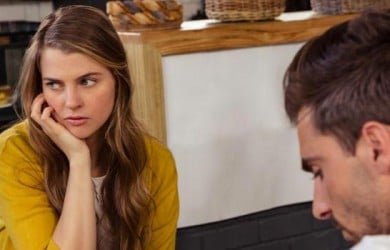 Popular Topics On Married Life