How to Deal With Aggressive Communication in Relationships
We don't want to experience aggression, but it is already a part of life, especially in dealing with another person. We all have already experienced aggression, may it be from our own family, our boss or co-workers, or even with our spouse or partner. Aggressive communication in relationships is so negative that it can entirely change a relationship for the worse.
Sadly, some people aren't even aware that they are already using aggressive communication in relationships with others, especially with their spouses and family.
How does aggressive communication start, and how can it affect one's relationship?
Related Reading: 

Solid Communication Is the Key Element of Every Relationship
Definition of aggressive communication
How well do you know the definition of aggressive communication behavior in relationships? Have you often asked, "What is aggressive communication?" or "What does aggressive communication mean?"
We may, of course, have a general idea of what aggression, in the form of communication skills, is. Still, a deeper understanding of its definition can help us understand it better and eliminate aggressive communication in relationships.
Aggressive communication definition by the term is a method of expressing one's needs and desires but doesn't take into account other people's feelings.
It's a selfish and harmful type of communication style.
Aggressive communication can significantly affect your relationships and how people view you as a person and can also give you poor self-esteem and less social interaction.
What are some common signs of aggressive communicators?
What are the characteristics of aggressive communication?
This person is afraid of voicing out their real concern and thus will opt to use other means to express what they truly feel. Aggressive communication is different because this person doesn't care about what others might think or feel and will use whatever words they want.
A passive-aggressive lover finds it challenging to practice emotional honesty and open dialogue.
They resent the other person for making demands

Their need for approval impairs their ability to speak their mind

They are unable to say no to requests and demands, only to gripe about it later

Their hostile attitude can eventually land them in total isolation

They don't assume the responsibility of creating happiness in their own life.
Also, watch this video on how passive-aggressive behavior destroys intimate relationships.
Assertive vs aggressive communication
It is another thing to clear as assertive communication is totally different than the latter.
Assertive communication is thought to be the most favorable and most effective form of communication as you can voice out what you mean while still showing respect to the other person's feelings and will also incorporate active listening and empathy.
Aggressive communication, however, is the opposite of assertive communication.
Aggressive communication examples
A person who has this type of communication style will not have any empathy in words or even actions and will only say what they want to say without thinking how hurtful their choices of words are.
Aggressive communication style is often hurtful, blunt, and sometimes disrespectful.
Aggressive ways to communicate don't end with words; it also shows in indirect communication such as facial expressions, tone of voice, and body language.
Some passive-aggressive communication examples or phrases from a person who uses aggressive communication are
"Don't be stupid, use your brain"

"Such a simple task, and guess what? You can't do it!"

"You'll never succeed with your incompetence"

"I am right, and you are wrong."
Consequences of aggressive communication in relationships
Now that we're familiar with aggressive communication, you've surely remembered some instances where you were able to come across someone like this at work, and let's face it, the most common reaction that we will have is to stay away from that person.
However, what if your aggressive communication experiences come from your spouse or partner? How do you deal with it? What is the impact of aggressive communication?
A relationship where you talk but don't resolve any issue, where feelings of hurt still linger because the way you or your partner communicate is not fixing your issues but just makes it worse. Unfortunately, no relationship will last if there is no honest communication between partners.
If you have an aggressive communication style in your relationship, don't expect a harmonious one either because there is no real connection and communication in your relationship. The stress and conflict that aggressive words can take on your relationship will have its toll, and that's the end of it.
Can you imagine having someone who constantly treats you with aggression? How about feeling inadequate because of the words being thrown at you, and the lack of empathy of this person can bring your relationship.
What more if you have children who will start to mirror your partner's aggressive communication skills?
Being exposed to aggressive communication in relationships at an early age can leave them completely scarred for life.
Related Reading: 

How to Garner Intimacy in Relationship With Honest Communication
How to deal with aggressive communication -10 ways
Being told that you have an aggressive communication style may not immediately change who you are, but it is still an eye-opener. The realization that you have to change your way of communicating with other people to have better relationships will not bring you down or belittle you.
How to deal with aggressive communication style? How to deal with an aggressive communicator, or how to respond to aggressive communication?
1. Understand passive-aggressive behavior
There is much confusion with the passive-aggressive communication style and aggressive style, so to clear this out, in passive-aggressive communication, a person who may appear passive on the surface is resentful inside.
In a passive-aggressive relationship, they will say something that may look like this person is okay with it or agrees with it but will show indirect communication hints such as a facial expression or give you the silent treatment.
The first step to dealing with aggressive communication is understanding passive-aggressive behavior.
2. Acceptance
If you want to change, accept that you have to be better, and it starts with these questions.
Am I putting people down?

Am I able to listen when people are talking?

Can I take criticism?

Do I hurt people with my words?

Am I blinded by the bad effects of my freedom of speech?
These are just questions that will give you an idea of how you communicate, and if you think help is needed, there are many ways where you can ask for it.
3. Seek professional help
Good therapy can help you enhance how you communicate, and there is nothing wrong with seeking help to be better. Seek out a credible therapist who can guide you on dealing with aggressive communication style.
It is best to get timely help as aggressive communication in relationships can shake the foundation of the strongest of relationships. Why do we need to be better in communicating with others, and why is aggressive communication in relationships so destructive?
4. Understand the 'why'
Why do you need to choose better communication in relationships? Choosing effective communication over aggressive communication in relationships is fairly simple.
Relationships rely on how we communicate, so if we want to have a lasting relationship, we ought to be assertive in the way we communicate. We have to remember to respect other people the way we want to be respected.
Related Reading: 

16 Principles for Effective Communication in Marriage
5. Look into the reasons for passive-aggressive behavior
It can become easier to deal with them if their partner attempts to understand what experiences have shaped their personality and why they have adopted passive-aggressive behavior in relationships.
Passive-aggressive people in relationships have usually grown in an atmosphere where they are discouraged from expressing their opinions and feelings freely. Resultantly, they grow up feeling inadequate and a sense of powerlessness.
6. Accept the situation
Train yourself to accept the situation like it is, but do not make excuses to justify their behavior. Just because you understand why they behave the way they do does not mean that they should not mend their ways. Be accepting and supportive of their true selves, but push them to grow and become better communicators.
7. Set boundaries
Set boundaries to protect yourself. Mutually negotiate certain off-limits topics to maintain harmony. The problem with being with someone who is an aggressive communicator is that the partner can feel lonely, less loved, and less valued. These behaviors can directly affect a person's self-worth and mental health.
Related Reading: 

6 Types of Boundaries in Relationships & How to Maintain Them
8. Approach them with vulnerability and empathy
Having the right approach with someone who communicates aggressively is very important. Since the reasons why they are passive-aggressive communicators can have something to do with how they were treated harshly throughout their life, it is vital to approach the situation with vulnerability and empathy.
9. Be kind to them
Find opportunities to speak about your spouse's talents and positive qualities. This will give them the much-needed boost and help them gain more confidence to say what they feel actively.
10. Do not negate their emotions
One of the reasons why people communicate passive-aggressively is because they feel that nobody cares about their emotions and feelings. Make sure they know that you care about how they are feeling, so they can find it easier to speak their mind, even if the emotions they are experiencing are negative.
Bottom line
In aggressive communication, a person would often communicate in a loud and intimidating voice. This person can maintain a dominating stare or eye contact and use controlling words, blame, criticizing, and even threatening words or actions.
Dealing with a passive-aggressive person entails a lot of frustration and misunderstanding. If your spouse is passive-aggressive, there are ways to cope and circumvent aggressive communication in relationships.
Share this article on
Want to have a happier, healthier marriage?
If you feel disconnected or frustrated about the state of your marriage but want to avoid separation and/or divorce, the marriage.com course meant for married couples is an excellent resource to help you overcome the most challenging aspects of being married.
More On This Topic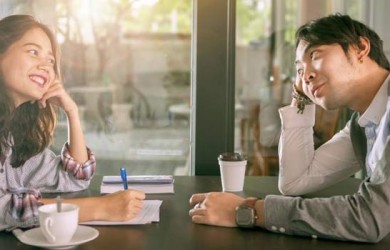 You May Also Like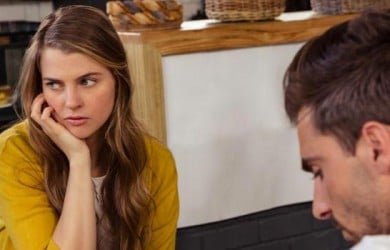 Popular Topics On Married Life