Relationship Anxiety: Causes, Symptoms, Effects & Ways to Deal With It
Anxiety at the beginning of a relationship is pretty common. It can never be wracking to begin a relationship! But what is relationship anxiety? Is relationship anxiety normal?
When you don't know a person inside out yet and are deciding whether or not you should build a future together, it is only normal to experience new relationship anxiety. What are new relationship anxiety symptoms? Read on to know more.
What is relationship anxiety?
According to the relationship anxiety definition, relationship anxiety happens while dating because you wonder whether the person you like so much will turn out the way you hope them to be, and you begin to wonder if you will be able to meet their expectations.
While it is common to be nervous when connecting with someone you like, anxiety and relationships aren't mutually exclusive, especially in the initial courting phase. Nor is it a bad thing! Love anxiety, feeling butterflies wings flutter in your stomach make dating exciting and enticing.
But, there is a negative side to anxiety. When you wonder if anxiety is ruining your relationship and you're beginning to feel so insecure that you cannot function properly, it may be a sign that you're experiencing negative amounts of relationship anxiety that could impact your relationship's success!
When you start doubting your partner and yourself and begin contemplating things like taking a relationship anxiety test, it may be time to get some help managing your thoughts and fears to save your relationship.
Relationship anxiety or relationship stress is a real issue that people struggle with. It isn't just a fear of commitment but actual stress and worry that arises at any relationship stage.
This anxiety can hinder love lives no matter how badly the person experiencing the anxiety would like to find love. The worst part is that it can worsen as a romantic relationship becomes more serious.
The mind is very complicated, and some minds respond negatively to one of the most enjoyable aspects of life: love. Rather than taking in every moment, those with anxiety issues are plagued with worry, fear, doubt, and insecurity.
How to deal with insecurity? Watch this video to know more.
If this describes you, you're certainly not alone. You will find the answer to how to get over relationship anxiety in the sections below.
But before jumping on the quest to deal with relationship anxiety, you must understand the signs, symptoms, and causes of anxiety issues.
15 relationship anxiety symptoms
What are some relationship anxiety signs and symptoms?
Those with relationship anxiety can experience a wide range of symptoms that can compromise romantic relationships. Let's go over some of the common symptoms:
1. Fear of being judged by a partner
Those with anxiety about marriage and relationships may have low self-esteem. Due to low self-esteem, they fear negative judgment from their partner. Unlike others, perceiving constant negative judgment will take a huge toll on those with this issue.
2. Fear of being left by a partner
This would be the ultimate rejection and intensify fears.
3. Fear of intimacy
Emotional vulnerability presents a difficulty. Love anxiety symptoms are characterized by a fear of intimacy.
4. Neediness
Always wanting to be around your partner and the need for constant affection.
5. Causing conflict
Causing conflict in the relationship when everything is going well is a relationship anxiety symptom. This is also called push-pull behavior. After causing conflict, those with anxiety problems encourage closeness. This back and forth often reinforces a person's feelings of anxiety and can further complicate their relationship.
6. Inappropriate jealousy
This is an extreme form of jealousy that goes beyond simply guarding a relationship you cherish. If you are the spouse or you have a spouse with anxiety and anger issues, it could be because of inappropriate jealousy.
Related Reading: 

15 Signs of Jealousy in a Relationship
7. Feeling compelled to test your partner
This is done to test a partner's love and commitment. Passing the test serves as reassurance.
8. Emotional instability
This can be increased sadness, impulsivity, irritability, or anger.
Related Reading: 

How Being Emotionally Unstable Is Damaging Your Relationship
9. Need for constant reassurance
Those with this type of anxiety need reassurance to ease negative feelings, but the effects are only temporary.
10. Unnecessary defensiveness
Negative behaviors may present themselves as a result of overwhelming anxiety.
11. Anxiety attacks
Anxiety attacks may occur due to being flooded with negative thoughts and emotions.
12. Socially withdrawn
Becoming so consumed and concerned with a romantic relationship can cause a person to pull away from others close to them.
13. Lack of trust
The inability to trust a romantic partner is caused by intrusive worries of being betrayed.
Related Reading: 

How to Handle a Lack of Trust in a Relationship
14. Inability to sleep
Worry can affect sleep cycles.
15. Decreased sex drive
This is a direct result of the stress caused by anxiety in a relationship.
These are the symptoms that depict how anxiety ruins relationships. They cause cracks in the relationships and eventually destroy everything you have built together.
Related Reading: 

8 Common Causes of Low Sex Drive in Marriage
5 causes of relationship anxiety
Like other forms of anxiety, anxiety associated with relationships has an underlying cause. These could include –
1. Bad past relationships
Someone who has had bad relationships can feel anxious about a new relationship. They may fear that the same things might happen again.
2. Childhood
This can be anything from being hurt in past relationships and going back to childhood.
Perhaps a lack of affection in the household or a fear of being emotionally vulnerable developed due to being exposed to negative relationships early on.
3. Trust issues
Issues like relationship doubts can cause anxiety within a current relationship. Anything from a loss of trust to how two people communicate can also cause problems.
Related Reading: 

How to Resolve Trust Issues in a Relationship – Expert Advice
4. Low self-esteem
If a person has self-esteem issues, they can also face relationship anxiety since fears such as not being good enough for their partner or feeling like their partner will leave them can crop up.
Related Reading:

 How Low Self Esteem Affects a Relationship
5. Poor communication skills
If you are someone with poor communication in relationships, you may face relationship anxiety. You will be unable to tell your partner what you need or how you feel, which can accelerate relationship anxiety.
5 effects of anxiety in a relationship
How does anxiety in relationships affect the union and the people involved?
Stress, doubt, duplicity, worrying, high blood pressure, ill health, and eating too much or too little are just the start of a very long list of what can happen when anxiety enters into a relationship.
Once any of these elements are introduced in a relationship, dishonesty, guilt, mistakes, and stress can enter.
If your relationship is fairly new or weak, anxiety can doom it, usually sooner rather than later.
The effects of relationship anxiety may include –
1. Dependance
A partner with anxiety may be very dependent on the other half. They may need more emotional and physical support than someone who does not have anxiety troubles.
2. Too many questions
A person with relationship anxiety may have many questions all the time. After a while, this can be frustrating for the other partner, and they may find it challenging to cope with it.
3. Resentment
A person who does not have anxiety may eventually resent their partner for their behavior. While they may understand that it is not something an anxious person can control, it is natural to feel stuck and have difficulty understanding.
Related Reading: 

Recognize the Red Flags of Resentment in Your Relationship
4. Separation
Sometimes, when one person is anxious in the relationship, the two people may not be able to keep things together, even when they are in love. This can lead to relationship conflict and break up because neither is happy in the relationship.
5. Isolation
Some people with anxiety may isolate themselves because they do not want to experience relationship anxiety. They may run away from relationships to keep themselves safe.
How to deal with someone who has anxiety?
Fortunately, imperfections in a relationship can be eliminated by taking the necessary steps to improve them.
This can be done by establishing more trust, making sure that both partner's needs are met, making an effort to avoid negative language in the relationship and of course, continually improving communication.
Now, how to stop relationship anxiety? For information on how to get rid of relationship anxiety, you need to get help.
How to deal with anxiety in relationships
How to overcome relationship anxiety?
Although relationship anxiety disorder is not an official disorder, there is help for those with this problem. The best way to start dealing with anxiety in a relationship is by helping yourself.
You understand yourself the best, so commit to taking time to work on yourself. Many find anxiety reduction strategies helpful.
How to get over relationship anxiety? One really helpful strategy is plain acceptance. To ease your anxiety, you just have to accept it. By accepting your problem, you become more in tune with your mind and more specifically, your thought cycle.
Deep breaths, although overlooked, are a great tip for getting through those tough times. Taking a series of deep breaths encourages the body to relax.
Another effective strategy for overcoming relationship anxiety is going against your anxiety-filled thoughts. Developing the ability to know when your mind is playing tricks on you is a step in the right direction.
How to deal with relationship anxiety? When the negative thoughts start coming in, question the thoughts rather than allowing yourself to be engulfed by them. You need to confide in your partner and let them know that you experience anxiety in relationships.
For a person living with someone with anxiety needs to understand how important giving reassurance in relationships is.
Those that need additional help with anxiety in a relationship should also consider seeing a professional for therapy for anxiety.
Final thoughts
Like anxiety, there is relationship anxiety help available. It can be treated with counseling and, in more extreme cases, medication.
When any form of anxiety begins to interfere with daily life and becomes challenging to manage, never hesitate to get help.
Relationships are tough, and we all have our worries, fears, doubts, and insecurities, but they should never hinder love.
Share this article on
Want to have a happier, healthier marriage?
If you feel disconnected or frustrated about the state of your marriage but want to avoid separation and/or divorce, the marriage.com course meant for married couples is an excellent resource to help you overcome the most challenging aspects of being married.
You May Also Like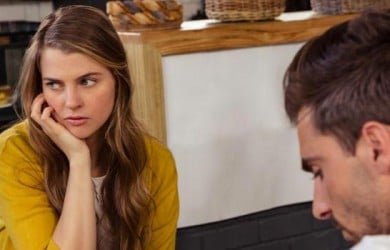 Popular Topics On Married Life