The Power of Generosity in Marriage
Wondering about the power of generosity in marriage?
Generosity has the potential to enhance marital quality, making it a key element to a happy marriage. There are so many things that can promote marital quality between couples. Read on to know more about why generosity matters in a marriage.
But do you know that generosity is one of the most overlooked qualities of a happy marriage? Generosity is associated with happiness, making it an important virtue in marriage.
Acts of generosity in a marriage make you happy and show your spouse that they are valued. This fosters stability and happiness in marriage. In this article, we will look at the power of generosity and its impact on marriage.
What is generosity?
In simple words, generosity is the virtue of being kind and generous to someone else. It can give freely without much expectation of reciprocation.
Similarly, marital generosity is freely and abundantly practicing good things for your spouse without being motivated by personal gain. It is more like investing time, energy, and effort in the relationship to believe that it is an important component of love.
Generosity has the potential to increase your happiness and that of your spouse as well. Thus, fostering generosity can enhance happiness in marriage.
Also Try: 

Do You Have A Generous Relationship?
The impact of generosity on marriage
According to a study, most happy marriages are inundated with generosity. The study found that couples with high amounts of generosity reported high happiness levels in their marriage than those with low amounts of generosity.
Hilary Davidson and Christian Smith, authors of The Paradox of Generosity, found that emotionally generous individuals in their relationships had better health and happiness.
Generosity can have a positive impact on the person showing kindness and their spouse as well.
Therefore, it is easy to see why generosity is a key to a happy marriage. Giving your spouse a back rub, smiling at them, or even making them breakfast is the secret to marital happiness.
4 Acts of generosity in marriage
Here are 4 ways to show generosity in marriage.
1. Small acts of kindness
The phrase that it is the little things that matter couldn't be any more accurate. You don't have to break the bank or go overboard to show kindness and generosity to your partner.
There are random acts of kindness and generosity that you can do daily to show your spouse that you love and care for them.
Some of them include:
Text or call your partner throughout the day to let him/her know you are thinking of them.

Give your partner a back rub after a long day.

Pack their lunch every day.

Give your spouse a

small gift

.

Offer to bring coffee or a snack to your spouse.

Make your partner laugh
Related Reading: 

6 Simple Ways to Show Love to the People You Care About
2. Use words to affirm your love
Words go a long way in showing generosity in marriage.
Make an effort to tell your spouse that you love them no matter how long you have been in the relationship. Rather than being rude and hurtful, opt to use kind words instead to boost their self-esteem and improve intimacy.
3. Express affection
Affection is something that every couple should add to their routine.
Generosity can be expressed through affection, like holding hands, cuddling, kissing, and enjoying sex together. These simple expressions of affection can make you feel connected and attached, promoting a healthy relationship.
Related Reading: 

What Is the Definition of a Healthy Relationship?
4. Foster grace and forgiveness
One way to show generosity to your spouse is by extending grace and forgiveness.
Don't focus on their imperfections but rather their strengths and positive sides. See them for who they are, don't base your perception on their reactions when frustrated.
You should also be generous enough to forgive your spouse whenever they hurt you. Take note that this does not mean tolerating hurtful behavior. Instead, it means not carrying grudges and setting yourself free so that you can be happy.
Related Reading: 

Learning To Forgive: 6 Steps to Forgiveness In Relationships
10 important things you should know about the power of generosity
There is a great correlation between generosity and marital satisfaction. Here are 10 things you should know about the power of generosity.
1. Generosity can be an important learning
What is the power of generosity?
According to a 2007 study done by Hebrew University, it was established that some people are naturally more generous than others. Fortunately, you can learn how to be more giving if you are willing to.
This willingness will enable you to be more intentional in doing things that will make your spouse happier. Generosity is an excellent virtue to develop in life and is likely to help you in other parts of your life.
2. Generosity lets you see the best in your spouse
When one has a generous attitude, they are more likely to focus on the other person's strengths and view them more positively. True generosity is the willingness to assume the best about your spouse even in the worst scenarios.
It allows you to focus on their strengths rather than misinterpreting their actions. Consequently, this can make you both happier in your marriage. This is the power of generosity in relationships and marriages.
3. Generosity can boost your sex life
A study suggests that generosity may significantly contribute to a couple's sex life. According to the study, couples who spent quality time together and experienced high levels of generosity noted high levels of sexual satisfaction.
It was also noted that wives whose husbands were willing to share household chores were more sexually satisfied. A generous partner is more likely to do what pleases their partner in bed, promoting a healthy sex life.
However, being generous does not mean giving in to things that invade your boundaries or values. Instead, it should be done with a lot of kindness and understanding and reciprocated as well. The power of generosity can bring goodness into the bedroom as well.
Related Reading: 

Sex Tips to Boost Your Sex Life
4. Generosity can alleviate financial pressures
Acts of generosity in a marriage can reduce stresses like financial pressure. It is not limited to the acts, but it can also impact the state of mind. A spouse with a great mindset will think more about their spouse's needs than their own needs.
This generous personality makes it easier to deal with conflicts and stresses in marriage. Therefore, it can positively impact marriages even when couples are going through economic hardships.
5. Generosity facilitates forgiveness
When couples disagree and argue, it may open doors for grudges and unforgiveness. It can become difficult to resolve issues when one partner feels that the other is at fault or defensive.
Undoubtedly, it is a hard time to practice generosity during disagreements. Nevertheless, this is a critical time to be kind.
Generosity is associated with forgiveness and the willingness to interpret the best about your spouse. It is choosing to express your anger but in a kinder way.
When you develop this mindset, it will be easier to act in ways that show much appreciation. This is one way to heal and strengthen relationships with your partner.
6.
It supports turning towards rather than turning away
Continuous acts of generosity in a relationship can increase marital happiness and quality. It allows you to be intentional and turn towards rather than turning away from your spouse.
When your spouse shares a joke or opens up, you will be willing to listen carefully to them even if you have heard it before. On the other hand, those who turn away from their spouses respond with hostility.
Provide them with emotional support and make an effort to remember their most important days, and wish them well. Neglecting small moments of emotional connection can breed resentment and slowly damage your relationship.
Besides, when your partner is happy, they are more likely to act generously as well. This is the power of generosity and the power of kindness in marriage.
Related Reading: 

Niceness Vs Kindness in Relationships-what Matters the Most?
7.
Generosity promotes stability
Generosity is its form of power, and it can make a relationship stable. Partners who are focused on showing kindness to their partners spark the love in the relationship.
On the other hand, treating your partner with contempt and making them feel worthless can have irrevocable damage to a relationship.
Generosity brings couples together and facilitates emotional stability, which is important for any marriage. Couples that are generous to each other feel loved, validated, understood, and cared for, leading to great satisfaction and stability in marriage.
8.
Generosity teaches you the right meaning of sacrifice
Although generosity is looking out for the interests of others, it should not be misinterpreted with self-sacrifice or denying one's own needs. It also does not focus on doing things that make you feel superior or to ease the guilt.
Instead, generosity should be practiced from understanding that it feels good and brings peace to mind. While it is satisfying personally, the motivation should not be personal gain.
Related Reading: 

How Important Is Sacrifice in a Relationship?
To understand more about being generous in relationships without being walked all over, watch this video. While relationships can be successful with the power of generosity, it is important to know the boundaries.

9. Generosity brings joy
How couples respond to each other's good news matters a lot. A generous lover will make an active constructive response that denotes their genuine interest in their partner's success or joy.
In a study, it was established that couples who practiced kindness towards each other's joys were more likely to enjoy great intimacy and relationship quality.
In another study, it was determined that partners who are there for each other when things are right could have good relationship quality.
10. Generosity is intentional and purposeful
A person with a generous mindset will always look for things to appreciate in their partners. They like to commend their spouses and focus more on what they are doing right rather than criticizing and focusing on their weaknesses.
Conclusion
In essence, generosity is the key to a happy marriage. Showing acts of generosity is linked to positive feelings and can benefit both the giver and the receiver.
Generally, generosity begets generosity, even if you were not expecting anything in return. That is one of the biggest powers of generosity in a relationship. This will increase your bond and intimacy to keep your marriage thriving.
Share this article on
Want to have a happier, healthier marriage?
If you feel disconnected or frustrated about the state of your marriage but want to avoid separation and/or divorce, the marriage.com course meant for married couples is an excellent resource to help you overcome the most challenging aspects of being married.
Learn More On This Topic
You May Also Like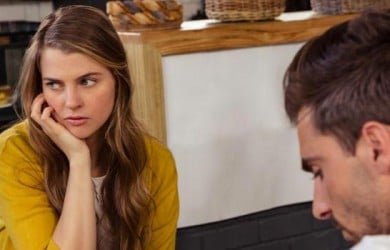 Popular Topics On Married Life