How to Deal With Immaturity in Relationships: 5 Effective Ways
Being in a relationship can be a complex and delicate journey where emotions, expectations, and personal growth intertwine. It's not uncommon to encounter immaturity in either ourselves or our partners at various points along this path.
In this ever-evolving landscape of love, understanding how to deal with immaturity becomes crucial. Whether it's your own moments of immaturity or those of your significant other, it's essential to approach this with empathy and patience.
This article explores five effective ways to address immaturity in relationships, offering guidance that aims to foster growth, harmony, and a deeper connection. After all, in the realm of love, a compassionate approach can lead to profound transformations and stronger bonds.
What is immaturity in relationships?
When we look at an immature relationship meaning, it is a manifestation of behavioral inadequacies that hinder the growth and stability of the partnership.
Immature individuals may struggle with handling conflicts, taking responsibility for their actions, or understanding their partner's needs. This can lead to a toxic dynamic, where one or both partners feel unsupported or frustrated.
5 causes of immaturity in relationships
Relationship immaturity can manifest in various forms, hindering the growth and stability of partnerships. This section delves into five critical causes and signs of immaturity in a relationship.
1. Unresolved past trauma
Immaturity in relationships can stem from unresolved past trauma. Individuals who have experienced emotional wounds or neglect may struggle with forming secure attachments and navigating intimate connections.
So, what is immature in a relationship? It is a trait caused by unhealed scars, fear of vulnerability, or an inability to trust.
2. Lack of emotional regulation skills
Immaturity often manifests in a lack of emotional regulation skills. Some individuals may struggle to manage intense feelings, leading to impulsive reactions or emotional outbursts. Developing emotional intelligence and the ability to express feelings healthily is crucial for fostering maturity and creating a stable relationship environment.
3. Inadequate communication skills
Effective communication is the cornerstone of a mature relationship. Immaturity may manifest through poor communication skills, such as avoidance, passive-aggressiveness, or an inability to express needs and boundaries.
4. Fear of commitment or intimacy
Fear of commitment or intimacy can contribute to immature relationship behavior. Individuals with unresolved fears may struggle to fully invest in the partnership, leading to behaviors like emotional distancing or avoidance of long-term commitments.
Addressing these fears through honest conversations and, if necessary, seeking professional help can foster a better approach to immaturity in relationships.
5. Lack of personal responsibility
Immaturity often involves a reluctance to take personal responsibility for one's actions. This may manifest as blaming others, avoiding accountability, or an unwillingness to learn from mistakes. Encouraging self-reflection and accountability is crucial for personal growth, developing a stable mind, and avoiding immaturity in relationships.
5 impact of immaturity on relationships
Explore the profound impact of immaturity on relationships in this section. From communication breakdowns to emotional turbulence, uncover five ways immaturity can detrimentally affect the dynamics and stability of relationships, shedding light on the importance of addressing these issues for a more fulfilling and mature partnership.
1. Communication breakdown
Here is a line from a book on immature relationships, "Immature people always try to win an argument, even at the cost of a relationship."
Individuals lacking emotional maturity may struggle to express themselves effectively or listen empathetically. This can result in misunderstandings, frequent arguments, and a sense of disconnect, undermining the foundation of healthy communication essential for relationship growth.
2. Conflict escalation and resolution difficulties
When we look at mature relationships vs. immature, immature behavior contributes to the escalation of conflicts and makes resolution more challenging.
Immature individuals may resort to blame-shifting, defensiveness, or avoidance, intensifying disagreements. The inability to constructively navigate disputes can lead to resentment and a toxic cycle that hampers the relationship's health.
3. Trust issues
Immaturity often manifests in behaviors that erode trust within a relationship. This can include dishonesty, inconsistency, or an inability to fulfill commitments.
Belief is fundamental for a strong and stable connection, and when compromised, it can lead to insecurity, jealousy, and an overall breakdown of the sense of safety between partners.
4. Emotional rollercoaster
What is immature love? It is when individuals exhibit unpredictable emotional responses, creating a roller coaster effect in the relationship.
Mood swings, emotional outbursts, or an inability to regulate feelings can create an unstable environment. This emotional turbulence can be exhausting for both partners, hindering the development of a secure and mature connection.
5. Stunted personal and relationship growth
Immaturity impedes personal and relationship growth. Individuals unwilling to take responsibility for their actions or invest in self-improvement limit the potential for positive change.
How to deal with immaturity in a relationship: 5 ways
Navigating immaturity in a relationship demands a thoughtful approach to foster growth and stability.
In this section, discover five practical strategies for addressing immaturity and also how to improve emotional maturity, from cultivating open communication to setting boundaries, empowering you to navigate challenges, and building a more mature and fulfilling connection with your partner.
1. Cultivate open communication
Effective communication forms the bedrock of a mature relationship. Create a space where partners feel secure expressing thoughts and emotions. Promote open dialogue by actively listening, avoiding judgment, and advocating for honesty. When tackling sensitive issues, utilize "I" statements to express feelings without assigning blame, fostering transparency and preventing misunderstandings.
In the journey of open communication, it is crucial to establish an atmosphere of trust. Trust is the linchpin of vulnerability, which is the essence of true intimacy. Encouraging your partner to share their thoughts and feelings without fear of judgment strengthens your emotional connection.
Instead of accusing, say, "You never listen to me," express vulnerability with an "I" statement like, "I feel unheard sometimes, and it's crucial that we can communicate openly."
2. Set and respect boundaries
So why is maturity important in a relationship? Establishing clear boundaries is imperative for navigating relationship immaturity. Engage in open conversations about personal needs, expectations, and limits. The process of setting and respecting boundaries involves continuous negotiation and mutual understanding.
It requires recognizing each other's comfort zones and acknowledging the importance of personal space. By respecting boundaries, you create a sense of security within the relationship, allowing both partners to flourish as individuals and as a couple.
Communicate the need for personal space after an argument, articulating that time alone aids in emotional processing and contributes to a more constructive resolution.
3. Encourage self-reflection
Immaturity often springs from a lack of self-awareness. Motivate both partners to self-reflect regularly, delving into personal behaviors, triggers, and reactions. Journaling, therapy, or reflective conversations can identify areas for improvement.
Initiate a discussion about self-reflection with your partner, proposing independent reflections on personal challenges and growth areas, followed by sharing insights.
4. Lead by example
Modeling mature behavior involves embodying the qualities sought in a partner. Showcase effective communication, accountability, and emotional regulation.
Leading by example encourages your partner to follow suit. Rather than fixating on their immaturity, underscore positive changes both can make to cultivate a healthier relationship. Mutual growth becomes a shared journey rather than a one-sided demand.
Leading by example also involves admitting when you're wrong and taking responsibility for your actions. This humility fosters an environment of mutual respect and accountability, laying the groundwork for a mature and resilient partnership.
If communication is a challenge, actively enhance your skills and communicate how this positively impacts your understanding of each other.
Watch this video to learn more about how to lead by example:
5. Consider professional help
If immaturity challenges persist, professional guidance can be pivotal. Relationship counseling offers a structured space to address underlying issues. A qualified therapist provides insights, facilitates communication, and guides partners toward healthier behavior patterns.
Seeking professional intervention underscores a commitment to overcoming challenges and fostering a more resilient and mature partnership.
Engaging in professional help is not a sign of failure but a proactive step toward growth. A counselor can provide valuable tools and strategies couples can use to strengthen their relationship. It's an investment in the future health and happiness of the partnership.
Present counseling as a collaborative effort to fortify the relationship. Emphasize that seeking professional help isn't a sign of failure but a proactive step toward building a more resilient and mature partnership.
Commonly asked questions
Explore common queries about relationship immaturity in this FAQ section. From understanding its manifestations to practical strategies for resolution, discover insights on addressing emotional or behavioral inadequacies that can impact the health and dynamics of your relationships.
How can I tell if my partner is immature?
Identifying immaturity in a partner involves observing signs like impulsivity, inability to handle conflicts maturely, and a lack of accountability. Take note if your partner struggles with effective communication and self-reflection or consistently avoids responsibilities. Recognizing these behaviors can help you navigate and address immaturity in your relationship.
How can I avoid immaturity in my relationships?
Practice effective communication, actively listen, and be open to feedback. Set healthy boundaries and take responsibility for your actions. Prioritize personal growth and learn from experiences. By fostering maturity within yourself, you contribute to a more stable and fulfilling relationship.
How can I help my partner become mature?
Encourage open communication about emotions and goals. Offer constructive feedback with empathy, emphasizing personal growth. Model mature behavior by handling conflicts calmly and taking responsibility for your actions.
Final thoughts
Addressing immaturity in relationships involves recognizing signs, fostering self-awareness, and promoting effective communication. Consider seeking professional help such as counseling or courses focused on relationship skills for sustained growth.
Committing to personal development and shared improvement endeavors can pave the way for a more mature and resilient partnership.
Share this article on
Want to have a happier, healthier marriage?
If you feel disconnected or frustrated about the state of your marriage but want to avoid separation and/or divorce, the marriage.com course meant for married couples is an excellent resource to help you overcome the most challenging aspects of being married.
You May Also Like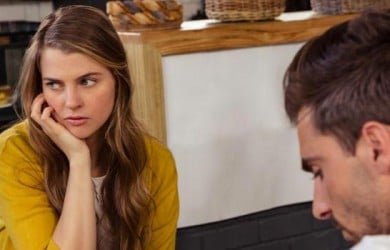 Popular Topics On Married Life