21 Deal Breakers in a Relationship That Are Non-Negotiable
As it is generally known; the isolation of the mind, spirit, body, and soul is hard on all humans.
We need interaction and relationships with other people to feel validated and accepted.
In a love relationship, when love blossoms, deal breakers in a relationship are the last thing to cross your mind.
A love relationship can seem to be the easiest but it is one of the most complex kinds of relationship you can be in
What is a deal-breaker in a relationship
Before engaging in a love relationship most people think about the kind of person they would like to date, they often list the qualities we most desire in a partner—their dealmakers.
But more often than not, people tend to forget to set deal breakers in a relationship.
Deal breakers in marriage are the qualities that would disqualify someone as a dating prospect or as a potential marriage partner, regardless of how many other wonderful traits and characters they have.
Below is a list of some of the top deal breakers in a relationship.
If your answer is 'yes' to one or more of the following questions, please tread carefully in the relationship or walk away.
21 of the biggest deal breakers in a relationship
1. Do they abuse you
Is there any form of abuse in the relationship?
This should be a question you ask yourself.
Does your partner abuse you physically, emotionally, socially, verbally?

Do they put the blame on you or others for things they did?
If yes, you are in love with a toxic person and it is dangerous to your body, mind, spirit, and soul.
2. Do they have an alcohol or drug problem
Do they use alcohol or drugs to engage in activities?

Do they use drugs to clear their mind whenever they are troubled?
These are pertinent questions you have to ask yourself before getting more involved in the relationship.
3. Is your partner supportive
A relationship is not going to progress if your spouse or partner is not supportive.
If your partner is supportive and compatible with you, that is great but what if they insult you?
If your partner insults and/or is ashamed of you for your appearance, weight, job, friends, or lifestyle choices, they are being cruel and manipulative.
4. Are you your spouse's priority
Does your partner put you above everything else?
Do they put a maximum value on you?
Does your spouse frequently bail on your plans to see their friends and they never invite you along? Although not possible at all times, your spouse must make you their number 1 priority when you need them most.
5. Does your spouse lie to you
The most important aspect of a relationship is trust and without trust in a relationship, the relationship is naught. Most people lie to cover their backs. It is one of the most common deal-breakers for people.
6. Do they try to control you
Some people can be very dominant and controlling in a relationship.
Does your partner try to use their dominative power over you? If yes, back out!
7. Is your spouse in another relationship
Always try to inquire whether your dating prospect is in another relationship with someone else.
Don't be the girl or guy who gets cheated on, unless you both agree that exclusivity is not important to you.
8. How is your spouse's temperament
You have to know whether your spouse is swift to get angry and how they explode whenever they are angry.
9. How well does your spouse communicate with you
Do they talk to you about whatever is wrong or right in the relationship?
One of the common relationship deal breakers is someone who is unwilling to talk to you about pertaining issues.
You should be with someone that wants to communicate effectively with you.
10. Do you fight a lot
To sustain a relationship, there must be healthy arguments and disagreements in the relationship.
But it mustn't get too excessive, you must also consider how well your spouse handles disagreements, do they insult you whenever you are arguing?
Do they beat you?
Do they make you inferior in an argument?
Evaluate those questions to know if you are in the right relationship.
It is crucial to remember one of the key marriage deal-breakers, which is, abuse in a relationship or marriage.
11. What are your instincts telling you
Is your conscience telling you that the relationship will not work?
You have to pay attention to your instincts.
It happens so often that we feel that something is not right but don't have legitimate reasons to explain that, and ultimately something bad actually happens. Although it could be a self-fulfilling prophecy, you need to pay attention to the signs your intuition is sending you.
12. Does your spouse have health issues
A critical question you have to ask yourself before committing your mind and body into a relationship is whether your spouse has health issues such as STDs. Ask yourself what kind of health issues can you live with and what is too much for you. Be honest with them and with yourself.
13. Is your spouse inattentive or uncaring
Does your spouse care less about your wellbeing?
Does your spouse care less about what you are doing?
Does your spouse prove too busy to make the spare time to listen to you and do the things you do?
Critically evaluate those questions to know whether this is a deal-breaker for you and what does it mean for the relationship you are in.
14. Do they keep you away from their friends or family
No one is an island, and our friends and families comprise an essential part of our lives.
If your partner looks at you as their significant other, they would be receptive to the idea of making you meet the parents and a close circle of friends.
The only exception to factor in can be a complicated family dynamic, where your partner may not immediately take you to meet them.
Having said that, they should be open to eventually taking you out to introduce them or being willing to communicate on reasons why not.
15. Are they unavailable when you need them
If you are battling a crisis and need their help, and you've repeatedly found that they haven't been there for you, will you consider it a deal-breaker? It's indicative of their unreliability and unwillingness to be there for you if you are going through all the crisis alone.
You need someone more dependable who can offer you help and comfort.
16. Are you sacrificing your professional goals
Do you find yourself sacrificing your ambition and constantly compromising in a relationship, while your spouse hustles their way to a better career?
Do you find yourself leaving a lucrative job offer to accommodate your spouse's career path and personal preference?
If one partner is thriving, but the other partner is twiddling their thumbs, bending their backs to fit in for their spouse, neglecting their own career path, resentment will build up.
A balanced relationship requires spouses to be supportive of each other's career paths and return the favor when one partner makes a relevant adjustment or sacrifices their professional goals.
It also means both partners are learning to strike the balance between love and career.
Also watch:
17. Do they neglect their personal hygiene
It would be unfair to demand your partner to maintain the 'perfect' body and look like they stepped out of a movie scene.
But, maintaining basic levels of hygiene and looking presentable is a reasonable expectation.
If your partner is unhygienic and never makes any effort to level up appearance, they lack self-respect and display signs of self-neglect.
18. Are they too high maintenance
If your partner is constantly fixated on their appearance, it could be a sign of narcissism.
There's more to life than false lashes, sculpted body, bulging biceps, hair extensions, and layers of make-up.
If your spouse is contending with appearance obsession and splurging a whopping amount on their maintenance, your relationship ceases to be effortless and spontaneous.
A red flag you mustn't ignore when it comes to the list of deal-breakers in a relationship.
19. Are they okay with a long-distance relationship
Sometimes, circumstances beyond control can force a couple to live in separate cities.
However, most couples don't plan on remaining in a long-distance arrangement forever.
If your spouse appears totally fine with a long-distance relationship arrangement for an indefinite period, while you are not, it is indicative of different relationship goals.
This disparity can be for some couples one of the deal breakers in a relationship.
20. Do you lack sexual compatibility
Sex is an important part of a relationship and binds a couple together, and if you don't connect on a physical level, it can drive a wedge between a couple.
f either of you is not making any efforts to reignite the spark, it is definitely one of the key deal breakers in a relationship.
21. Are they bad with money
If your partner is terrible with managing money and does not change their habits or learn financial discretion, it can lead to untold problems.
If your relationship involves continuous money struggles with no improvements, then you need to recalibrate your priorities and reconsider your decision to be with your current partner.
If a spendthrift behavior is damaging to a relationship, an overly stingy mindset can set the alarm bells off too.
A final word on deal breakers in a relationship
Use this list of common deal breakers in a relationship to ask yourself what you can live with.
No matter how much in love you are, the deal-breakers can ruin a relationship beyond repair because they are closely tied to our core beliefs.
Consult this list of 20 deal breakers in a relationship to decide whether or not your relationship has a future.
Share this article on
Want to have a happier, healthier marriage?
If you feel disconnected or frustrated about the state of your marriage but want to avoid separation and/or divorce, the marriage.com course meant for married couples is an excellent resource to help you overcome the most challenging aspects of being married.
Learn More On This Topic
You May Also Like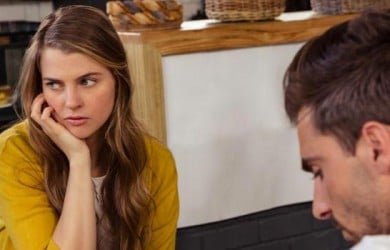 Popular Topics On Married Life