How to Identify and Overcome Relationship Doubts
With the ever-increasing
divorce rates all over the world
, one must think that there is no eternal love or a soul mate out there for you. But what if you are wrong and there are
reasons why marriages don't last
.
'Relationship doubts' is one of the primary reasons why a marriage or any relationship, for that matter, starts to crumble in the first place.
From doubting your partner's true intentions for being with you to doubting if they ever lied or cheated, the feeling of doubt has killed more relationships than taken them up to the point of marriage.
If you are feeling unsure about a relationship, here are discussed eight different reasons for relationship doubts. These aspects can help you in understanding if being doubtful in a relationship is useful or toxic.
1. Doubt can be triggered as a response to something unusual.
Once we commit and feel settled in a relationship, we start to understand our partners instinctively. We predict their responses, know their behavior patterns, and help them get through their mood swings.
All of this happens because we get used to their personality and how they are a human being.
However, a slight change or something other than usual will also instinctively get you questioning your relationship.
You might start ruminating over how or why a particular situation arose.
2. Doubt can be from stress and anticipation.
The worldly affairs keep us busy throughout the day, and sometimes the stress we carry around might cause doubts in our marital affairs. This is the reason why we should keep our professional lives separate from our private ones.
Stress, anxiety, and anticipation from work and other chores can lead to recurring misunderstandings and relationship doubts with your partner or spouse.
You will find yourself doubting your partner's attention and care towards you. An already tired and pre-stressed mind will convince you to think that maybe your partner doesn't care enough about you, and it will not be accurate.
3. Doubt can be hiding your actual fear.
Sometimes a partner can have an inherent tendency to question and doubt everything.
The actual reason behind having doubts about your relationship can be that they hide their fears and ask their partner to make sure everything is going right.
Your partner's fear can range from losing you, not finding true love, trust issues, or maybe as simple as the fear of not knowing things.
The solution to counter such a situation and clearing such doubts associated before they become toxic is to know precisely what your spouse's fear is and then cater to their needs accordingly.
4. Doubts can stem from past experiences.
Whether you have seen a broken marriage in your childhood or one growing-up, such traumatic experiences can imprint on your personality. Even if you have been in a toxic relationship before, then some of your partner's character traits can brush off on you.
Sometimes we start acting like our partners as a defense mechanism to understand their perspective better and deal with them accordingly.
Therefore, your doubts can stem from such experiences where having dealt with situations that left an everlasting impact on your mentality makes you doubt even the good in your relationship.
Learning to accept and appreciate the good can help counter such a feeling of doubt and actually make it more useful than toxic.
5. Doubts projected upon the partner can be self-doubts.
Many times partners doubt the same thing in their significant other that they doubt about themselves. It can range from feeding their insecurities to questioning their self-worth in the eyes of their partner.
Such relationship doubts make it extremely difficult to live with such a person who is continually pushing you around, blaming you for things you haven't done, and can be downright controlling your life.
In the worst-case scenario, such relationships can even lead to becoming abusive, where you should first prioritize your safety.
How to overcome doubt in a relationship
Now that we know some of the glaring reasons for relationship doubts, the following are given some tips to overcome these toxic relationship doubts.
1. Doubts should be communicated instead of being led-on
The best way to overcome any sort of doubt in a relationship is to talk it out.
Any doubt, fear, misunderstanding, and insecurity that can be communicated will evaporate like it never existed. If it is difficult to face your partner regarding something that is making you uneasy, you can seek essay help to write down your feelings and make your partner read to see how they respond.
A partner willing to work it out would always respect your feelings.
2. Doubts should be differentiated from instincts and gut-feelings
Sometimes we confuse our relationship doubts as instinctive or gut feelings. Realizing the difference is vital because where your gut instincts can be useful, doubt is not.
The connotation attached to doubt is negative where you are convinced something is wrong, whereas, with gut feelings, you tend to make an educated guess over similar matters.
3. Do not allow doubts to sabotage your relationship.
Doubts in the form of professional skepticism in a work environment can be healthy but never in your private life. Relationship doubts can sabotage your bonding.
Questioning, doubting, projecting your fears and insecurities on your partner are all traits of someone who harbors a toxic mindset and has never learned to live outside of it.
So, how to stop doubting a relationship?
It is better to practice being positive, seek therapy, or meditate to change your negative mindset and free yourself from keeping negative thoughts before you kill your relationship with a loved one.
Also Watch:
Bottom Line
All in all, every couple should build up the understanding that keeps the relationship doubts at bay.
And even if they find themselves doubting any aspect of their relationship, they should readily talk about it to get it over without letting it sit and manifest into something bigger.
There is certainly no doubt in saying that relationship doubts are toxic for a healthy marriage or any other relationship.
Share this article on
Want to have a happier, healthier marriage?
If you feel disconnected or frustrated about the state of your marriage but want to avoid separation and/or divorce, the marriage.com course meant for married couples is an excellent resource to help you overcome the most challenging aspects of being married.
Learn More On This Topic
You May Also Like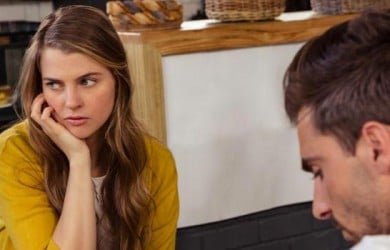 Popular Topics On Married Life