How to Recognize and Tackle Unrealistic Expectations in Relationships
Forever is a nice enough word in a relationship. Sadly, it is not good enough to last forever. Especially when it comes to relationship expectations.
Wishing your partner to be perfect, meeting all your criteria, expecting them to measure to your bar of love, and making them responsible for all of your happiness qualifies as unrealistic expectations.
Expectations and relationships are not mutually exclusive. But it is important to understand what does expectations mean in a relationship.
However, setting expectations in a relationship at the very onset is often not on the priority list of the besotted lovers in a brand, new relationship.
When people fall in love or start to harbor feelings of care and romance, they are head over heels in love with their significant other, often setting themself up for heartache by not managing expectations in relationships.
They seldom stop to think that life does not follow their path or plan of order. Life is anything but structured, and people are anything but constant.
One thing to remember is that evolution and change mean that we are growing and moving on, anything that remains constant for a certain enough period of time is either dead or on its way.
Similarly, people change; their habits, reasons, wishes, likes, and dislikes keep changing. To believe that a person cannot change themselves as they grow is like harboring unrealistic expectations, which is unfair.
Unfortunately, our society is filled with such unrealistic expectations in marriage or have unrealistic expectations of love; and if you are one of those who are struggling with it, find out how you can still remedy the situation.
Check out this insightful video on relationship expectations:
Examples of unrealistic expectations
Unrealistic expectations in a relationships are unhelpful to both the partners. They don't inspire, support or serve any meaningful purpose for a couple. Don't let these strong, premeditated beliefs hold you back from experiencing relationship satisfaction and mutual growth.
Here's a list of unrealistic expectations in marriage people have and how to tackle them.
1. Expecting never to get hurt by their partner
There is only one way that a person can be happy that is not to give any other person the responsibility of making you happy.
Only you should have the power to do that.
Though it is reasonable not to want to get hurt as no one willingly walks to the middle of the road blindfolded, the thing is, one should always be ready for the curveball that life is notorious for throwing at you instead of having unrealistic expectations.
2. Getting 'whenever I want and whatever I want'
Being married or in a relationship does not give you a free card of doing whatever it feels like with your partner.
The word partner itself entails that you have to be respectful of their wishes as well. They have an equal amount of say in whatever the activity is. Harboring unrealistic expectations in relationships can only lead you to an early breakup or dissolution.
So, what are realistic expectations in a relationship?
Healthy relationship expectations are reasonable and crucial for a relationship to thrive.
Respect, open and honest communication, and affection are all realistic relationship expectations.
A list of realistic expectations in a relationship is incomplete without the inclusion of mutual trust and the ability to be vulnerable with each other.
3. Expecting your partner to not have interest in anyone else
It is an absolute necessity to spend some quality time alone with yourself, your friends, and your community away from your partner.
This opening gives a breath of fresh air and removes any burden or suffocation of always being together in a relationship.
However, if you feel like your partner is isolating you to the point that you hardly get to see the community, friends, or family, that is a major red flag in your relationship.
Isolation can seriously impair your mental and physical well-being.
4. Expecting your partner to guess what is going on with you
Let's face it; you are married to a normal human being and not a mind-reading magician which means there's no room for unrealistic, false or high expectations in relationships.
It will take your breath away if at times your significant other does something that you have wanted them to do but it can either be just a coincidence or it can only be the result of spending decades together and really growing with each other.
However, in general scenarios, you have to open your mouth and actually say the words out loud; communication is key. Without which, you are giving room to false expectations that will eventually eat away at relationship happiness.
5. Expecting to be each other's top priority
The entire concept of one's significant another being 'BAE' is ridiculous and far-fetched.
Your "bae" has had a life before you. They have had relationships, friends, co-workers, family, neighbors; they cannot suddenly drop every other thing and responsibility just because they have started to date you now.
And to demand such a humongous feat would be an idiotic thing to do.
One way to find peace is to strike the balance between relationships and expectations. Expectations in a relationship are only a good thing until they are reasonable and fair.
Priorities change; as the relationship grows, people grow with them. With time, you need to recalibrate your expectations in a relationship.
Your significant other is first and foremost a child, a sibling, a friend, and an employee, then they are your romantic partner. Then one day you will be parents to your children and relationship expectations will take a turnaround. Life is forever in flux and forever changing.
If you want to build a stronger love bond full of trust and intimacy, look inward and also do a relationship check-in with your partner, to find out if your expectations are too high or too low.
Share this article on
Want to have a happier, healthier marriage?
If you feel disconnected or frustrated about the state of your marriage but want to avoid separation and/or divorce, the marriage.com course meant for married couples is an excellent resource to help you overcome the most challenging aspects of being married.
More On This Topic
You May Also Like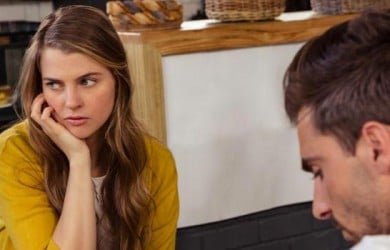 Popular Topics On Married Life