10 Sure Signs to Tackle Unrealistic Expectations in Relationships
There is actually no harm in having expectations in a relationship, but things start changing when you set unfair or unrealistic expectations in a relationship.
When entering a relationship, people usually have a predetermined set of standards about how they like to be treated. Setting healthy boundaries within your romantic pursuit is a healthy practice because it shows that you value yourself, have cultivated self-respect, and deserve to get treated with respect and honor.
However, expectations and relationships are not mutually exclusive, so it is crucial to understand what expectations mean in a relationship. Setting expectations in a relationship at the very onset is often not on the priority list of the besotted lovers in a brand new relationship.
When people fall in love or start to harbor romantic feelings, they are head over heels in love with their significant other, often setting themself up for heartache by not managing expectations in relationships.
For instance, people seldom forget that life is anything but structured, and they change constantly; their habits, reasons, wishes, likes, and dislikes keep changing. So, to believe that a person will not change as they grow is like harboring unrealistic expectations in a relationship, which is unfair.
So, if you are someone who has recently struggled with overhyping expectations, do not worry.
We have covered some of the most common unrealistic expectations which take place in a romantic relationship. Besides this, we will also tell you how to stop the expectations trap, along with some amazing tips and tricks to help maintain a healthy relationship with your sweetheart.
What are unrealistic expectations in a relationship?
Wishing your partner to be perfect, meeting all your criteria, expecting them to measure to your bar of love, and making them responsible for all of your happiness qualifies as some unrealistic expectations that people can have from relationships.
That said, unrealistic expectations in a relationship are unhelpful to both partners. They don't inspire, support or serve any meaningful purpose for a couple. Instead, it can leave you with sadness, disappointment, and anger.
Here's a list of unrealistic expectations that can ruin your romantic relationship.
1. Expecting never to get hurt by their partner
One rule to staying happy in your relationship is not to give them the responsibility of making you happy all the time. Only you should have the power to do that.
Though it is reasonable not to want to get hurt as no one willingly walks to the middle of the road blindfolded, the thing is, one should always be ready for the curveball that life is notorious for throwing at you instead of having unrealistic expectations.
Related Reading: 

How to Get Over Hurt Feelings in a Relationship: 10 Ways
2. Getting 'whenever i want and whatever i want'
One of the examples of unrealistic expectations in relationships is that being married or in a relationship does not give you a free card of doing whatever you want around your partner.
The word "partner" itself entails that you have to be respectful of their wishes as well. They have an equal amount of say in whatever decision is being taken. Harboring unrealistic expectations in relationships can lead to an early breakup or dissolution.
3. Expecting them to be with you always
It is an absolute necessity to spend some quality time alone with yourself, your friends, and your community away from your partner.
This opening gives a breath of fresh air and removes any burden or suffocation of always being together in a relationship.
However, if your partner isolates you to the point that you hardly get to see the community, friends, or family, that can be a major red flag in your relationship. In such a situation, you must talk to your partner or can even look for relationship counseling from an expert.
Isolation can seriously impair your mental and physical well-being, which can have adverse effects on relationships.
4. Expect your partner to guess what is going on with you
Let's face it; you are married to a normal human being and not a mind-reading magician, which means there's no room for unrealistic, false, or high expectations in your relationships.
Your partner might have done things that you need or desire at times without being asked or prompted. However, it is usually easier to open your mouth and speak out loud because communication is key.
Without this, you are giving room to false expectations that will eventually destroy your relationship's happiness.
5. Expecting to be each other's top priority
The entire concept of one's significant another being 'BAE'(before anyone else) is ridiculous and far-fetched.
Your "bae" has had a life before you. They have had relationships, friends, co-workers, family, and neighbors; they cannot suddenly drop every other responsibility just because they have started dating you.
And to demand such a humongous feat would be a silly thing to do.
One way to find peace is to strike a balance between relationships and expectations. Expectations in a relationship are only good until they are reasonable and fair.
If you want to build a stronger love bond full of trust and intimacy, look inward and do a relationship check-in with your partner to find out if your expectations are too high or too low.
Related Reading: 

What Are the Three Biggest Priorities in a Relationship
6. Expecting them always to look appealing
Of course, you may want to enjoy that romantic anxiety after seeing your sweetheart for the first time. However, they might not look as attractive after a long day at work or after a heavy workout.
One of the examples of high expectations in a relationship is that your partner will always look their best.
Attraction plays a crucial role in most relationships but is not the only important factor. Remember, attraction is dynamic, so it's normal to experience a change over time. Not fitting in your older clothes won't significantly affect your partner's feelings.
7. Expecting your partner to be always romantic
Sure, romance can make you feel lovely; however, expecting your partner to always turn their romantic side "on" can create a messy situation. You must understand that your sweetheart also has other responsibilities to take care of apart from making you feel happy.
So, assuming them to be romantic all the time can make you feel disappointed and sad. Plus, chances are your partner might feel burdened from doing things for you to make you feel special all the time.
Apart from a romantic candlelight dinner or a typical bunch of roses, there are many other small yet considerate gestures, such as when they prepare your favorite dish or bring your favorite wine or take you camping for midnight adventures.
Appreciating these gestures will make your relationship even better. It can also help you understand your partner's caring nature, enabling you to realize their actual value in your life.
8. Expecting them always to support your actions
Even when you genuinely love each other, expecting your partner to always agree with you and support all your decisions can burden them immensely. No matter how hard you try, disagreements will occur, so getting upset over them will only make you feel disheartened.
Hence, assuming they are always on your side, even when you are doing something against their values, can frustrate them. They might feel that they are always required to go against their values just to be with you.
Related Reading: 

20 Steps to Becoming a Supportive Partner
9. Expect your relationship to go smoothly
Unlike the ones on TV, real relationships are not scripted where everything seems happy and carefree. There might be some difficult times when you must stand hand in hand to survive.
Challenges are not always easy, but if you are committed to being together during trying times, you might create many unforgettable memories.
On the other hand, expecting things to always go smoothly between you and your partner can put a pause on your relationship. It can demonstrate that you are unwilling to walk with them on the hard path.
Eventually, they might conclude that you are not someone who likes to make efforts when problems occur, and this might put a question mark on your relationship.
10. Expecting them to apologize first after an argument
It is quite irrational to assume your partner always apologizes first without even considering the nature of the disagreement, as this shows you have unfair or high expectations in relationships.
It can be easy to adopt a pattern where you always find yourself waiting for your partner to come and apologize first, but it's unfair.
In reality, your partner might eventually feel exhausted and not feel like coming back to you if they are expected to apologize every time.
So, it's better to avoid treating them this way and instead try to be the first one to apologize after an argument, especially if it is your fault. This will help them realize that you are willing to solve the matter.
Related Reading: 

How to Handle Relationship Arguments: 18 Effective Ways
5 ways to tackle unrealistic expectations in relationships
Luckily, there are some helpful ways you can learn to deal with unrealistic expectations in a relationship. Following are the ways you might consider overcoming such expectations:
1. Try to appreciate each other
Learn the art of appreciating each other, and you will see how your entire relationship changes. Instead of considering the negatives, try to see your partner's positive qualities. Try to pay attention to their efforts, and you will see there is always something to be appreciated.
2. Be respectful towards each other
Respect in your relationship plays a significant role as it helps build trust, safety, and well-being. Being respectful means valuing and appreciating each other's points of view and needs.
Related Reading: 

How to Communicate Respectfully with your Spouse
3. Make time for each other
Making time for each other is one of the reasonable expectations in a healthy relationship. But this doesn't mean every minute or second; you must be together. However, taking out some time out of your schedule to do the activities that you both like is what you should consider.
4. Talk about each other expectations
Discuss things with each other to understand and manage the expectations in your relationship. It will help you determine whether you are meeting each other's expectations. Remember to have conversations regularly to initiate never-ending improvements that will help you build a healthy relationship.
5. Working through disagreements
Disagreements are pretty normal in relationships, as it's common to have differences related to expectations. So, instead of complaining about each other, trying to work on conflicts and listening to each other is what you both must practice.
To know more, consider reading a dedicated article on how to deal with unrealistic expectations in a relationship.
5 healthy expectations to have in a relationship
Do you always wonder, "Do I have unrealistic expectations in a relationship?" Well, most individuals struggle to understand the difference between having realistic and unrealistic marriage expectations.
Healthy relationship expectations are reasonable and crucial for a relationship to thrive. Respect, open and honest communication, and affection are all realistic relationship expectations.
A list of realistic expectations in a relationship is incomplete without the inclusion of mutual trust and the ability to be vulnerable with each other. To help you, we have highlighted some reasonable expectations you can have in your relationship.
Check out this insightful video on healthy relationship expectations:
1. You have a satisfying sexual connection
It is fair to expect and work together to develop a level of intimacy that enables you to get comfortable while being vulnerable around each other.
So, assuming your partner will speak their heart out about their sexual preferences that help cultivate a satisfying sexual connection is among the natural expectations from a partner.
2. Stay honest with each other
Honesty is the most crucial expectation to have in a relationship. No matter the circumstances, You must always hope for a complete honesty from your partner.
Plus, you should also offer them the same simultaneously since there is no way you can build a relationship without it.
3. Receiving affection from your partner
You are involved with this person romantically, and it's beyond realistic to hope for a display of affection from your significant other.
It is worthwhile to know that your partner appreciates you for the person you are and shows it in different ways that you can understand easily. Hugs, kisses, or holding hands are common ways used to express affection towards each other in a relationship.
4. Being treated with respect
If you ever have to answer a one-word question like, what is the must-have expectation in a relationship? You will undoubtedly reply with respect. So, if you enter a relationship, ensure respect falls under rightness expectations.
5. Spending time together
Spending quality time together is a need and a fair expectation in every relationship. Remember, growing together as a couple can be next to impossible if you and your partner are unwilling to have a good time together.
However, staying with each other 24×7 or doing everything together can create a suffocating situation between both partners and contributes to unreasonable expectations in a relationship.
Frequently asked questions on unrealistic expectations in relationships
Check out these further queries on unrealistic expectations in the relationship to further deal with them and strengthen your bond:
What causes unrealistic expectations in a relationship?
Commitment to perform any task comes with expectations that include hopes for yourself, others, or the results of working together. Relationships and marriages are no different as in every relationship; couples have specific hopes for themself, their partner, or their relationship.
In our grown-up years, we learn certain beliefs about marriages and relationships. However, some influences can be unintentional (observed), whereas others can be explained (practical).
We usually get this learning about the relationship and marriages from a family of origin ( grandparents, parents, siblings), society( school, friends, neighbors, TV), and personal experiences (heartbreaks, hopes, and happenings).
When these expectations aren't fulfilled, people usually start blaming each other or sometimes give up their relationship.
Takeaway
When entering a relationship, people usually have a predetermined set of standards about how they like to be treated or how their relationship will look, which can lead to unreasonable expectations in relationship. And when two people don't get on the same page with their expectations, they may face challenges.
It's always recommended to support each other and try to walk in each other's shoes to understand why these expectations are essential to your partner and reconsider your understanding to enhance empathy around such expectations.
Share this article on
Want to have a happier, healthier marriage?
If you feel disconnected or frustrated about the state of your marriage but want to avoid separation and/or divorce, the marriage.com course meant for married couples is an excellent resource to help you overcome the most challenging aspects of being married.
More On This Topic
You May Also Like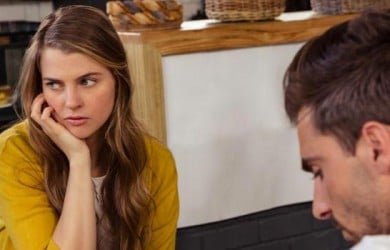 Popular Topics On Married Life