10 Tips for Practicing Emotional Attunement in Relationships
Finding emotional attunement in relationships is the act of looking for that one person who understands you in every sense without the need to necessarily verbally communicate those needs initially.
Subconsciously, as adults, individuals search for someone who will fulfill needs that might not have otherwise been satisfied in past relationships, even as far back as childhood.
Being emotionally attuned is essential in all relationships, but especially romantic connections. Without this connection, partners can appear emotionally unavailable to their mate or absent, a misperception that damages the partnership.
What is attunement in a relationship
Emotional attunement in a relationship is one of the essentials for building a deep and lasting connection where each person feels safe and holds trust for the other. Attunement is the uncanny ability to sense, understand, and realize the other person's needs without explicitly having to verbalize those feelings.
Everyone has an innate desire to be understood and shown empathy. That doesn't always mean that your mate will agree with what you're experiencing, but it's an indication of connecting with you and recognizing your emotions.
The primary aspect to remember with attunement, it's not "agreement," nor is agreeing important.
Even if the same situation would be less critical to your partner or cause them less stress, your mate put their energy into placing themselves in your shoes, so to speak.
It allows them to see it from your perspective in order to provide a level of understanding to help them move beyond these feelings to the point of processing and coping for your greatest good.
10 tips for practicing emotional attunement in relationships
If there is emotional attunement in relationships, partners will have the capacity to identify the other's pleasant and not so pleasant emotions and find methods for coping with these feelings together as a couple.
If emotional attunement for couples is missing, emotions can become misperceived, leading to ultimate conflict.
Truly grasping the definition of attunement and then working towards developing that emotional connection in a relationship will help you better understand the other on so many levels allowing the relationship to thrive as a supporting, trusting, safe, and respectful bond. Some tips to help you work towards this goal:
1. Practice active listening
Many people face challenges with active listening.
Some believe they are involved in the conversation, but there are so many thoughts racing through their mind, most often plan how to respond to what's said that they're not paying attention to the emotion behind the content.
If we're honest, we've been on the receiving end of these conversations, and it's not a pleasant situation to be involved in. In attempting to improve on what is attunement, you have to practice being present in the moment and listening to your partner.
That means focusing on the person, watching their facial expression, feeling the emotion in their voice as they speak, and actively listening to the words.
Feeling heard will sometimes lead to your partner opening up a bit more. Sometimes figuring out a beneficial way to work through the problem is possible while sharing, getting the feelings out.
You acting as a sounding board is crucial and not someone trying to fix the problem – unless they genuinely ask for help. Then pause and put time into your response before merely blurting out your thoughts.
Related Reading: 

What Is Defensive Listening and How Destructive Can It Be

?
2. Questions to understand better will show concern
When you're not quite understanding, ask questions to show that you're interested. It's essential to know more to have a better grasp of what's happening. If you sense your mate is only sharing part of the store, encourage further details with inquiries so the partner knows there's a concern.
A significant piece of emotional attunement in relationships is identifying there's something "off" with your significant other and approaching them in an attempt to be there for them.
Your mate will realize you see their anguish or stress and that you want to understand so you can help them work through it. That's practicing emotional attunement and will encourage your husband to open up even more in the future.
3. Pay attention to the nonverbal signs
Emotional attunement has a lot to do with recognizing nonverbal cues. While it will result in better verbal communication, the lead-up will often be a partner sensing or seeing these cues that lead them to believe some feelings need addressing.
It's crucial to be in tune or have that deep connection that you know when something is up to lead you into that communicative aspect of attunement psychology.
Nonverbal cues are unique for each person, but after time with a person, you will begin to learn their body language, whether it be facial expressions, perhaps a change in posture, or even their energy. At that point, the open-ended questions need to start to lead you toward the feelings happening.
Related Reading: 

Importance of Nonverbal Communication in Relationships
4. Validation is essential during the expression stage
Once your partner begins to express their emotions, validation is an essential component to show your mate that you understand, hear and see them. Encouragement is a large part of active listening.
Again, you don't have to agree with the feeling or find the emotion something you would experience. It's genuine for your partner, and that's important.
Validating means honesty, though, and if you disagree, you can say general statements to avoid making that discernment. Thank your mate for sharing. Encourage by indicating you appreciate hearing their point of view.
Related Reading: How to Express your Love Through Words & Actions
5. Recognize possible triggers for yourself
Being emotionally attuned to your partner is crucial, but it's also critical to ensure that you pay attention to your emotions as you practice being in-tune with your mate. You want to avoid potential triggers that can set off feelings for you, possible sights, smells, a touch, or sounds that might create a trauma.
In the same way that you appreciate your partner sharing, you too will need to express these events to your mate. That gives your significant other the chance to help you cope with these feelings, so you practice emotional attunement together as a team.
Related Reading: 

6 Ways to Recover from Overreactions to Emotional Triggers
6. Touching in a nonsexual way
Becoming familiar with your partner with physical touch can help you develop an intense closeness, a deeper level of connection.
That can include hugging, holding each other, stroking the other's hair, massaging their skin, intimate touch to explore what feels good, ultimately developing a level of safety and security between the two of you.
Related Reading: 

What Is the Physical Touch Love Language

 ?
7. Make communication a priority
Ultimately emotional attunement in relationships should lead to open, honest, safe communication, feeling you and your partner can share what they're experiencing with their emotions verbally to their mate.
The idea in a healthy relationship is to find a way to work through emotions to a point where the person feeling them is satisfied, having been heard, seen, and validated for these emotions experienced.
Related Reading: 

10 Effective Communication Skills in Relationships for Healthy Marriages
8. Hold the gaze of your partner for a period of a few minutes
The act of gazing into another person's eyes and holding that gaze can sometimes be challenging for people to do, but that is a practice that can help with improving emotional attunement in the same context as active listening.
Speaking with a person who gives full direct eye contact shows that what's verbalized is vital to that person and worth their undivided attention.
Couples should use this as an exercise in becoming emotionally attuned where they sit and practice gazing deep into the other's eyes for as long as a few minutes.
Check out this video to understand the importance of eye contact and how you can build trust:

9. Tolerance is critical
Tolerance means accepting there are different emotions and ways of viewing things that differ from your own.
It's essential to take our loved one's reality and separate that from our own opinions and thought processes instead, understanding and helping them cope with theirs.
There should never be a time that you dismiss their emotions by advising them to "let it go" or "look for the silver lining." These statements diminish their feelings, making them believe you find them trivial. Attunement should lead to healthy, open, healing conversations.
Related Reading: 

Tolerance vs. Acceptance in Relationships: 10 Differences
10. Empathy
When the other person feels your empathy, you're successful with emotional attunement. Empathy tells your mate that you "feel" what they're experiencing, you understand, and you express those thoughts in words, so your partner recognizes the validity.
You are saying it is reasonable for your mate to have these emotions, and many people in the same situation might have similar feelings. You have developed a strong connection that will grow deeper as your relationship builds.
Related Reading: How to Build Empathy in Relationship
Can I improve my emotional connection in a relationship
It is possible to improve the connection in a couplehood when it becomes apparent there is no emotional attunement. The way this is discernible is when conversations continually lead to conflict.
That's because partners are bringing opinions and personal feelings into the conversations instead of practicing selflessness, active listening, focusing on the other person, which are significant components of being attuned.
If a mate is experiencing emotional turmoil, what the other thinks or feels or whether they agree with the logistics of the situation are irrelevant. The moment is about the mate and how their partner could help that mate cope with what's currently happening in their life, with the partner's personal reasoning not a consideration.
That requires observing and responding in a validating and encouraging manner without attempting to fix anything.
Final Thought
Suppose you are half of a couple struggling with the concept of emotional attunement in relationships. In that case, counseling can be a starting point to develop a guideline for starting the process.
Taking two individuals with separate sets of reasoning tools and putting them into a single relationship expecting them to develop an emotional attachment takes time, practice, and sometimes outside help.
It's not easy for anyone, but it's not necessarily impossible. It's most certainly worth the effort depending on the initial connection.
Share this article on
Want to have a happier, healthier marriage?
If you feel disconnected or frustrated about the state of your marriage but want to avoid separation and/or divorce, the marriage.com course meant for married couples is an excellent resource to help you overcome the most challenging aspects of being married.
More On This Topic
You May Also Like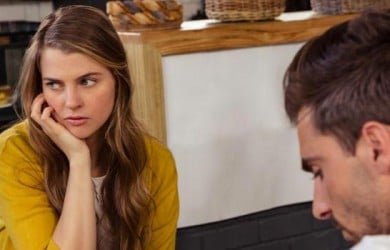 Popular Topics On Married Life