What Does Eye Contact Mean to a Guy?
Circumstances in your life might be making you wonder "when you catch a guy staring at you what is he thinking?" But when it comes to eye contact, it can mean many different things. Here are some insights into what does eye contact mean to a guy.
It can get confusing when you notice a guy staring at you. Many possibilities might run through your mind as explanations for his behavior. But unless a guy reveals himself, it is hard to figure out what does eye contact mean to a guy.
Think about these below-mentioned possibilities and the questions discussed below, which can help you determine how a guy may feel about you. With some insight and observation, you can narrow things down considerably.
Eye contact can mean different things based on the situation and the personality of the guy involved. In some cases, you have to know a guy personally before you can determine the real reason.
A good rule of thumb when wondering what does eye contact mean to a guy is to watch what his body language is doing simultaneously, as it may answer your question.
15 reasons for prolonged eye contact from a guy
Does eye contact always mean attraction? Not really. However, if a man is staring at you for a long time and it seems friendly, chances are, he may be attracted to you. A 2019 study concluded that if both parties are engaged in eye contact, this could indicate attraction.
Here are 15 possible things that a guy may be trying to tell you when he is looking at you, and you are unsure why. These reasons will explain what does prolonged eye contact mean from a man to a woman.
1. He is attracted to you
If you are receiving deep eye contact from a man, he may be attracted to you. Usually, when a guy locks eyes with you and doesn't look away, he is attracted to you. Go ahead and talk to him if you want to or else move from his line of sight.
Also Try :Is He Attracted to Me
2. He wants to know you
Something else that may be going through a guy's mind is that he wants to meet you. He could be staring at you because he is intrigued by you and wants to get to know you. Looking in your direction could be a general indicator of his interest in you.
3. He wants to say something
Anytime there is intense eye contact between man and woman, a man may be trying to tell you something. Perhaps his eyes are telling you that he wants to meet you outside, or he would like to get a better look. Or he might even need your help with something non-romantic.
4. He is listening to you
Sometimes when you are trying your best to determine what does eye contact mean to a guy, you might be talking about someone you hang out with or are dating. When you experience eye contact with a guy you are familiar with, he may listen to you and want to hear what you have to say.
5. He is zoned out
In some cases, a man might be zoned out, and he isn't trying to look at you. Zoning out doesn't mean that he may not like you, but you should know that eye contact doesn't always mean something. Sometimes people are just staring into space.
6. He is trying to size you up
When a guy stares into your eyes and doesn't look away, he may be trying to size you up. Intently staring can be a good thing and might mean that he likes what he sees. Research indicates that in many cases of prolonged eye contact, both parties are interested in each other or maybe aroused.
Related Reading: Is He into Me? How to Tell If a Guy Likes You
7. He is flirting
A man may simply be flirting with you when he is looking at you intently. Consider how long he stares at you and if he looks away, winks, or smiles. These small things can let you know if he is flirting or not.
8. He is asserting himself
Sometimes you may think he stares into my eyes without smiling. Staring might be him asserting his dominance. This type of eye contact may occur in public or at work and generally doesn't mean that someone is attracted to you. In some instances, it might even be a bit hostile.
9. He looks at everyone
Some men look at everyone intensely and don't particularly mean anything by it. When it comes to what does eye contact mean to a guy, in some cases, it just means that they are paying attention to what is going on.
10. He is talking about you
A man may stare into your eyes when they are talking about you. He could be telling his friends that he thinks you are beautiful or wants to talk to you. He could also be instinctively looking at you, while discussing your work or an incident.
11. He loves you
When your partner indulges in prolonged eye contact, they are probably in love with you, or falling in love with you. Think about how closely your boyfriend looks at you when you talk. He might be trying to tell you that he is falling for you or is still in love with you, depending on the age of your relationship.
12. He doesn't know where else to look
Simply put, sometimes a guy will stare into your eyes because he doesn't know where else to look. He may be trying his best not to stare at other parts of your body and is just trying to be polite. Or maybe he can't help but look at you while you talk.
13. He is just nice
A man could be being nice when he stares at you. Maybe you look like someone he knows or someone he wants to meet. On the other hand, if you are in a business setting, perhaps he is trying to show you that he wants to hear your input.
When you focus on what does eye contact mean to a guy, you should always think about the context of what is going on and where you are to help you figure out a possible reason. Try not to misinterpret his kindness for something else.
14. He is trying to convey his feelings
Sometimes a guy may stare at a woman because he is trying to convey a message. He might be telling you with his eyes that he likes you and he wants to pursue a relationship with you. Research itself has proven that eye contact is a proven method of non-verbal communication.
You might be confused and wondering, "Why does he stare at me so intensely?". But he might be trying to showcase to you that he likes you through intense stares. Not everyone is adept at communication, and this might be their way of conveying feelings.
15. He is shy
If you notice a guy across the room who is staring at you, he could be trying to figure out how to talk to you or meet you. If you see this happening and think you may want to meet the guy too, consider introducing yourself to him.
Check out this video to learn more about what does eye contact mean to a guy:

What does it mean when a guy smiles at you when he sees you?
Ever wondered what does it mean when a guy stares at you and smiles? If a guy stares at you and then smiles, it may mean a couple of things. He may be being good-mannered and smiled at you when he saw you. On the other hand, he may be happy to see you.
If a guy you see sometimes has started to smile when they stare at you, this may indicate that they have warm feelings towards you. Or you may be someone they consider a good friend. Talk to this guy about what his reasoning may be.
It is also possible that if a guy smiles when he sees you, he may like you. He may also think that you are attractive. When you notice he looks at me and smiles, it might make you feel like you want to talk to him to see what is going on. Do this if you are comfortable doing so.
Conclusion
There are so many possible answers to the question, what does eye contact mean to a guy. The reasons listed above are an excellent place to start and cover a variety of what is possible, whether it be a co-worker, stranger, or someone you know staring at you.
Keep in mind that you can try to figure out what is going on for yourself, but sometimes it may be easier to ask the guy what is going on, and if there is a chance that you are attracted to each other, this can be a good ice breaker.
Share this article on
Want to have a happier, healthier marriage?
If you feel disconnected or frustrated about the state of your marriage but want to avoid separation and/or divorce, the marriage.com course meant for married couples is an excellent resource to help you overcome the most challenging aspects of being married.
More On This Topic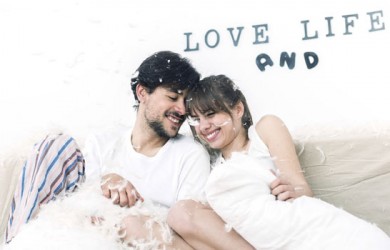 You May Also Like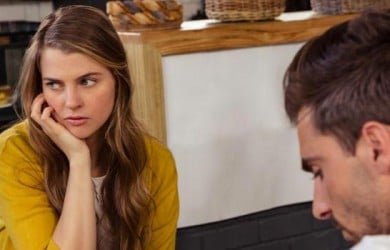 Popular Topics On Married Life