What Is Defensive Listening and How Destructive Can It Be?
We may not be familiar with the term but we have had our share of people who have defensive listening skills.
Have you ever been in a situation where your innocent comments or words were negatively taken and twisted by someone? Where a nice comment has been twisted into having a hidden meaning that has caused someone to be upset or angry?
No, you didn't do anything wrong here. In fact, you might just have dealt with a person who applies defensive listening. If you are familiar with this scenario or in any event, you think you might be doing defensive listening, then read through.
What is defensive listening
What is defensive listening?
Defensive listening is when someone takes an innocent comment as a personal attack to them.
Defensive listening definition revolves around a person who can create wrong impressions from simple comments and answers from anyone.
It happens when a person tries to find fault from simple and innocent comments or statements from a person and perceive it as a personal attack, an indirect criticism and even a trigger to pick a fight which then causes the receiver to become upset and defensive as well.
Underlying causes of defensive listening
As we are now able to define defensive listening, we would definitely want to know why there are people who do this. Defensive listening is one trait of poor listening skills which can cause any relationship to have problems. Can you imagine being married to someone who takes your statements and comments negatively which ultimately causes fights and misunderstandings?
Where does the defensiveness come from and why is it so hard to stop?
By default, someone who reacts defensively to is due to a perceived threat. However, with defensive listening, a person might just give off an innocent comment or joke but the other end hears a trigger that then causes the listener to act defensive. The listener here clearly shows a poor way of listening and is only showing a difficult defensive behavior.
If a person has poor communication skills and is showing signs of defensive behavior, this may have been a result of mental, emotional, personality issues or disorders that have developed over the course of past experiences that gave them the feeling of being abandoned, shows inferiority complex, shows low self-esteem, and even as a sign of narcissism.
Defensive listening examples
It's hard to deal with people who focuses on defensive listening.
In fact, this may cause people to stop communicating or to withdraw from their relationship or friendship because of the toxicity of the relationship. Let's look at some of the most common defensive listening examples.
A person who is being defensive will create a twisted reasoning about all impersonal statements. A person might comment something about work ethics and people who are lazy, which might just be an honest opinion or a statement but for a defensive listener, this is a personal attack on the part of the speaker. This can cause rage and hate and can also cause a fight.
For couples, having a relationship with someone who has poor communication and is always on the defensive listening, there will always be miscommunication, misunderstandings, and ultimately arguments. It's hard to keep a good relationship when your partner uses your words against you. In fact, this is considered a toxic relationship.
Sarcastic humor also won't work for defensive listeners because they will always take it seriously and personally. If a person jokes around saying sarcastic jokes which is okay and even funny for most of us, a person who is defensive will think that it's a real statement targeting them.
This can cause this person to literally explain and defend themselves to the person who said the joke which is not just awkward but also a trigger for misunderstanding.
How to eliminate defensive listening
Self-realization is very important if you want to stop the practice of defensive listening. Once you have realized how toxic it is or how it can ruin your relationships, then it is time to change. In dealing with your inner monsters, patience and commitment is needed because it's not only a long process but an exhausting journey as well.
It's hard to change the way you think and harder to practice good communication skills when you are used to defensive listening especially when the triggers are rooted from past experiences.
There is still hope for people who have been used to defensive listening. Aside from therapy, there are ways and practices that can help.
Address the behavior
As the term implies, a person who practices defensive listening is defensive. So, one must know the root of defensiveness, the triggers and primarily the cause. Address the issue and be able to apply the correct ways to improve yourself.
Control your temper and know that there is no immediate danger
Think before you speak and react. Learn to understand what the person is saying instead of allowing your emotions to control you.
Analyze the situation and asks questions if needed
Along with these two, it's important that you know how to accept faults and criticisms too, so that in any event that you may hear something that might trigger you, you'd be able to control your impulses.
Practice proper communication skills
Learn to practice proper communication skills where listening is as important as talking. It may be hard but be able to endure this for your personal development.
Lastly, ask help if needed and accept the treatment being offered. Let the therapist understand you and accept the feedback. Commit to the change needed and stay focused. Remember that change will start with us and not with other people.
Defensive listening may be because of bad past experiences but we don't want to live life living in defensiveness and the lookout for people to say something so we can be defensive about it. Good communication skills and practices may be hard at first but definitely not impossible. Remember that your will to change for the better will help you live a life of positive change.
Share this article on
Want to have a happier, healthier marriage?
If you feel disconnected or frustrated about the state of your marriage but want to avoid separation and/or divorce, the marriage.com course meant for married couples is an excellent resource to help you overcome the most challenging aspects of being married.
More On This Topic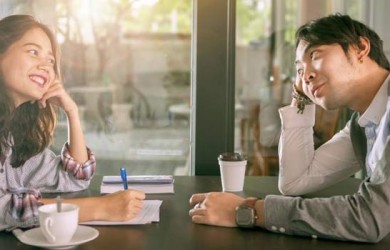 You May Also Like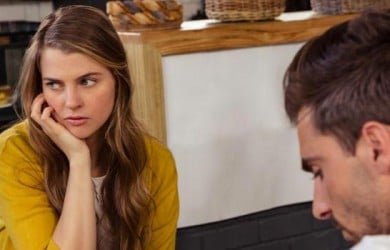 Popular Topics On Married Life