Tolerance vs. Acceptance in Relationships: 10 Differences
If you take the time to think about what is tolerance, the word can either be a negative or it can be a beautiful thing. For some of us, how we look at things will determine our path. Finding positivity in every situation, even if it's only a mere thread, will guide a more joyful journey.
If you deeply consider tolerance vs. acceptance, tolerance has to accompany you on life's path because the people you come in contact with will all be different from yourself. If you don't allow a tolerance of flaws or dissimilar values, you could end up very lonely.
Acceptance in relationships is finding love, understanding, and appreciating the differences the other person contributes to the partnership. While we all have flaws, acceptance is stepping outside of tolerance, incorporating the things you don't have in common into your union.
You come to a point where you enhance each other's attributes, so even minor faults don't develop into such a problem. It becomes possible to live in a much happier and peaceful capacity as the individuals you genuinely are.
Related Reading: 

How to Stay Together When You Are Different From Each Other
What is tolerance
Tolerance (not acceptance) is a unique sentiment from acceptance. There are numerous characteristics of tolerance or ways of being tolerant, if you will, like realizing no two people are alike and your partner will do things in an individual way.
The feeling can hold a great deal of positivity in most circumstances if you look for the good. In a relationship, the person with a tolerant attitude is willing to deal with habits that might otherwise frustrate them.
For instance, perhaps a partner tends to take 45-minute long showers using all the hot water. Because you tend to hold a strong will for the partnership to move forward, you choose to face the issue with tolerance and acceptance to achieve a peaceful outcome.
Related Reading

: 

How to Manage the Differences in Your Relationship?
What is acceptance
Acceptance is not necessarily as much of an effort or thought process as tolerance. The difference between tolerance and acceptance seems more to be that one is of the mind while one is of the heart. You have to consciously consider whether you're willing to tolerate issues with a partner for tolerance to work.
Accepting people for who they are is simply a matter of love and open arms to receive that person.
The tolerance for an accepting heart is automatic, with imperfections not given a second thought. These are merely considered a part of what makes this person the partner that you love and helps you appreciate them.
Acceptance shouldn't be confused with believing the other person is perfect. No one is without flaws. It simply means you're willing to live with the faults since you don't find them detrimental to the partnership.
Related Reading: 

Developing Acceptance Skills in a Relationship
10 differences between tolerance and acceptance
In a relationship, choosing between Tolerance vs. Acceptance is a challenge for the partnership. With tolerance, you often find a bit of resistance or even resentment for that particular fault.
You don't really like what's happening and would prefer (if you had your way) that it stops. But to make things "tolerable," you're willing to concede. That is certainly not a heartfelt sentiment like you'll notice love is accepting.
If you find you're doing more tolerating than accepting, it might be worth taking a step back and examining the union a bit more closely. You can either analyze how to be more accepting of your partner or communicate the faults.
Explain why these bother you and whether you want to tolerate these, albeit still frustrated, or hope for changes in the other person to make things work. What are some differences between tolerance psychology and acceptance psychology? Let's check it out.
1. All people are individuals
Enter into a relationship with an open mind that this person is an individual with unique habits, interests, goals, and background. It might be easier for you to become accepting of potential quirks or traits that are not necessarily ideal.
However, there is a stark difference between tolerating those characteristics and accepting this personality as it is.
That's not saying that as you get to know the person better, you won't become enthralled by who they are, developing a favor for the distinctiveness that makes them unusual, ultimately accepting the entire package wholeheartedly without any reservations.
Still, you have to allow yourself that initial period of tolerance.
That's where the frustration and resistance come. It's essential to put effort into working through that period when you wish the potential partner is different. If that doesn't change, but you wish they would change, you need to move on. No one should change anything about themselves for another person.
Related Reading: 

Here's Why You Shouldn't Try to Change Your Partner
2. Love who they are as they are
When you can't find anything that you dislike about the other person, albeit everyone is imperfect, that's acceptance, and it's a genuine emotional approach to a relationship. It's not something you consider or put thought into whether you can tolerate something; it merely is.
The faults or flaws that are apparent have little effect since you don't see these as harmful to the partnership. Instead, each of you complements the other.
3. Respecting each set of needs
It's nice in a partnership when desires, needs, hopes, dreams are identical; possibly dull, but beneficial because you spend a whole lot of time together. There is such a thing as being together too much- really. It's essential to have interests apart from each other and that you either are willing to tolerate or accept that fact.
In reality, if you genuinely want a healthful, happy union, accepting that the other person has friends and acquaintances that they spend a little time with outside your relationship is good. Your mate won't know whether it's tolerating vs. accepting because to them, it looks the same.
But emotionally, you can either do battle in your brain over the person being out and having a good time or enjoy some quiet time doing something you want, maybe spend some time with your friends. That's the difference between the two.
Related Reading: 

Let There Be Some Space in Your Relationship
4. Judge and jury
When you act as a judge to your partner, you are tolerant of behavior. It's telling this person that you are, in fact, not accepting of them as they are, more so, uncomfortable with much resentment and a need for that person to make some adjustments.
That will obviously make your mate uneasy and put the relationship in harm's way.
5. Codependency is a symptom of tolerance
People who are codependent on their partners also find it necessary to tolerate habits, behaviors, and interests, more so than accepting them because they don't want to lose the attention or time their mate is giving them.
Unfortunately, in a codependent situation, there's a significant lack of communication and a terrible degree of not only tolerance but giving in to the partner's wants and desires. That's unfair to both of you because, in reality, you're being dishonest and causing yourself a massive amount of resentment that your mate is entirely oblivious to.
Instead, it would help if you took the opportunity to speak to your partner about the issues so you can both reach a level of acceptance and move forward together without that need for dependency.
Related Reading: 

How Do You Let Go of Anger and Resentment in a Relationship?
6. Faults are charming
Instead of finding fault with a mate's flaws, these add charm to the person's character. The imperfections are not something you feel you need to try to tolerate moving forward with the partnership; these are endearing qualities of which you're accepting.
When you consider tolerance vs. acceptance in this scenario, tolerating the behavior isn't even a consideration. There's no resentment or need for the other person to stop the behavior.
7. Change for the better of the partnership
You might find yourself enjoying almost everything about someone, but there are a few things that really bug you. If they would only make those minor adjustments, everything would be perfect.
Who wants perfection first?
Plus, no one should ask anyone to make any changes in their character to suit another person. Either someone likes you as you are, or they're not worth your time.
Tolerance is a great thing when it's implemented healthily, but when it results in criticism, sarcasm, or requests to change, it's time to move on to a better scene.
Related Reading: 

How To Deal With A Partner Refusing to Change

?
8. Happy time together
Dates and quality time spent together are much more enjoyable when you appreciate everything about the other person, imperfections, faults, flaws, everything.
That's what acceptance is. Wholehearted acceptance and love are genuinely the same things. You hold genuine care for and respect all the traits of your mate, leaving no time for arguments, criticism, or sarcasm while out for a good time.
Suppose you notice you're complaining about your partner with friends or family or find yourself bickering with them often about trivial matters. In that case, that means you're tolerating behavior that is frustrating you. When someone doesn't meet your needs, it's better to let them go than hold onto them and create a miserable scenario.
9. Make it work
Perhaps you've been in a relationship for a long while, but now tolerance is a way to justify staying in the relationship. Not cool.
You're wasting each other's time and infringing on happiness, just spinning your wheels. In situations like these, whether it be a long-term dating situation or even a marriage, couples counseling is a good idea to see if the partnership is salvageable since you've had a life together.
Being proactive is essential since there might be underlying causes for the issues you're having in the relationship , creating a renewed understanding and ultimately accepting each of you for the other. It would be best if you never gave in to tolerance when you have the potential for acceptance.
Related Reading: 

How to Make a Relationship Work?
10. Communication can lead to acceptance
Talk to each other and do so frequently. That's the key to finding acceptance in a partnership. It doesn't mean someone needs to change. It's only putting your feelings on the table and allowing your mate to do so as well.
Check out this video to know about communication tools that can aid in solving relationship problems:
You can then see why the thing that bothers you might be something important for them, and you could develop an appreciation once you understand. Then you'll honestly know the difference between tolerance vs. acceptance because you'll experience it.
Final thought
In romantic terms, tolerance vs. acceptance each have the potential for being positive in a partnership, but they're vastly different.
If you're tolerating a mate's habits or behaviors, but you're doing so with an air of resentment, it's unlikely you'll become accepting at any point. You'll more than likely grow more annoyed and frustrated as time passes.
Acceptance is more heart-based, with love for even the quirks of the partner's personality. That doesn't mean, at some point in time, those quirks won't become an annoyance. These things do happen.
But as a rule, when you're accepting, behaviors and habits are charming, leading to a successful partnership.
The bottom line is people should like you for you – not tolerate – accept and care for who you are as you are if they want to be in your life. Don't change for anyone.
Share this article on
Want to have a happier, healthier marriage?
If you feel disconnected or frustrated about the state of your marriage but want to avoid separation and/or divorce, the marriage.com course meant for married couples is an excellent resource to help you overcome the most challenging aspects of being married.
More On This Topic
You May Also Like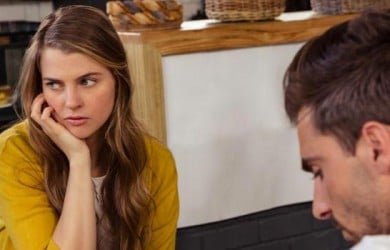 Popular Topics On Married Life