30 Romantic Ways To Express Your Love Through Words & Actions
We all love and deeply care about our partners, but often wonder how to express your love in a relationship? Don't wait around for special occasions such as birthdays and anniversaries. True love can only be expressed in an extraordinary way when it is said on an ordinary day.
While the people in our lives know that we love them and care for them, it is always great to be told in minor ways they are taken care of.
While saying the words "I love you" literally is one act of showing love, a few words and actions here and there, through the day, can also show someone how much you love them and think about them.
How do you express your feelings to someone you love?
Expressing love to our loved ones is almost as important as receiving it. When we express our love for our loved ones, it makes them and us feel happy. Think about how happy it makes you feel when you find out someone loves you.
People in your life deserve to feel the same way. It also motivates them to do the same for you. Expressing love is also a way to let your loved ones know that you are committed, loyal to them, and care about them.
You may think it is not easy to express your love to people in your life, but it is straightforward – if you love someone, show it.
Not just love, it is important to express your feelings generally. Watch this video to understand it better.
Which brings us to the question, "How to express your love to someone?"
30 ways to show your love for someone
Here are some ideas about romantic ways on how to express your love for someone – be it your girlfriend, boyfriend, husband, or wife. Some can also be used to express your love through words and actions to your family members, including mom, dad, son, daughter, brother, or sister.
There is no best way to express love. From the smallest words to enormous expressing love through gestures, almost anything can be used to express your love for your loved ones.
1. Randomly timed text messages
Everyone seems to be in the habit of expressing love to their loved ones in text messages timed to cliché perfection.
For instance, a girlfriend may be used to flirting with her boyfriend by text message and saying I Love You to him at bedtime, while kids are used to expressing their love for their dads just on Father's Day or on their birthdays.
One of the beautifully romantic ways to say 'i love you' is by sending an ordinary love-filled text message at a random time. Don't wait for bedtime, anniversaries, and birthdays. This is one of the smallest but meaningful ways of expressing love to someone.
Related Reading

:

 

100 Sexy Texts for Her to Drive Her Wild
2. Love messages on sticky notes
If you have been looking for an idea of expressing love to someone through something small, cute love notes may do the trick. Sticky notes have more essential applications that span beyond reminders, phone numbers, and other work-related uses.
Sticky notes or Post-in notes are unassumingly flirty, warm, surprising, and delightful when it comes to finding simple yet unique ways to express your love.
A husband can stick a romantic love note on a Post-it on his wife's car window, while a wife can leave a flirty sticky note in her husband's briefcase.
A girlfriend can draw a big wink and a flirty kiss on a note to stick it at the back of her boyfriend's iPhone, while a boyfriend can stick a Post-it on his girlfriend's backpack.
Related Reading

:

 

101 Romantic Love Messages for Wife
3. Expressing love with everyday gifting
The whole concept of gifting has been blown out of proportion in popular culture. Every gift does not need to be worth hundreds or thousands of dollars. If you are wondering how to express your love to someone, gifting may be a great idea.
People who love each other need to start embracing the idea of everyday gifting, and one of the easiest ways to do that is to look out for a not-so-expensive present.
Another fantastic way to show someone you love them is by giving them a small gift every once in a while.
It can be something as silly as a candy bar, something as romantic as a single rose, or even something as geeky as a cute flash drive for a tech-loving boyfriend.
You will be amazed at the range of gifting options you have for even less than twenty dollars.
Cheap gifting ideas to express your love
Cheap imitation jewelry pieces

Cute stationery items

Fashion accessories

Food items like chocolates, cupcakes

Flowers, real or fake

Paid app downloads

Bath and beauty products

Glassware, drinkware accessories, or single cutlery pieces

Cell phone accessories

Magazine subscriptions

Video game downloads

Showpieces, bedside table pieces

Photo frames

Movie DVDs

Books or e-books
4. Handmade cards
The notion of writing an I Love You message on a card that is bought off a store shelf is highly overrated.
The routine of going to the store, browsing through various categories of greeting cards, choosing the one you like, and finally writing a message on it has a distinctly formal vibe. Such elaborate expressions are best left for anniversaries and birthdays.
Special occasions come only a couple of times every year, but you will need to express your love all year round. It is a myth that you need to be creative to make a handmade card. All you need is a blank piece of paper and a few colored pens.
Draw smiley faces, write some of the reasons why you fell in love, tell that person how beautiful or handsome they are, write something funny, or you can even write a love-filled poem.
Your loved one will not score your card out of ten but, instead, will be smitten by the fact that you made an effort to express your love.
5. Nothing but hugs: Long and tight hugs at random moments
A long hug is a powerful expression of love and care. It has the power to soothe tense nerves, calm rising tempers, ease worried minds and communicate what words cannot. Ask anyone how they would feel if their partner greeted them with a long five-minute hug.
Hugging someone randomly and holding on tightly to them will instantly make them feel loved. This tender moment will convey your love, and you won't even have to speak a single word or emote a single expression.
All you need to do is stand, hold your arms out and embrace your loved one tightly. Hugs are one of the most underrated ways of how to express your love.
Related Reading

:

 

9 Different Types of Hugs and What They Mean
6. Love letters or long romantic emails
Their medium and form may have changed, but love letters are not out of vogue. The magic of a handwritten letter is irreplaceable, but you can choose to write an email if writing love letters by hand does not appeal to you.
Writing by itself is considered to be very therapeutic. Reading, on the other hand, is highly pleasurable. Writing a love letter or typing out a long romantic email will give you the chance to vent and pour out all your feelings. It is one of the most eloquent ways of how to express your love.
Your loved one will get a chance to sit on the couch with a warm beverage and enjoy the feeling of smiling when no one else is in the room as they read your love letter.
7. Wear a matching jewelry piece
Matching jewelry pieces can become a constant reminder of your love. They can include bracelets, pendants, and even rings.
Rings are often a popular choice for matching jewelry pieces. Pendants are also a good option because they will remain hidden under shirts and t-shirts.
8. Intimacy: Expressing love by physical intimacy
Physical intimacy has always remained a core and essential form of human expression in love. Intimacy is a passionate way to express love in a romantic relationship.
Couples should use physical intimacy as a way of expressing love for each other.
Related Reading: 

How Important Is Intimacy in a Relationship
9. Expensive gifts to express love on special occasions
The primary purpose of expressing love daily is to convey feelings. But the act of expressing love on special occasions like milestone birthdays and relationship anniversaries could be a tangible acknowledgment of love.
Celebrate your love on such special occasions as birthdays or wedding anniversaries by buying expensive gifts. Suit your budget and pick from a wide range of expensive gifting ideas.
Designer clothing

High-end fashion accessories

Top brand fragrances

Gadget and cell phones

iPad, iPhone, iPod

Household appliances

Medium to high-end jewelry pieces

Expensive watches

High-value gift cards

Luxurious beauty products
10. Cuddling endlessly: Long and silent cuddles
Take a nap on Sunday afternoon by cuddling with your loved one on the couch. You and your loved one will wake up to the sight of each others' sun-kissed faces.
Try this once, and you will realize that this silent form of expressing love and togetherness is more precious than any other feeling in the world.
If you are looking for the best ideas on expressing love to your partner, cuddling whenever you find the time will make them feel very loved.
11. Understand them
We all want someone who can understand us better than us.
Someone who can read our eyes and listen to our silence. It's pretty challenging to find the 'one' with such compatibility. Nonetheless, if you've spent quite a reasonable amount of time together, you already understand your partner.
It's about time you let them know that and express love. It gives a sense of satisfaction to your partner when they see no matter what, you will always understand them.
12. Listen to them
Wondering how to express your love to your partner?
Express your love through listening. Offer them your ears. In love or relationships, it is never about one person. It is always the two of you. You would want your partner to listen to you, and they also wish for the same. They may have a lot to say and share with you.
No matter how busy or occupied you are, if you spend some time just listening to what they have to say, things will be okay and great. If you are wondering how to show love, just listening to them can help.
Related Reading: 

4 Tips to Be a Better Listener in a Relationship
13. Be affectionate
We all are humans, and we do respond well to affection and emotion.
When you show affection to your partner at the end of either challenging or just a typical day, you uplift their mood. Be affectionate to them and let them know that you stand by them. This is one of the most lucid ways to show love.
Related Reading: 

How Much Affection Is Normal in a Relationship
14. Stand with them in good and in bad
How to show someone you love them?
To love your partner means to be with them in good and wrong. Being there for them when they need you is one of the most important ways to prove you love someone.
Related Reading: Being There for Your Spouse in Times of Need
15. Comfortable life
When you're in love, all you want to do is to provide comfort to your partner. This could be from listening to their wishes and trying to fulfill them as much as you can. Offering them a good lifestyle and taking care of their needs is one of the answers to how to express your love.
Each individual may have different ways to show love, and for some, providing the best for their loved ones may be it.
16. Spend quality time
Apart from offering tangible or materialistic comfort, it would be best to give them intangible happiness by spending some quality time with them.
Not spending enough time is one of the significant reasons relationships may not work out. It is understood that life can be busy with a lot of work and other commitments, and you might not spend a lot of time with them.
However, whenever you get time, or you're with them, be with them. Don't take any work calls or check your work emails. Go out on a romantic date now and then. Just spend time watching a favorite movie on a Sunday afternoon.
Just being there is one of the best ways to express your love for someone.
Related Reading

:

 

11 Ways to Have Quality Time With Your Partner
17. Share your secrets
It's not easy to trust someone, and when you do, don't hide it. If you want to show someone you love them, start with the language of trust.
It's a known fact that you would share your secrets with someone you deeply love and trust. It might not be easy to share secrets incredibly quickly, but do it when you're comfortable. This gesture will show that you genuinely love your partner and trust them with your life. This openness is one of the romantic ways to express love.
18. Mutual respect of opinion
Just because you both are in love doesn't mean that you should agree to each and everything in the world. However, one of the actions that show love is mutual respect's opinions.
There may be disagreements and arguments, but you must not let them harm your love for each other. So, when you're saying you love them, show it through this gesture as well.
Related Reading: 

How to Respect Your Spouse
19. Learn the art of forgiveness
How to express your love? Learn the art of forgiveness.
It's easy to say but difficult to act on. No human is perfect. We all make mistakes, big or small. However, if you're genuinely in love with your partner, you should learn to forgive their mistakes. If you want to point out one of the most important things to do for someone you love, let the mistakes go and learn to move on.
Related Reading: 

Benefits of Forgiveness in a Relationship
20. Do some chores
Taking the load off your loved ones is one of the best ways to let someone know you love them. Do the dishes after they have finished cooking, fold the laundry for them – and it will show them you love them.
Related Reading: 

How to Divide Household Chores Fairly in Marriage
21. Cook their favorite meal
If you are looking for creative ways to show someone you love them, this may be the best idea. Food is a great way to express love. If your partner or family member likes a particular food, you could cook it for them to make them feel extra special and loved.
Related Reading: 

40 Romantic Dinner Ideas at Home for Couples
22. A spontaneous date
You may wonder how to express your love to your girlfriend or boyfriend. One way to show love through actions is a date which is always a great idea to express love.
It gives you some time to spend together, and do something special together. Take your partner on a spontaneous date to do something exciting, and they will feel loved and appreciated.
23. Give them undivided attention
How to act in love can be a difficult question to answer. However, if there is one thing that you must do for someone you love, it is to make them feel like an essential part of your life.
It is vital to spend time with your partner, but it is even more important to give them undivided attention. Put your phone away, sit with them, and have a good conversation. It means a lot to people, especially in today's age when people are constantly distracted.
Related Reading: 

What Happens When There Is Lack of Attention in Relationship
24. Understand their needs
One of the most important ways to show affection is understanding. Understanding your partner's needs and wants and considering them is a great way to express your love to them. From the smallest to the most extensive needs, knowing what they want from you or the relationship can make them feel valued.
25. Be their cheerleader
Words of encouragement are a great way to express your love for your loved ones. Affirmations can mean a lot to people, especially when they come from people they love when they need it the most.
26. Ask for their advice, and appreciate it
People like to be included in decisions, and that makes them feel loved and valued. If you want to make sure your partner feels loved, ask for their advice on important matters.
Even when you think they know little about the subject, you could explain it to them, and they will appreciate the effort you put into it. Genuinely consider their advice and show love through appreciation for their help.
27. Kiss them
A kiss is as simple as it gets but can mean a lot. Kiss them every chance you get, and even on the most unexpected occasions, it will make them feel the most loved. If you are looking for ways to show
love to your girlfriend or boyfriend, something as simple as kissing them unexpectedly can help.
Related Reading: 

Top 7 Reasons Why Kissing Is Super Important Relationship
28. Look after them when they are ill
'In sickness and in health' – is a promise many people make to each other. Taking care of people you love when they are not doing their best physically or mentally is essential and shows how much you care for them and love them.
Related Reading: 

How to Support Your Spouse Through Sickness
29. Compliment them
Simple, sweet, and genuine compliments can mean a lot. If you want to express your love to someone, tell them they look nice, or you appreciate them, and they will feel loved by you. If you are looking for ways to show love to your boyfriend girlfriend, or significant other, complimenting them can make them feel special.
Related Reading

:

 

How to Compliment a Guy
30. Keep the romance alive
People start wondering if their partner even loves them, especially when they have been together for a long time. It is vital to keep the romance alive, even when it is the smallest of gestures.
Bring them a flower on your way back home from work, write them a letter, or text them a thank you for the lunch they packed you. It will make them feel loved and appreciated.
Actions speak louder than words
We have heard people say this all the time – that actions speak louder than words. While saying I love you to your loved ones comes naturally to us, and we may say it a few times, it is also important to make sure our actions speak the same thing.
Small gestures like the ones mentioned above go a long way in showing your partner what they mean to you. Make sure you express your love and feelings in your love language to make them feel appreciated and valued.
Share this article on
Want to have a happier, healthier marriage?
If you feel disconnected or frustrated about the state of your marriage but want to avoid separation and/or divorce, the marriage.com course meant for married couples is an excellent resource to help you overcome the most challenging aspects of being married.
More On This Topic
Recent Articles
You May Also Like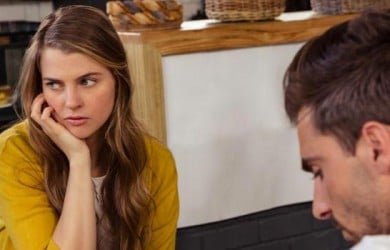 Popular Topics On Married Life