What Keeps Couples Together: 15 Things You Must Know
The first few months of a romantic relationship can be such an exciting phase for both partners! There's a strong attraction towards each other, and the passion is intense. You want to know your partner and spend as much time as possible with them.
Even though that initial spark does wear off eventually, there's still a lot of scope to be happy in your romantic relationship. If you're wondering what keeps couples together, this article is perfect for you.
If you want to build a strong long-term relationship with your partner, there are some things, behaviors, and activities that you can incorporate into your daily life. This is equally applicable for you and your significant other.
Related Reading: 

Making Time For You And Your Spouse
Learn about what do couples do together to be content in their relationships.
15 activities that happy couples do to keep them together
So, what keeps couples together? Consider incorporating these 15 things happy couples do to build a healthy, long-lasting relationship:
1. Spend time together
Taking some time out from your busy schedule to spend with your partner regularly is very important. The importance of spending quality time together is unparalleled.
Whether you're going out for a walk in the evening, or going for a romantic dinner date, or just talking to each other about how your day has been- all of this counts.
When you actively take out time to spend with your significant other, it helps you both build a strong bond together. The most important part of spending time together regularly is to do it mindfully.
2. Pamper each other
Pampering each other does not always mean something materialistic, such as expensive gifts. You can plan a chill day at home where you treat each to manicures, pedicures, massages, and so much more!
Another great way to pamper your partner is by treating them to a home-cooked meal prepared by you! You can whip up their favorite dish or dessert!
Pampering each other is what keeps couples together. When you pamper your partner to a day of self-care, it makes them feel special and cared for. It also helps in strengthening the bond between you and your spouse.
3. Truly listening to each other is essential
There is a world's difference between hearing what your partner is saying to you and truly listening to them. Active listening is how couples stay together.
When you properly listen to what your husband or wife has to say to you, you communicate better. When you communicate properly, you feel content in your relationship.
Related Reading: 

The Importance of Art of Listening in a Relationship
4. Share intimate details with each other
Vulnerability is another very important aspect of what keeps couples together. Most happy couples feel secure enough with their spouses or partners to disclose intimate details about themselves.
The sense of vulnerability and openness with each other can help you build a long-term relationship built on trust and open communication.
5. Laugh together
Another big part of what keeps couples together is humor. Having your fair share of silly inside jokes or having a complementary sense of humor is what can make your relationship feel healthy and enjoyable!
When you both share a good sense of humor and crack each other up, you enjoy each other's company and spend more time together!
6. Have common interests
Having shared interests is another big part of a strong couple connection. Content couples often have hobbies and interests that they can do together. This includes activities like singing, playing instruments, working out together, and so on.
When you have common interests, you automatically spend more quality time with each other. And when you spend more time together doing things that you both love, you both end up feeling happier and fulfilled in the relationship.
Related Reading: 

How Important Are Common Interests in a Relationship?
7. Play games together
One of the simplest ways to feel happy in your romantic relationship is to regularly plan fun activities like game nights with your partner. This is one of the most common things happy couples do!
Whether it's badminton or tennis or board games, game nights or game dates with your partner is one of the easiest ways to feel happy together! Playing games like chess or scrabble or tennis can also bring out the playful side in you and your partner.
Check out these couple games and you can surely have a great time:
Game nights also give you the opportunity to spice things up in your relationship which facilitates a lot of joy!
8. Hugs and kisses
What do normal couples do? Do they often give each other warm hugs and cute pecks throughout the day? Yes, they do! Strong physical intimacy is very common among couples who are content in their relationships.
When you and your partner take out that little bit of time to hug or kiss each other, it shows that you both care. It also shows your partner that they are on your mind. This facilitates a strong sense of comfort and security in the relationship.
Related Reading: 

What Is Security in a Relationship?
9. A sprinkle of PDA
Married and unmarried couples who are happy in their relationships often engage in a bit of PDA. Engaging in some tasteful public display of affection with your partner can inject a sense of excitement and entertainment for both of you.
10. Set healthy boundaries
Now let's get into some of the more serious aspects of a healthy relationship. Setting and maintaining healthy boundaries is a pivotal aspect of what keeps couples together.
When you set healthy boundaries and your partner respects those boundaries and vice-versa, it builds trust, respect, intimacy, and communication in the relationship.
11. Always resolve a fight before going to bed
Having arguments and intense conversations with your partner is normal and healthy in romantic relationships. It is understandable that the idea of heading to bed without resolving an argument may be very tempting.
However, if you do gather the willpower to actually resolve the argument before going off to bed, it shows that you're mature and you're open to communicating with your partner and that you value their point of view. This is what keeps couples together.
Related Reading: 

How to Solve Repetitive Marital Conflicts
12. Stay present and attentive
Although being comfortable around your partner is a very important part of being in a healthy relationship, there is a fine line between comfort and taking the relationship for granted.
A pivotal aspect of couples bonding is being attentive and present when you're spending quality time with your partner. People who are in healthy and happy relationships prioritize spending quality time with their partners mindfully and on a regular basis.
One of the easiest ways to be attentive to your partner when you're having a conversation or on a date is by simply switching off your phone. If switching it off is not feasible, you can consider putting it on silent mode.
Mindfully attending to one's partner is what keeps couples together.
13. Give each other space
As important as it is to spend quality time together on a regular basis, it is equally important to give each other space. This is one of the things married couples do to stay happy and content in their relationships.
Having time to yourself to do what you like or need to do is very important to rejuvenate yourself. When you feel productive and rejuvenated, you automatically end up valuing the time you spend with your partner.
Personal space enables couples to take that time out for themselves and also facilitates that feeling of missing each other. This may help in keeping the spark alive.
Also Try: 

What Do You Enjoy Doing Most With Your Partner?
14. Have your own life outside your relationship
What keeps couples together is having their own lives, interests, obligations, and duties that are unrelated to the relationship. A romantic relationship or a marriage is a part of your life.
However, your entire life doesn't need to just be about your marriage or relationship. When you have your own life outside your relationship, it also gives you things to talk about with your partner.
It also helps you value the time that you do spend with your significant other. It is all about balance. Going out with your friends, having goals related to your career, your hobbies, etc, are all important aspects of your life.
15. Plan your future together
Having conversations with your partner about your future together is very important in any long-term relationship. This is one of the things couples do together who are happy in their marriage or relationships.
Planning your life together and dreaming about what the future holds can bring a lot of joy and hope to your romantic relationship. A big part of what keeps couples together is their ability to make plans for their future together.
When you plan your future with your significant other, it shows that you value them and you wish to spend your life with that person. This can facilitate a lot of happiness and contentment in the relationship!
Also Try: 

Dreaming Together: 3 Essential Tips for Having a Happy Future as a Couple
Conclusion
If you're in a romantic relationship or you've been married for a while, there's a lot of potentials to work on your relationship and feel more content with the same.
Consider implementing some of the aforementioned activities or behaviors in your relationship.
Share this article on
Want to have a happier, healthier marriage?
If you feel disconnected or frustrated about the state of your marriage but want to avoid separation and/or divorce, the marriage.com course meant for married couples is an excellent resource to help you overcome the most challenging aspects of being married.
You May Also Like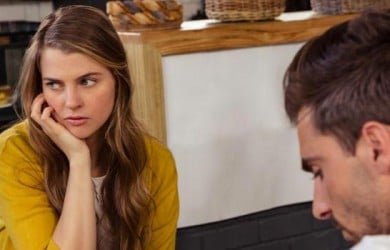 Popular Topics On Married Life