10 Ways of Reconnecting After a Big Fight With Your Spouse
If there's one thing many couples can easily agree on, it is that reconnecting after a big fight can sometimes be a challenge.
The struggle to run back into the arms of the one you love and heal a relationship after a fight doesn't necessarily signal the death of the relationship. Sometimes, it is a result of one or more factors stemming from either of the lovebirds.
Regardless, knowing how to reconnect after a fight is a major skill you need to pick up if you want to enjoy a long and steady relationship with your partner.
This is because fights and challenges will arise in your relationship. It is up to you and your partner to figure out how to end a fight quickly and rekindle your relationship after a fight.
Not sure how to go about this?
Don't worry. We will walk you through the process.
Why reconnect after a big fight
A recent survey showed that in America, divorce is very common as almost half of all marriages end up this way. One of the leading causes of these common divorce cases is deep-seated differences and disagreements between couples, some of which could have been settled or resolved.
In any case, a quick look at these statistics, coupled with the knowledge that relationships/marriages take a lot of work and commitment to work, reveals that if you intend to enjoy a long and happy relationship with your partner, reconnecting after a big fight is a necessary skill to learn.
With these in perspective, here are a few reasons why you should reconnect after a big fight.
It is necessary for

getting a relationship back on track

, seeing as fights and challenges are to be expected in a relationship.

During the process of reconnecting after a big fight, your

relationship tends to get stronger and better

. This is because you now know your partner better than you used to, and the reason for which the disagreement came up most likely wouldn't surface again because you now know better.

Reconnecting after a big fight gives you the

opportunity to be rid of all the bad feelings

you experience during that rough patch; the bitterness, anger, pain., and hurt.
5 things to do after a big fight with your partner
Now you know that fights would definitely come up (at some point) in the relationship, here are 5 things you should do immediately after these fights if you intend to make up after an argument.
1. If you can't seem to calm down immediately, put some space between you
Your mind's knee-jerk reaction to this may be that it is counterproductive, however, this may be one of the smartest things you can do at the moment.
Giving space in a relationship after a fight can sometimes help you to articulate your thoughts and prevent you from hurting your partner more; with your words and actions.
Check out this video to learn about the importance of space in your relationship:

2. Seek to acknowledge their side
Not only does this make them feel validated (that you want to give them a listening ear), it also gives you direct access to their minds so that you can see things from a different perspective.
3. Analyze your feelings
What exactly do you feel? Reconnecting after a big fight is almost impossible if you don't take out some time to examine yourself and articulate what and how you feel. Take responsibility of your.
Related Reading: 

5 Things to Do if You Are Confused in a Relationship
4. Talk to someone else
This doesn't mean that you have to do an Instagram live where you talk about your partner and how 'horrible' they are. It simply means that sometimes, you may need to talk to someone you love and respect about what's going on. However, ensure that the situation absolutely calls for this.
5. Get rid of the bad emotions; make yourself happy
Fights with your loved one are usually accompanied by negative emotions; anger, pain, and hurt. As long as these remain unchecked within, you're going to stay distant from your partner.
One way to calm down after a fight is by making yourself happy.
Related Reading: 

How to Deal With Negative Spouse

 
How to resolve a big fight
Resolving a big fight is no walk in the park. However, reconnecting after a big fight begins with understanding your partner and knowing that because of your individual differences, fights may come up in your relationship at some point.
When you have settled these, you also need to bear in mind that it takes commitment and patience to work things out. To repair a relationship after a fight, both parties must be actively involved and willing to work things out (especially if what caused the fight was a significant difference).
If one person is the one doing all the work, reconnecting after a big fight would be almost impossible, if not out of reach.
With these in context, here's how to reconnect with your partner after a big fight
10 ways of reconnecting after a big fight with your spouse
These strategies won't only work for you if the person in question is who you are married to. If you are in a serious relationship and you want to work things out, these strategies should work for you as well.
1. Take a breather
This is the part where you may want to get a little space between yourselves, especially if you have been fighting a lot in your relationship.
If you have been fighting a lot, your mind probably has come to associate your partner with negative feelings, and you may have even started seeing them as a trigger.
If this is the case, step away from their vicinity for a while. If you have moved in together, you may want to consider moving back to your place (even if it is for a while). This space would help you achieve a lot of things.
Related Reading: 

How to Stop Being Defensive in Relationships
2. Articulate your feelings
This is what you should spend most of your 'alone' time doing. When you have put some space between yourselves, take out time to unpack yourself emotionally and mentally. Ask yourself some of the hard questions like what (exactly) you're feeling and why you feel that way.
Reconnecting after a fight is almost impossible if you haven't yet come to terms with your feelings.
3. Have a real conversation about it
This is not the time to give cryptic, one-worded answers when your partner reaches out to ask how you feel. This is the time to lay out all your cards on the table.
While doing this, do not play the blame game because it can destroy your relationship. Rather, come clean and tell them what they did that hurt you. Be sure to listen to them at the same time. Healing conversations after fights make all the difference.
4. Take cognizance of the points your partner raised
While having that conversation with them, it is possible that they may have raised some points about the ways you hurt them.
Theirs was to come clean. It is up to you to take the information they have given you and ensure that you don't fall into the trap of repeating those things that piss them off.
Reconnecting after a gig fight is only possible if both parties commit to never repeat past mistakes.
5. Resist the temptation to stretch things out
If it was just a minimal fight, there's every possibility that frayed nerves would begin to calm down after a while. In fact, after a period of fighting, you may get tired of the entire situation.
As partners who are interested in reconnecting after a big fight, knowing when to stop fighting and to let tempers go down is critical.
See those last-minute hurtful jabs you may want to throw at your partner? Please keep them back.
Related Reading: 

3 Reasons Why Couples Really Fight
6. Apologize
Yes. More often than not, you would need to say the three magic words, "I am sorry."
Apologizing after a big fight lets your partner know that you value their feelings and can also help soothe the pain/hurt they may be experiencing. Also, if your partner apologizes to you, try to accept their apologies with your whole heart.
7. Prioritize your relationship
One way of reconnecting after a big fight with your partner is to prioritize the relationship. For a while, drop aside all other priorities and just spend some time with them.
This gesture helps them understand that you still value them, and also helps your mind get reacquainted with all the good and lovely feelings they make you feel.
8. Forgive yourself as well
Sometimes, we focus all our attention on obtaining the other person's forgiveness, that we fail to forgive ourselves or see the importance of doing so. In the heat of anger, you may have behaved in a way you didn't like or said things you wish you could take back.
Once you have apologized to your partner and they have forgiven you, it is up to you to let go of the mistakes you made. Forgiving yourself is difficult, but you can achieve it in about 9 different ways.
9. Don't make your partner feel pressured
Not everyone reacts to hurt and pain the same way.
If your partner is one who feels deeply and would rather take their time to open up to you again after a big fight, try not to compound issues by placing undue pressure on them to return to the way things used to be.
Take some time to acknowledge what has happened and give them all the space they need to do the same. While reconnecting after a big fight, you don't want to make your partner feel undue pressure.
10. Talk to a professional
Depending on the severity of the fight and what has transpired, you may want to enlist the services of a professional to help you sort through your emotions and feelings.
This would help you determine the path that makes the most sense and can also catalyze your journey to healing and couple wholeness.
Also Try: What Are the Relationship Core Values Quiz
Summary
Reconnecting after a big fight with your spouse or partner takes a lot of commitment and work from both parties. However, the bond you would establish and the love you'll share after this makes an effort worthwhile.
Share this article on
Want to have a happier, healthier marriage?
If you feel disconnected or frustrated about the state of your marriage but want to avoid separation and/or divorce, the marriage.com course meant for married couples is an excellent resource to help you overcome the most challenging aspects of being married.
More On This Topic
You May Also Like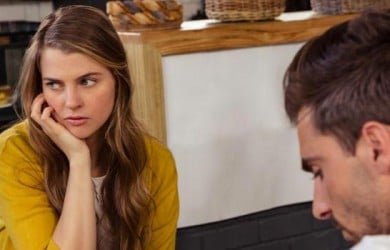 Popular Topics On Married Life