How Often Do Couples Fight in a Healthy Relationship
It's so nice to see couples who have been together for decades and are still going strong.
Some would think couples who have been together for years don't fight and live the best life, but that is not entirely true.
Even the couples who have been together for five decades or more have disagreements.
Did you know that fighting in a relationship is healthy and could help couples become stronger?
How often do couples fight, and how often does a healthy couple fight?
We'll be able to answer this in this article and even learn the difference between healthy fighting vs. unhealthy fighting.
Why do couples fight?
The first thing that we want to know is why do couples argue?
Even if you've been together for a long time and you think you know everything about your partner, you will still disagree on some things.
The reason is pretty basic – you're two different individuals.
You grew up and experienced life differently, so when life gives you a situation, there will be times when you won't agree with each other.
These differences that we have mentioned can lead to arguments. Remember, no person thinks like the other. But that doesn't mean you don't love each other anymore.
Is it normal to fight in a relationship, and statistically, how often do couples fight?
The frequency of fights in relationships will not determine the couple's status.
There are couples who fight often but then turn their disagreement into their strengths. Then there are those couples who try to avoid fighting but end their relationship eventually because of their differences.
How often do couples fight in a healthy relationship? And when thinking about fighting in relationships, how much is too much?
The truth is there is no ideal number of fights or frequency of arguments that qualify a relationship as "healthy." Rather it is the quality of your fights that give you a clue about the health of your relationship.
Still confusing, isn't it?
Healthy couples aren't necessarily couples that don't fight; they are those whose fights are productive, fair, and finished.
Healthy couples fight over one issue at a time, seek solutions, fight fair, and finish the fight with a solution or agreement to revisit.
Related Reading: 

3 Reasons Why Couples Really Fight
How often do couples fight in a healthy relationship
You know each other so well, and you feel secure. However, sometimes you clash and disagree.
One day, you're perfectly okay, and the next, you can't stand seeing your partner, and that's okay.
Society makes us believe that the perfect couple or a healthy relationship doesn't have disagreements as part of the equation, but that's not true at all.
Now that you know that even healthy relationships include fights and misunderstandings, it's normal to want to know how often do couples fight in a healthy relationship, right?
It's different for every couple. Some healthy relationships have fights once or twice a month.
Knowing how often do couples argue will help you know if you're in an unhealthy relationship, but what's more important is how you deal with those arguments.
Remember this: In a healthy relationship, the key is not how often should couples fight but how well they fight.
How much fighting is too much in a relationship
It is not the frequency of arguments that is important; instead, it is the nature of the fights that matters.
Specifically, if you want to know, is it normal for couples to argue every day, then no, it's not normal and already means that you are in an unhealthy relationship.
If you are in a situation like this, it would feel suffocating. It would feel like you are physically together, but all you do is fight, and it feels exhausting.
The stress level will already compromise your mental, emotional, and even psychological health.
Knowing how much arguing is normal in a relationship will help you distinguish if you have healthy or unhealthy arguments with your partner.
Learning how often do couples fight is one thing, but fighting daily or every other day shows that you are in a toxic or unhealthy relationship.
Related Reading: 

How to Handle Relationship Arguments: 18 Effective Ways
Healthy fights vs. unhealthy fights
Did you know that healthy fights vs. unhealthy fights exist?
That's right, now that you know that even healthy relationships have arguments, it's time to know what healthy and unhealthy fights mean.
A healthy fight can be caused by your individual differences and can be resolved easily by communication and apology.
While an unhealthy fight may be because of something petty but gradually becomes a big issue just to prove a point or cause tension. It's where power, negativity, and at times, even abuse can be seen.
Healthy fights can make your relationship stronger and unhealthy fights damage the relationship.
"So, you're saying fighting can contribute to a better relationship? How is that possible? "
A healthy argument will help because you are learning more about the person you chose to love.
Having healthy discussions or fights will help you:
listen to your partner

speak your mind and opinion

learn something new about your partner's perspective

be able to stand up for what you believe in

learn how to have healthy discussions

help you meet halfway and compromise

helps the couple learn through these mistakes

learn to value your partner's inputs

learn that in a relationship, you need to work together
One way to build your relationship is fighting healthy in a relationship.
Now that it has become clearer, we must also learn how to differentiate between healthy and unhealthy fights.
We don't want to falsely believe that fighting is good in your relationship when the issues you are having are already toxic.
Here are ten ways to differentiate between healthy and unhealthy fights.
Related Reading: 

6 Compromises in a Relationship Needed for a Healthy Marriage
1. Healthy fights allow each other to speak
We get it-you're angry, and you just want to say everything you want to say, but after you do, allow your partner to have the same opportunity to air their anger and whatever they want to say.
Don't interrupt.
Only do so if you need to clarify something important but do it politely.
2. Healthy couples keep short accounts
Part of learning to fight fair is understanding to keep short accounts with each other. This means you either bring something up right when it happens (or shortly after that) if it bothers you, or you let it go.
You do not keep a running list of everything your partner does that aggravates you and then let it all loose in an argument six months later.
Research shows that practicing forgiveness and letting go of grudges can enhance your mental health and well-being.
Keeping short accounts also means not bringing past issues that have been resolved into later arguments as ammunition. It can be hard to let go of resentments and past grudges, but to fight fair and keep your relationship healthy, it's essential to work on resentments.
3. Healthy fights are finished fights
A key way to keep fighting in your relationship healthy is to finish a fight when it happens. This means working the issue through to a solution so that you can re-establish harmony.
If you regularly fight over the same issue that can't be resolved, that's a red flag. Either you're not really fighting over that issue and need to drill down to the core, or you have a fundamental difference that may not be reconcilable.
After the agreement, compromise, or another solution has been reached, the key is to re-establish harmony by reaffirming the relationship. Make necessary repair attempts and agree that this issue will not be brought up in future fights over unrelated matters.
Related Reading: 

Dreaming Together: 3 Essential Tips for Having a Happy Future as a Couple
4. Healthy fights are never violent
People vary in whether they yell or raise their voices in fights, and there is no singular healthy pattern here.
But healthy fights are never violent or filled with the threat of violence.
Feeling that you are threatened or physically unsafe in a fight means something is wrong.
Even if the violent person apologizes after and promises never to behave in that way again, once a fight has turned violent, it fundamentally changes the relationship.
You will feel various emotions in a fight, but you should never feel threatened or as if you want to threaten or harm your partner.
Check out this video to learn more about the signs of emotional abuse:

5. Healthy fights never turn personal
It's okay to feel that sometimes you're emotionally hurt, and you want your partner to know that. There will be times when you feel unloved, and a healthy relationship will overcome that.
What's not healthy is being in an argument that turns into a personal attack instead of being able to resolve things.
If your partner uses your disagreement to attack you personally by cursing you, shaming you, belittling you, and start accusing you of hurtful things, that's a sign of an unhealthy fight.
6. Healthy fights will never be abusive
Be careful and remember that any disagreement with your partner should never turn abusive.
Abuse isn't only physical. There are different types of abuse, such as verbal, mental, physical, and emotional.
A person who can't fight fair might resort to abusive behaviors.
Some will start gaslighting you, while some will deprive you of your rights. Some abusers will torture you with words and even start physically hurting you.
Remember that you don't have to tolerate this type of vicious fighting!
7. Healthy couples fight when they aren't being heard
Did you know that couples want to maintain intimacy? Research shows that daily experiences of intimacy contribute significantly toward relationship satisfaction.
All of us want to be heard, especially by our partners.
Therefore, sometimes, we fight with our partners. We want to let this person know we want to be heard, and we want that intimacy back. Chances are, because of the busy schedule and stressors, we're unable to maintain the intimacy we need.
Most often, this causes conflict.
It's a chance for the couple to let each one know what they feel. Treat it as an open forum where you could devise a solution together.
Related Reading: 

How Important Is Intimacy in a Relationship
8. Healthy couples find a solution to their problems
You let your partner know what you don't like, and vice versa, so what's next?
The goal of every healthy fight is to find common ground or a solution.
A healthy argument will focus on the problem and how both of you can meet halfway and decide on the most appropriate solution.
If there is no solution to the issue, you could at least talk and understand the situation better.
In the end, you gain more experience, understanding, and respect for one another.
9. Healthy fights will never include threats
No one wants to experience threats in their relationships, but this would be present in an unhealthy fight.
Some people who don't get the upper hand during fights, resort to threats. Threats could be physical, emotional, and even financial.
People might threaten to end the relationship, file for divorce, or abandon their kids, just to make a point and win.
Remember that this is already abuse and is not a healthy argument.
10. Healthy fights are fair fights
Fighting fair can be hard when we are hurt, angry, or otherwise riled up. But for the fight to contribute to an overall healthy relationship, it has to be fair.
What is a fair fight?
A fair fight is one in which you both focus on the issue at hand rather than bringing up everything that's made you angry throughout the relationship.
A fair fight also avoids name-calling, personal attacks, weaponizing your partner's fears or past traumas, or otherwise "hitting below the belt."
Are too many fights and therapy signs of a breakup?
Knowing how often is it normal to fight in a relationship may or may not lead to a strong partnership, but it doesn't mean that you should lose hope if you fight often.
Couples that argue a lot often realize that they are not compatible with each other and choose to end the relationship.
Others decide to fight for their love and family, often seeking the help of therapists.
"We often fight and seek therapy, but I want to know, do we still have a chance?"
The answer to this is yes!
It is an excellent decision to seek the help of professionals. They are knowledgeable about these situations and equipped with the tools to help you and your partner.
As long as the two of you will work on the relationship, then you can change it.
Final thoughts
So while it might be challenging to determine a general census to answer the question 'how often do couples fight,' it is much easier to determine what a healthy fight is versus a toxic fight.
The frequency of how often couples fight will not determine the health of your relationship, but it could help you realize the points to work on and determine if you are experiencing healthy or unhealthy fights.
Ultimately, how you and your partner resolve your conflicts will determine the health of your relationship.
And if your fights are more regular but healthy than a couple who fights less frequently – but their fights are toxic, maybe it's time to acknowledge the healthy and passionate dynamic in your relationship rather than concerning yourself over whether you fight too often.
Remember, love is just the start of your relationship. It takes time and years to get to know the person you choose to love.
In those years, you'll disagree with each other – a lot.
How you solve your fights will determine if you're moving forward with a healthy relationship or are staying in an unhealthy one.
Share this article on
Want to have a happier, healthier marriage?
If you feel disconnected or frustrated about the state of your marriage but want to avoid separation and/or divorce, the marriage.com course meant for married couples is an excellent resource to help you overcome the most challenging aspects of being married.
Learn More On This Topic
You May Also Like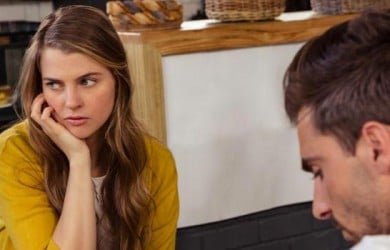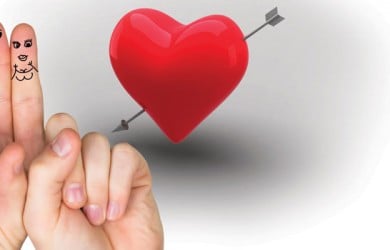 Popular Topics On Married Life