Emotional Intimacy In Marriage: 10 Ways To Reconnect With Your Spouse
Reconnecting emotionally with your spouse or partner is a lifelong effort, simply because emotions come and go.
As we grow in our relationship, we need to have different experiences and conversations to reflect this growth. Every relationship goes through its own ups and downs, calling for the need to reconnect with a spouse emotionally at every stage of life.
Unfortunately, rather than trying to reconnect with their spouse, many people start to look outside their relationship when they feel lonely in marriage. But that is not the case necessarily.
How to rekindle your marriage?
Well, it takes a little effort and a little time to spark emotional intimacy in marriage. The more the effort receives positive feedback from your partner, reconnecting with your spouse emotionally gets easier and easier, re-establishing the emotional connection in marriage.
Here are ten rules of thumb that will help you to reconnect with your spouse emotionally.
1. Trust
How to get the spark back in your marriage?
Trust is one of the most important elements of any relationship that help you reconnect emotionally with your partner over long periods of commitment. Being a foundation of any relationship, trust assures partners that they both have each other's best interests at heart.
If you have broken your partner's trust, it may take time to rebuild the emotional intimacy in your relationship. Don't rush it. If you are sincere, apologize, and wait for your partner or spouse to come around.
2. Honesty
Suppose you are struggling with how to reconnect with your spouse. In that case, honesty is another backbone of any healthy relationship that will help reconnect emotionally with your partner in the long run.
How to improve your marriage?
Tell the truth. Let's keep it real. It is easy reconnecting with your spouse when you both are in love, but if honesty is not there, it's easier to disconnect the second time, and you can get to the point of no return.
It is worth it, to be honest, so issues can get resolved. If this is a problem, seek professional counseling.
3. Humor
Humour is not just to make someone laugh. You can also avoid emotional neglect in marriage with this powerful tool.
It is a sign of emotional intelligence, creativity, and warmth. In any relationship, humor is important to reconnect with the spouse emotionally and make them feel comfortable.
Feeling disconnected from your husband or wife?
Laugh a little. Be fun to be around. When there is humor in a relationship, conflicts are easier to resolve because humor releases tension and stress. Humor provides an atmosphere to discuss serious issues.
The times you least feel like laughing are the times when you most likely need to.
4. Inspire
A partner should be someone who pushes you to grow, be better, more passionate, and planned.
As a partner, you don't have to solve all your partner's problems. Just inspire them to dig a little deeper within themselves to see all the alternatives to their situation.
This technique is preferred to complaining about what's wrong. It is about talking about what's possible.
It is a great mechanism for emotional connection in marriage.
5. Love Sincerely
How to reconnect with your partner?
Do you really love your partner?
It all starts here.
Before you reconnect with your spouse in your relationship, first, decide if this is something your heart is into.
If it is not, why not?
Love is the fuel of any relationship, and unless you don't connect the first dots, it will not be of much worth trying to reconnect with your spouse emotionally over the years. This is because the connection from your emotional bank account was not established in the first place.
6. Listen, Please!
It is a general consensus that we skip 75% of what is said. It can be less than that if we are preoccupied all the time with cell phones, games, computers, etc.
Facing emotional neglect in marriage?
Give your undivided attention when your spouse or partner is talking. Look your spouse in the face to show sincerity. If you have a phone in your hand, make sure your spouse sees you turn it off so that you can give your undivided attention deliberately.
This is a big step towards re-establishing emotional intimacy in your relationship and marriage.
7. Peace and Happiness
The relationship atmosphere must have a consistency of peace and happiness. There should be no room for constant arguing and bickering.
Relationships must be supportive and encouraging, thereby creating a safe haven from the darts of enemies and haters. Reconnecting with emotional intimacy in the relationship makes a strong case for You and Me against the world.
8. Quality time
Quality time does not mean you have to talk. Especially if something that was said broke the emotional connection in the first place, too much talking could break emotional intimacy in a relationship.
Snuggle up and watch a movie, listen to your favorite songs, take a drive, get a hotel room away from home or go to a concert. Quality time should lead to intimate encounters if you reconnect with your spouse.
This is also a great tool if you are feeling lonely in the marriage.
Spending quality time together creates memories for a lifetime. Save talking for intimate times at home, not during fun times.
9. Support
How to save your marriage?
You may not agree with your partner's goals and dreams but try to understand why they have them and support them. They may not be good at it. Regardless of that, you must support and motivate them.
10. Watch your tone
If you talk to each other with contempt in your voices, you will lose the relationship and eventually the marriage. Therefore, watch it. If you need an anger management class, find one and enroll.
In cases of emotional abandonment in marriage, the video below featuring Sharon Pope talks about disconnected marriages and why it is important to fix it before things get worse.
Disconnected marriages cannot get solved on their own. Each partner has to own their part in reaching that stage. Take a look:
In conclusion, reconnecting emotionally with your partner will create a forever relationship. No one said it would be easy, but if you put in the work, it is definitely worth it.
Share this article on
Want to have a happier, healthier marriage?
If you feel disconnected or frustrated about the state of your marriage but want to avoid separation and/or divorce, the marriage.com course meant for married couples is an excellent resource to help you overcome the most challenging aspects of being married.
Learn More On This Topic
You May Also Like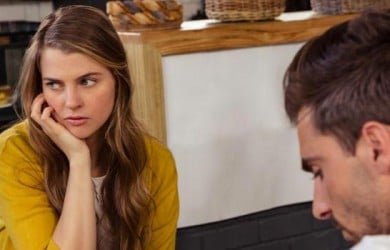 Popular Topics On Married Life