5 Reasons Why Do Couples Fight
It is no hidden fact that every married couple fights or argues when having marital conflicts.
Do all couples fight is no more a question for these relationships arguments are a part of a normal and healthy married life as long as they are dealt with fairly.
However, before getting to conflict resolution, it is important to understand why couples fight.
It has often been seen that people search for things couples fight about. They question how often do couples fight and what do couples fight about.
While this curiosity is no surprise to have, it is important to know that it is literally impossible to give definite and specific answers to these questions.
This is because every couple is divergent and unique in its own way, and has its own set of rules and regulations.
A thing might be taboo for one but a norm for the other
For some, an act might be less distressing, while for others, it could be a breaking point. From things as simple as a piece of bread to complex life situations, things couples fight about are literally countless and very specifically dependent on marriage to marriage.
Thus, keeping this in mind, let's enlist the most common reasons why couples fight and why couples argue over small things in general. So what are the things that induce fighting in marriage? How to stop fighting in a relationship?
What do couples fight about?
Below are the 5 most common reasons that explain constant fighting in a relationship and couples arguing along with solutions that can be used to stop this constant arguing in a relationship.
1. Lack of communication
It has been researched and observed that couples that lacked communication were the ones that fought the most.
It's, in fact, one of the key reasons to understand why couples fight. This is because when one lacks communication, a lot of misconceptions and misunderstandings creep in within a relationship.
Not only do they make partners argue a lot more, but they also make them feel disconnected. You no longer understand your spouse. Their perceptions become unknown to you, and yours become unfamiliar to them. Things start to become superficial and weaken your ties.
Thus, make sure to have great communication with your spouse.
Communicate your perceptions, values, beliefs, secrets, and a lot more to them. They are your partners in life. Share your life with them. Strengthen your ties, and cut down the frequency of your arguments. This is because communication fosters understanding, and that is where the roots of a man and woman arguing cut.
Related Reading: 

Lack of Communication- Can It Be Fatal to a Relationship?
2. Extended family and friends
As surprising as it sounds to some couples, many can truly relate to this as one of the things all couples fight about.
Couples often fight because of their extended family and friends. Just like any other family, the dynamics of your spouse's family can be really different from yours as well.
Settling can definitely be very hard and emotionally draining sometimes. Thus, when a person cannot contain their struggles within themselves, they lose their temperament and fight.
Furthermore, a lot of people argue and fight because of family and friends when it is about the division of time. An element of jealousy, which is pretty natural, usually creeps in and triggers this situation. This pretty much sums up an answer to why do couples fight.
However, in order to make sure your relationship is not subject to this, one must accept the individuality of their spouse.
Moreover, you must also give your spouse the time to settle within your family, so they reciprocate the same for you. Respect their friends, and make them respect yours. Understand the psychology of the human brain, and be compassionate and kind.
Respect their possessiveness sometimes, but gently make them understand that excess of it is toxic.
Reciprocate the same when it is about them. Take the lead. Acknowledge and respect the fact that your partner is an individual with a lot more ties, just like you. Respect and value the individuality you both retain.
Related Reading: 

How to Manage Your Relationship With in-Laws and Extended Family
3. Lack of physical and emotional intimacy
This, too, is one of the main reasons why couples fight. A husband and wife fighting and constantly arguing sometimes are a consequence of a lack of physical and emotional intimacy.
An unmarried or married couple fighting feels disconnected because of this and might as well feel cranky.
Misunderstandings start to develop, and cracks start to seep in within the block of the foundation of your married life.
So how to handle arguments in a relationship because of this reason?
Well, the answer is very simple! Start to look out for ways on how to be intimate with your wife or husband. Show them that you love them and care for them.
Emotional intimacy, especially, is very important here in this regard. It helps to strengthen your understanding and allows you to accept the other. It will ultimately lead to acceptance, and respect, and One or both partners may feel neglected.
When one or both partners feels neglected, they may react by becoming angry and hostile. If ignored or forgotten, partners may begin to resent the other and may start fighting more often. They may also begin to feel less secure in the relationship and feel unhappy about it.
However, ignoring your partner's feelings can eventually lead to the end of the relationship. So it is important to be sensitive to each other's needs and communicate regularly to avoid arguments and feelings of resentment.
Related Reading: 

How a Lack of Physical Intimacy Can Hurt Your Marriage
4. Money issues
One of the most common causes of arguments in relationships is money issues. Disagreements over money can lead to fights in marriage and cause tension between you and your partner.
For instance, if one of you earns more money than the other, they may feel that you are neglecting them by spending too much money on yourself and that you don't want to take care of them. This can cause some tension in the relationship and lead to a fight.
To prevent these kinds of arguments, it's important that you discuss each other's financial situations, priorities, and goals and come to an agreement that works for both of you.
5. Time management issue
So, when do couples start fighting?
Well, a lack of time management skills can also result in fights between couples. Both partners may have different expectations for how much time they should spend with each other, which can lead to conflict.
For example, if one partner expects to spend much more time with their partner than the other partner, they may become upset when the other doesn't meet their expectations. If neither partner has time to spend with the other, it can cause feelings of resentment and frustration, which can result in fights.
To avoid this problem, it's important to set clear expectations about how much time you should spend with your partner and make time for each other when you're both available.
Reasons why fighting is good in a relationship
What causes a relationship to go sour? Is it not enough love? Does a lack of communication cause discord? Or do terrible circumstances like infidelity end it?
Well, the answer to all of these questions is no! Because no relationship goes bad on its own. Couples who don't fight are in just as much trouble as ones who do fight all the time! And when it comes to disagreements, nothing beats a good fight as a way to turn a toxic situation around into a healthy one.
Related Reading: 

10 Reasons Why Fighting Is Good in a Relationship
Let's understand the reasons why fighting is good for a couple:
Fighting proves that the couple knows they are in love and care for each other
Of course, you can't expect to fight with someone you love and respect.
But when you have an argument with someone whom you really care about, you know that you can work through the differences and come out stronger and more committed than ever. Your relationship is proof that you are worth fighting for!
Arguments are a way of expressing anger and frustrations
Every couple has ups and downs, and working through these highs and lows is an important part of being in a relationship. Allowing yourself to be vulnerable and let your partner in helps you become closer and creates a deeper level of trust within your relationship.
It allows you to express your feelings and opinions and hear your partner's side without the fear of them running away or getting angry at you for speaking your mind.
When couples fight, they're forced to communicate with each other
Open and honest communication is essential for any healthy relationship, but talking is not always easy. Arguments force couples to open up to each other and really listen to what the other person has to say. This allows them to understand each other better and resolve their differences more efficiently.
Arguments between couples can be very therapeutic
When you argue about something with your partner, you're forced to think about things differently and come up with creative solutions to solve the problem.
In this video, Mark Tyrrell talks about why couples can find themselves in this kind of relationship, and he gives three pattern interrupting therapy techniques you can use to change negative behavior and help stop couples arguing:
Is it normal for couples to always fight?
No, it is never normal for couples to always be fighting. However, sometimes you have to fight the good fight. If you and your partner are always at each other's throats and never resolve your issues, the relationship will eventually start to fall apart.
Being argumentative is a sign of unhappiness and frustration within the relationship. Both partners need to take the time to communicate their feelings clearly to one another and try to work out their problems before things get worse.
Healthy relationships need open and honest communication to survive. Couples who fight all the time eventually get so frustrated that they eventually break up and go their separate ways. Couples counseling can prove very beneficial when it comes to conflict resolution and understanding good and bad arguments.
Takeaway
Fighting is healthy for a couple because it allows the couple to resolve conflicts in a healthy way and improves their relationship. It is inevitable that every couple fights at some point.
The important thing is to learn from your mistakes and try and solve the problems in your relationship before it turns into a full-blown argument.
Share this article on
Want to have a happier, healthier marriage?
If you feel disconnected or frustrated about the state of your marriage but want to avoid separation and/or divorce, the marriage.com course meant for married couples is an excellent resource to help you overcome the most challenging aspects of being married.
You May Also Like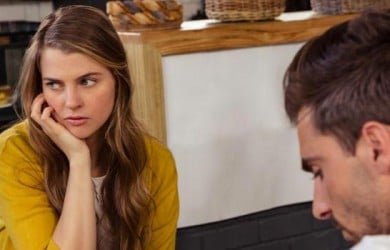 Popular Topics On Married Life