What Is Emotional Attraction and How Do You Recognize It?
Have you ever noticed how you instantly connect with some people as if there's emotionally some attraction towards them? It's as if you know them from another dimension or maybe a dream (perhaps an earlier life).
But what is an emotional attraction?
Whatever the real case may be, you feel a bond, unlike any other relationship you have made before, and the chemistry is undeniably strong. This is what you can call 'emotional attraction.'
What does being emotionally attracted mean?
Emotional attraction definition is when you feel connected to someone's mind, personality, and spirit. You look at the other aspects of an individual and are appreciative of it rather than just their physical features. When you are emotionally attracted to someone, you seek a meaningful, secure, and long-lasting bond.
Why is an emotional attraction so important?

You will come across people stressing how important it is for them to have an emotional attraction in a relationship. This is because emotional appeal can help you form relationships that will potentially last longer than those without it.
In romantic relationships, physical attraction can diminish with time. That is why relationships based solely on physical attraction may not always bring you the joy and recognition you're looking for.
However, once coupled with emotional attraction, these relationships can take you to new levels of validation and fulfillment.
This is precisely why you will find people worldwide going crazy over finding a person they have an emotional connection with. It leads to a long-lasting kinship filled with appreciation.
Unlike physical attraction (which may only be one-sided), the emotional appeal is usually equally strong at both ends.
How to tell if you are emotionally attracted to someone?
You can surely tell when you're attracted to someone. Whether or not it's only physical, emotional, or both is a different argument altogether.
To determine what it is that you are feeling, here is a list of questions to understand the signs of emotional attraction::
Do you find yourself caring genuinely for the person you are attracted to?

Do you feel like you have known them for a long time? (even if you've only recently met them)

Do you lose track of time while talking to them?

Do you feel at ease when they are around?

Can you speak to them about almost anything and everything?
If the answer to these questions is 'yes,' then these are the emotional attraction signs, and there is a very high chance that you are, in fact, emotionally attracted to the person.
Creating emotional attraction: what triggers emotional attraction in a man or woman?
Emotional connection is intense and decreases uncertainty in the relationship. It is essential to develop an emotional bond with your partner for a long term commitment. Here are a few ways in which you can create it:
Focus on the present moment
You and your partner can enjoy more the time you have together if you try to live in the present and not fret about the future. An emotional attraction for a man or a woman increases when they enjoy the relationship during the moment.
What makes a man emotionally attracted to a woman?
Well, men appreciate a little fun and variety in the relationship. So, step back from revealing everything right from the start. This will help keep the spark alive and the relationship fresh. Also, this holds true for the females too. Women often enjoy getting to know their partners gradually, as well.
While having conversations with the person, make eye contact. Meaningful eye contact is a sign of genuine interest and engagement in the discussion, and thereby the person in front of you. It also shows your involvement and that you are listening to the other person with interest, leading them to feel closer to you.
Don't be afraid of revealing your vulnerable side in the relationship. Learn to talk about your good and bad sides. Open up and talk about your interests, likes, and dislikes.
In the video below, Brené Brown discusses the importance of vulnerability. She asks to create a connection by being authentic.
Does emotional attraction always lead to romance?
If you are lucky enough to be romantically involved with a person who is emotionally attracted to you, that's great!
Romantic relationships based on physical and emotional attraction prove to be the strongest and most magical ones.
However, not everyone is fortunate enough to get both forms of attractions in such relationships, and you'll find many people who try to make it work despite what they've got.

So, can emotional attraction lead to physical attraction?
It is no compulsion to be physically interested in the person you are emotionally attracted to. Emotional attraction is a bond that your soul makes with the soul of another person.
Often, you'll see friends who claim to be soul mates. In such cases, the emotional connection that the friends have is primarily based on the emotional attraction they feel for each other.
Friends who connect on this level are always there for each other. They can talk to one another for hours without pause, and they may even share similar thoughts and interests.
You might find them completing each other's sentences and laughing at the same jokes. It is as though they know exactly what is going on in the other person's mind.
Because of this strong sense of attachment, people who've experienced emotional attraction value it so seriously.
Share this article on
Want to have a happier, healthier marriage?
If you feel disconnected or frustrated about the state of your marriage but want to avoid separation and/or divorce, the marriage.com course meant for married couples is an excellent resource to help you overcome the most challenging aspects of being married.
Learn More On This Topic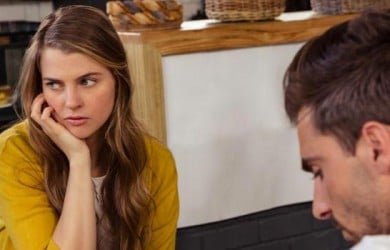 You May Also Like
Popular Topics On Married Life