Healing Relationships After Breaking Up And Making Up
Not all breakups are forever. Sometimes you split with someone, but realize that you want to work things out with them. For some couples, the split is deliberate to give them time to figure out what they want – and they find out that what they want is to be together.
Getting back together after a break up is rough, though. Emotions are running high and you might find yourself feeling raw, and scared about your future and whether things will be different this time.
Rebuilding a relationship after a break-up requires a lot of work, but healing relationships creates a space where balance and harmony co-exits to support the healing process gradually. And once the healing process is complete, you can find ways on how to rekindle a relationship after a break-up and reignite the lost flame between the two of you.
According to an interesting survey carried out on couples who got back with their exes, a whopping 68% of people said that they believed both they and their ex got better at solving the problems that had plagued their relationship and also improved as a person. So it's easy to see that getting back together needs a little hard work that can go a long way in re-establishing the relationship.
If you've got back together after a breakup, here are some healing relationship ideas to help you with the process of successfully getting back together after a breakup.
1. Get on the same page
Getting on the same page is the first step to rebuilding your relationship and getting back together after a breakup. The most important thing is to make sure you are both enthusiastic about the possibility of rekindling your relationship. If one of you isn't sure, you'll run into problems before long.
However, it's not just about healing relationships, finding ways how to repair a relationship after a break-up, and both wanting to reconcile. It's important that you're both on the same page about the big things: marriage, kids, where to live, lifestyle. If you're not, you'll need to reach a compromise that you can both live with happily.
2. Make a firm commitment
Breaking up and getting back together for rebuilding a relationship is hard work, and a certain level of commitment is required. If either of you is wavering, it makes it difficult to rebuild. After all, a big part of healing your relationship is trust, and that starts with trusting that you're both in it for the long haul.
Have a serious talk with your partner and make sure you're both in this 100%. If either of you has any doubts, talk about them before you start fixing your relationship.
3. Look at what went wrong
As part of the process for healing relationships, if you want things to go right this time, you need to look at what went wrong last time. It's not easy to look at where your relationship broke down, and it will bring up some painful feelings, but it's a necessary step and one you can take together.
There's no need for blame or anger. Just be honest with yourself and your partner about what went awry last time, and what would need to be different for a better outcome this time.
4. Learn to communicate
How to successfully get back together after a break-up?
Communication is the answer to the above question. In fact, good communication is the key to rebuilding any relationship. Strong communication skills give you the tools to talk with each other openly, honestly, and without judgment.
Practice active listening skills. If you like, you can set a timer and let each person have the floor to talk about their concerns. Just remember this isn't about labeling who is at fault. Learning to own your feelings and express them without hurting your partner is another aspect of good communication.
5. Be a team player
Any relationship is a team effort. If things were rough before you split, there's a good chance your relationship can become a battlefield. You most likely felt like your partner was your opponent most of the time.
Healing relationships mean becoming a team again. No matter what problem you're facing, remember you're facing it together. Your partner is just that: your partner. If you learn to face things together while healing after a breakup, this time around will be much smoother than last time.
6. Slow things down
It's a natural impulse to try and pick up where you left off, but it's not necessarily the best thing for your relationship. Chances are that before you split you felt bogged down by fights, negativity, and pain. That doesn't just go away.
Instead of trying to stick a band-aid on and act like nothing happened, why not take a few steps back? Recapture the beauty of dating and getting to know each other again. Take long walks or have romantic dinners. Maybe even hold off on getting back into bed together. Get to know each other anew and build on that.
7. Rebuild trust
Learning how to heal after a break-up is quite difficult indeed. But, it's harder to trust that things will be ok after a separation. It's completely normal to feel that way. Instead of trying to force trust, take the time to let it rebuild and find ways how to fix a relationship after a break-up.
There are several ways you can both help rebuild trust: Having a "no secrets" pact, having regular heart-to-hearts, making sure you keep your promises and checking in with each other every day.
Related Reading: How to Deal With a Breakup
8. Reinvent your relationship
Your relationship doesn't have to look the way it did before your breakup. This is a fresh start and a chance for both of you to decide what you want your relationship to look like now.
Set aside a few hours, light some candles, crack open your favorite beverage and talk to each other about what you want from your relationship this time around. Visualize a future you can imagine sharing, then ask what steps you can take right now to help that future become a reality. And learn how to successfully get back together after a breakup.
Breaking up and getting back together changes a relationship, but that doesn't have to be a bad thing. This is your chance to rebuild it in a way that suits both of you. Then again, you have to learn how long after a break-up to get back together. Be patient and avoid rushing through the healing process if you wish to expect a positive outcome from it.
Healing after breaking up and making up is possible. Take your time, be honest with each other, and make the most of this chance to build something beautiful out of what was broken. After all, couples benefit from healing relationships.
Share this article on
Want to have a happier, healthier marriage?
If you feel disconnected or frustrated about the state of your marriage but want to avoid separation and/or divorce, the marriage.com course meant for married couples is an excellent resource to help you overcome the most challenging aspects of being married.
More On This Topic
You May Also Like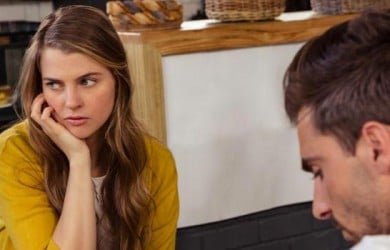 Popular Topics On Married Life