How to Impress Your Husband: 25 Ways to Attract Him Again
There's no bad time to decide to do something special for your husband. In fact, he may appreciate it if you try to impress him every now and then. There are many ways you can achieve your goal, especially if you put a little thought into it.
Check out this list for 25 ways on how to impress a husband. They may give you ideas and help you out!
25 ways how to impress your husband
There are many different ways that you can utilize when you are trying to learn more on how to impress a man. The ways are wide-ranging and can be effective, regardless of how long you have been together.
1. Dress up for him
If you are thinking about how to wow your man, one way is to impress him with the way you look attractive. This may be especially productive if you rarely have the time to get all dressed up. Take your time and put on an outfit that shows off your best assets, do your hair, and apply a bit of makeup.
You may want to dress up just to sit at your table and eat, or you can go out to dinner. Either way, this may be a helpful technique on how to impress a husband or to impress your boyfriend.
Related Reading: 

Men's Date Outfits: Tips on Dress to Impress on a Date Night
2. Buy some new lingerie
Something else that goes along with getting dressed up is buying some new lingerie to wear for him. This is precisely how to impress a husband and boyfriend alike!
3. Learn how to make his favorite foods
Another way you may be able to keep a guy interested in you forever is to learn how to make his favorite foods. You can find recipes to impress your boyfriend or husband or for his favorite meals and desserts, so you can practice making them.
Then, once you have perfected these recipes, you can tell him you have a special meal planned and surprise him. This may be something that he really appreciates since it involves learning something about him and taking the initiative to do something nice for him as well
Related Reading: 

What Food Is Good for Better Sex? Here's the Lowdown

.
4. Plan a night in
Sometimes it can be just as fun to have a date night at home versus going out. You can do whatever you want and eat whatever you want. Who said eating pizza and streaming movies can't be fun and romantic?
One thing that you may want to think about is having theme nights for your night in.
For example, if you intend to watch martial arts movies, order your favorite Asian takeout to enjoy as well. If you are watching movies about Italians, you may want to eat Italian food while you enjoy the show. The point is to make it a memorable experience for your husband, as well as yourself.
5. Be as romantic as possible
If you simply want to do something nice when it comes to how to impress the husband, you can start out by being as romantic as possible.
You may do this by writing him love notes, telling him nice things, and just being sweet to him when you are thinking about it. If you are daydreaming about him at work, send him a text to tell him that you are looking forward to seeing him. He may appreciate this and be glad that you are thinking of him.
Related Reading: 

100 Romantic Ideas for Him
6. Set the mood
Something else you can add to being romantic is setting the mood for the night. Dim the lights and put some romantic music on too. If you are wondering about how to impress a man in bed for the first time, this is something you can do research on as well, to get additional tips that may come in handy.
7. Show him you love him
An additional way to try to impress your mate is to show him you love him. This can be something as simple as taking the time to do his chores without reminding him about them or going out of your way to do something nice.
On the other hand, you may want to show him that you love him in a physical way. Chances are your man won't have a problem if you decide to take charge in the bedroom. You can try your best to wow your man in bed.
Also Try : Should I Tell Him I Love Him Quiz
8. Do his favorite activity
Has your husband ever told you how much he likes a specific activity, such as a video game or sport?
Take the time to surprise him by playing his favorite game with him all night or take him to a putting range or laser tag place. He will likely not only appreciate that you are doing something that he likes but you might also have fun too.
Related Reading: 

What Do You Enjoy Doing Most With Your Partner

?
9. Take him on a getaway
One of the other ways to please your husband that you may not have thought of is taking him on a getaway. If it has been a while since you went on a holiday, you might want to take him on a trip for the weekend.
Sometimes men may become stressed because of situations that are happening in their area and they need a break. Going to a different location could offer a break from the norm and allow your husband to relax a bit.
10. Have some adult time
If you have kids, it may have been a while since you and your partner have had some adult time. Surprise your husband by taking him out for a drink, buying him his favorite scotch, or with an intimate night in the bedroom.
There is evidence to support that sex is an important part of a lasting relationship, but this is something you may have to work at as a couple. If you aren't sure what to do, you can do some research into different sex moves to impress your husband. These things can be quite memorable for your mate.
There's no reason to think you can't impress your man in bed either; after all, he is your partner and not someone else's!
Also Try: Do I Have Adult ADHD Quiz
11. Act like when you were dating
There may be things that you used to do together when you were dating that you don't do anymore. Maybe you used to spend all night on the phone, or you used to go out for late-night fast food.
Even something as simple as reliving an old hobby can be something that may impress your mate. It is worth trying.
12. Watch his favorite movies
There's a good chance that you and your mate's tastes in movies are different. At the same time, he may be a sport and watch all your favorite movies with you. Go ahead and do him a solid and watch some of his favorite movies. You might like some of them if you give them a chance.
Related Reading: 

4 Movies That Show You What Not to Do in a Relationship
13. Take the time to have a serious conversation
At times, life may get in the way, and you don't have time to just sit down and talk about life and how you are feeling.
For instance, if you want to talk about kids, making a big purchase, changing careers, or something else, it is necessary to take an adequate amount of time to discuss what you should do as a couple.
Besides that, when couples communicate effectively, this may lead to happier marriages, according to a 2016 study.
Related Reading: 

How to Communicate With Your Spouse When Things Are Tough
14. Buy him a gift
Is there something that your man has had his eye on for some time? You can purchase it out of the blue and surprise him with it.
This is a simple way to accomplish how to impress a husband, and he will be likely to appreciate the gesture. It doesn't have to be an extravagant gift either. If you notice that he needs new socks, pick some up, or get him a new phone charger once he loses his.
Related Reading: 

25 Most Practical Gift Ideas For Men
15. Let him have some time to himself
Sometimes a man may want to spend some time thinking or relaxing by himself. Offer him an opportunity to do so.
You can take the kids and go somewhere for a few hours on a weekend afternoon or make sure he isn't bothered for a few hours. He may need some time to work through the stresses of his week and will probably be grateful to have some peace and quiet.
16. Tell him to go out with friends and mean it
Another thing that your mate may want to do is go out with his friends. Next time his best friend or old college buddy asks him to go out for a beer or a burger, tell him it is fine with you. This is a surefire way to go, in terms of how to impress a husband, especially when you mean it and you want him to have fun.
Also Try: Are We More Than Friends Quiz
17. Try something you've never tried together
Is there something that one or both of you have always wanted to try and never have? There's no time like the present! Set up a date to go skydiving or try a special dish or restaurant that you have seen advertised. This can be an experience that you will always share together.
18. Start sweating together
Once you are thinking about how to impress your husband, you may not think that exercising together will be that advantageous. However, there's a chance it can be.
If you start a workout regimen together, not only does this allow you to spend time as a couple, but you may also be getting healthier and stronger at the same time, which is a good thing.
19. Flirt with him
When was the last time that you flirted with your husband? If you don't remember, then it has been too long. Go ahead and be playful when you are thinking about it. Send him some flirty texts or put a couple of cute notes on the mirror before you leave for work.
You may just make him smile with your spontaneity.
Also Try: What Kind of Flirt Are You Quiz
20. Do some role-playing
It usually doesn't hurt to do a little role-playing with your spouse every now and then.
You can have a bit of fun and learn more about sex tricks to impress your boyfriend or husband, in relation to role-playing or pretending to be someone else in the bedroom. Together you can decide on your roles and see how you like it.
21. Get clean together
Another thing that you can try to attract your man is taking a shower together. While this is also an intimate thing to do, it can also just offer you both a chance to relax and appreciate each other. On the other hand, you may want to take a long bath together to relax and unwind.
22. Tell him what you want
Sometimes your husband may be at a loss for what you want. An approach that you can take to fix this is to tell him what you want. If you want to eat pizza for dinner and hang out with him all night, let him know. He may appreciate your honesty and candor.
23. Call him on the phone
Do you miss having conversations with your husband on the phone? Reach out to him! He may be thinking about you when you are thinking about him, and your call might just put a smile on his face too.
Related Reading: 

Why Women Should Respect Cell Phone Privacy in the Relationship
24. Write him a letter
You can always write your husband a note to tell him how you feel about him. This could be the perfect way to get your point across, and he will have a memento that shows how much you care about him too.
25. Just be yourself
There are so many ways when it comes to how to impress a husband, but the simplest one is to just be yourself. Your husband likely loves you for you, so continue to be the person that he loves and chose to marry.
For even more advice on how to impress a husband, check out this video:

Conclusion
There are a number of ways you can use when you want to attract your husband and keep him interested in you, and you may do many of the things in the above list anytime you want to.
Go ahead and take the initiative when it comes to how to impress your husband and see how well it works out for your relationship.
Share this article on
Want to have a happier, healthier marriage?
If you feel disconnected or frustrated about the state of your marriage but want to avoid separation and/or divorce, the marriage.com course meant for married couples is an excellent resource to help you overcome the most challenging aspects of being married.
You May Also Like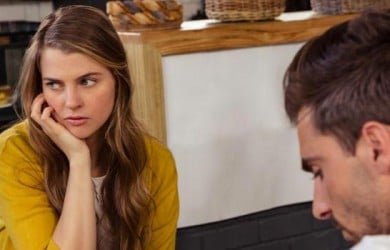 Popular Topics On Married Life