How to Show You Care in a Relationship: 25 Creative Ways
Have you been looking for cues on how to show you care in a relationship? Although there are plenty of ways to do this, you may have to get creative and add a personal touch to make it look genuine.
Showing someone you care about them is a fundamental aspect of healthy relationships. Expressing your love, support, and appreciation for the people in your life isn't hard but is definitely important.
Keep reading for details on how to show someone you care about them, so you can make sure the people closest to you can feel your love.
What does it mean to care about someone?
When you care about someone, this is different than just knowing them or even wishing well for them. For example, you likely know your mail person quite well, but that doesn't mean that you care about them.
Caring about someone is more of an action, where you will essentially show them how you feel about them. It is also about more than just telling someone you care about them.
You may be aware of the saying, "Actions speak louder than words." This means that people will understand how you feel for them when you actually show them instead of just telling them.
Why is it important to show someone you care about them?
There are a couple of reasons why it is necessary to let someone know you care. One is that you would like them to understand how you feel. If there are people that are important to you, you probably want them to know this.
They need to be aware that they are special to you, and you are grateful that they are in your life. This is especially important when it comes to your family members or significant other.
Another reason why showing someone you care is important is that you need others to help build up your support system.
A support system is a group of people you trust, who can offer advice, a shoulder to cry on, or encouragement.
When you show someone you care about them, they will know that they can count on you, and hopefully, this will go both ways. You may be able to lean on each other when you need to.
One simpler reason for showing someone you care about them is the sheer joy of togetherness. When you successfully convey your feelings to the other person, it makes both parties feel happier and more connected to each other.
25 ways to show your loved ones you care for them
When you care for someone, there are so many ways that you can let them know. Here are some ideas that will work for most relationships, whether they be familial, romantic, or platonic.
1. Call them to check in
You can contact someone to check in.
Ask them how they are and what you are thinking about them. Even if this call comes out of the blue, chances are the person on the other end of the phone will appreciate the gesture.
2. Send them a sweet message
One of the simplest ways to show you care in a relationship is to send them a sweet message. This may be a text that has a cute quote, or it can be an encouraging message.
Either way, it will likely make your loved one smile, which is a good thing.
3. Make time for them
How to show you care in a relationship? Choose them over other things.
Do what you can to make time for your special one. Even if you have a few minutes, you can call them and let them know that you miss them. Or you can contact them and ask them if they want to meet up for drinks or dinner.
Spend time with the people you care about when you can, but if you can't, it might be just as helpful to keep in touch with them regularly.
4. Buy them a gift for no reason
Sometimes you may be at a store and find something that reminds you of someone you know. Don't tell them about it later; buy it for them and surprise them with it.
This may boost their day and help you show this person that you care.
5. Tell them you appreciate them
You can also tell them that you appreciate them. If you notice that your partner helped you out of a jam or that they are positive in your life, take a few minutes to let them know how you feel.
This is a great way to tell someone you care for them deeply.
6. Do something together
If you haven't seen a loved one in a while, do something together, just the two of you. Perhaps you may want to binge-watch something online or have a night in, where you can talk about good times and relax.
They will likely appreciate your undivided attention.
7. Don't zone out
When you are spending time with others or talking to them on the phone, be sure to keep listening.
If you get distracted, they may take it personally, not how to show someone you care.
8. Be honest
Always be honest with the people you care about. If you stretch the truth or lie, this can greatly affect all types of relationships negatively. If you are unable to do something with them, tell them.
If you disagree with something they are doing, you can tell them that as well. When there is a caring relationship between two people, honesty is good, even when you say something the other person may not want to hear.
9. Be supportive
On the other hand, you should always be supportive. This one is not advice on how to show you care in a relationship; this is actually general relationship counseling.
If they call you and need you to help with a situation, be there for them. You want them to know that you have their back when they must lean on you.
10. Have a sympathetic ear
This applies to if they need to talk as well.
Suppose your spouse needs to vent or let off steam, be their sounding board. They may be able to do the same for you, which can take a weight off your shoulders.
11. Say something nice
Out of the blue, say something nice to your mate. They may not be expecting it, and it can improve their mood.
Besides that, compliments are usually a good idea to share with people you care about when you genuinely mean them.
12. Let them do their own thing
Make sure to let your loved ones have space when they need it. Please don't ask them what they are doing every minute of every day or insert yourself in their plans.
They will likely make special times for you, which can strengthen your bond overall.
13. Help them when they need a favor
If your partner calls you and needs a favor or has an emergency and you can help them, do it. Even if you don't want to, this can mean a lot to someone you care about.
14. Forget old offenses
When you have known someone for a long time, you may have had some differences or fights that were hard to overcome.
However, when it comes to how to show someone you care, you should forgive these things. Please give them a clean slate and see how it goes.
15. Cheer them up
You would want someone to cheer you up when you feel down, wouldn't you? So go ahead and do the same for someone that you care about.
Tell them a corny joke or remind them of a time when you did something fun together.
16. Give them a hug
One of the simplest ways to show someone you care is to hug them. They may need the hug, and it might make you feel better as well.
17. Help with chores
If your partner is overrun with chores and you have some time on your hands, go ahead and help them with them.
Please take a couple of minutes to run the vacuum or wash some dishes, to alleviate some of their stress. They will likely be very thankful.
18. Ask them about their day
Simply asking someone about their day can be comforting and is a beneficial approach how to show someone you care.
19. Share something with them
How to tell someone you care? Share things with them.
You can also share a humorous story or something that happened to you with a person that you are close to. This may cause them to laugh and make them feel better.
Additionally, you may want to share something with someone. If you ordered a case of your partner's favorite noodles, consider giving them some of them.
20. Tell them how special they are to you
It is necessary to let others know how you feel about them. Otherwise, why do you care about someone?
They need to know how you feel about them, so they will know exactly where they stand with you. Be sure to be as sincere as possible when you tell your loved ones how much you care.
Rob Pennington, an author and executive coach, also provides insights on expressing care towards someone through the simplest actions:

21. Create a personalized playlist
Music can be a powerful tool for expressing emotions and memories. Take the time to curate a playlist of songs that hold special meaning for both you and the person you care about.
22. Plan a surprise scavenger hunt
Surprise your loved one with a scavenger hunt that leads them to special locations or gifts that hold sentimental value. This playful and adventurous activity can be a fun way to create new memories too.
23. Cook a special meal
Preparing a homemade meal for someone is a classic way to show you care, but taking it up a notch with a themed or exotic cuisine can make it even more special. Cooking is certainly a way of showing you care in a relationship.
24. Write a heartfelt letter
In a world of digital communication, a handwritten letter can be a cherished keepsake. Take the time to write a heartfelt letter expressing your feelings of love and appreciation for the person you care about.
25. Create a memory box
Collect mementos and items that hold special meaning for you and the person you care about, and arrange them in a decorative box. This can include items like ticket stubs, photographs, handwritten notes, or small trinkets that represent shared experiences.
10 definitive signs that someone genuinely cares about you
It's natural to want to know if the people in our lives truly care about us. While everyone shows affection in their own way, there are some definitive signs that indicate genuine care and concern. Here are ten of those signs:
Active Listening

: Someone who cares about you will listen to you attentively, and take an interest in what you have to say. They will ask questions to clarify and show that they understand.

Empathy

: A caring person will put themselves in your shoes and try to understand your perspective. They will validate your feelings and show support.

Respect

: Someone who cares about you will respect your boundaries and choices, even if they don't agree with them.

Availability

: A caring person will make time for you, even if they have a busy schedule. They will be there when you need them.

Encouragement

: Someone who cares about you will be your cheerleader. They will encourage you to pursue your goals and dreams.

Honesty

: A caring person will be honest with you, even when it's difficult. They won't sugarcoat things but will do so in a compassionate way.

Thoughtfulness

: Someone who cares about you will show thoughtfulness in their actions. They may surprise you with a small gift or go out of their way to help you in a time of need.

Loyalty

: A caring person will stick by your side, even during tough times. They won't abandon you when things get rough.

Forgiveness

: Someone who cares about you will forgive you when you make mistakes. They won't hold grudges or keep score.

Celebration

: A caring person will celebrate your successes with you. They will be genuinely happy for you and acknowledge your accomplishments.
Some relevant questions
Relationships can be immensely enhanced by showing more care and love to those close to us. Here are some frequently asked questions and answers to help you get started.
Does caring about someone mean you love them?
Caring about someone vs loving them is a commonly debatable matter. Caring for someone is a sign of affection and concern, but it doesn't necessarily equate to loving them. Love can encompass deeper emotions and romantic feelings.
Is it okay to care a lot about someone?
It is absolutely okay to care a lot about someone. In fact, caring can strengthen relationships and create meaningful connections with those we value.
Spreading love and care
If you can imagine what your life would be like if no one cared about you, then you can probably imagine why it is necessary to tell people you care about them.
There are many ways to do this, and lots of them are easy to accomplish with a little effort and thoughtfulness.
This list offers some great ideas on how to show someone you care and can also help you figure out additional ways to make a difference. So, go ahead and spread some love.
Share this article on
Want to have a happier, healthier marriage?
If you feel disconnected or frustrated about the state of your marriage but want to avoid separation and/or divorce, the marriage.com course meant for married couples is an excellent resource to help you overcome the most challenging aspects of being married.
Learn More On This Topic
You May Also Like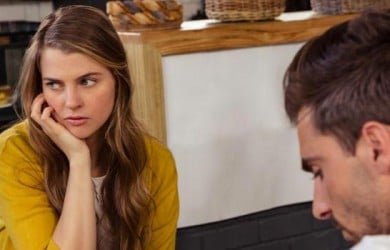 Popular Topics On Married Life